Kamal Nath
Indian politician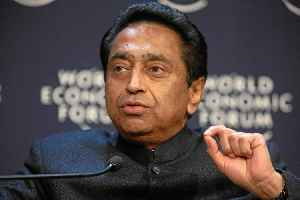 Kamal Nath is an Indian politician and the 18th Chief Minister of Madhya Pradesh, a central Indian state. As a leader of the Indian National Congress he has served as the Minister of Urban Development. He is one of the longest serving and most senior members of the Lok Sabha, the lower house of India's bicameral Parliament. He was appointed the Pro Tem Speaker of the 16th Lok Sabha. He has been elected nine times from the Chhindwara Lok Sabha constituency of Madhya Pradesh. Nath was elected president of the Madhya Pradesh Congress Committee in May 2018, leading the party in the November-December 2018 assembly election. He assumed the office of Chief Minister on 17 December 2018.


After Kamal Nath's tough seat dare, Digvijaya Singh says will contest from where Rahul Gandhi asks him to
Digvijaya Sigh also said that accepting challenges was his habit. Rumours are around in political circles that Singh might be fielded from either Bhopal or Indore Lok Sabha constituency, which are the..
DNA - Published
Digvijaya Singh accepts CM Kamal Nath's challenge, tweets he will contest seat selected by Rahul Gandhi
Taking to twitter on Monday morning, Digvijaya Singh said, "Thanks to Kamal Nath ji who invited me to contest from seats where the Congress is weak in Madhya Pradesh. I am grateful to him that he..
IndiaTimes - Published
'Main Bhi Chowkidar' diverting people's attention, says Kamal Nath
The chief minister who addressed a series of gathering in favour of Congress said, "There have been more attacks on the country during his (Modi) tenure. His party was in power at the Centre when an..
IndiaTimes - Published
Digvijaya should contest from a tough seat, says Kamal Nath
On Saturday, chief minister Kamal Nath dropped a bomb on his party colleague saying, "Digvijaya Singh will choose which seat he wants to contest from. I have requested him that he should contest from..
IndiaTimes - Published
CM Kamal Nath's wife Alka to lead campaign for son in MP's Chhindwara
IndiaTimes - Published
MP Cong says 27% quota for OBCs can be implemented under 9th schedule provisions
At a press conference in the state Congress office on Friday afternoon, party's Rajya Sabha MP Rajmani Patel contended, "Our party has always supported the poor and backwards. When the BJP brought..
IndiaTimes - Published
Kamal Nath govt appoints Computer Baba head of River Trust
IndiaTimes - Published
You Might Like