Dharamshala
City in Himachal Pradesh, India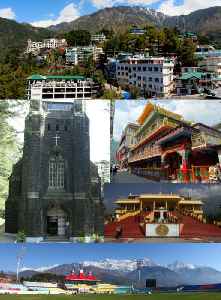 Dharamshala is the district headquarters of Kangra district in India. It was formerly known as Bhagsu. The Dalai Lama's residence and the headquarters of the Central Tibetan Administration are in Dharamshala. Dharamshala is 18 km (11 mi) from Kangra. Dharamshala has been selected as one of the hundred Indian cities to be developed as a smart city under PM Narendra Modi's flagship Smart Cities Mission. On 19 January 2017, Chief Minister Virbhadra Singh declared Dharamshala as the second capital of Himachal Pradesh state, making Himachal Pradesh the third state of India with two capitals after Jammu and Kashmir and Maharashtra.


'Deputy Speaker heckled by BJP youths at Dharamshala'
With the nearing by-elections ahead at Dharamshala, this assembly constituency has been divided into four zones and Hans Raj has been given charge for one zone. He was attending the program of Bhartiya..
IndiaTimes - Published
Prayers mark the Dalai Lama's 84th birthday
Donning traditional dresses, hundreds of Tibetans on Saturday joined the 84th birthday celebrations of their spiritual leader the Dalai Lama at the main temple Tsuglakhang in Dharamsala. The Dalai..
IndiaTimes - Published
Dalai Lama says he feels almost normal as he leaves hospital
The Dalai Lama says he feels "normal, almost normal" after leaving a New Delhi hospital where he was treated for a chest infection. The 83-year-old Tibetan spiritual leader spoke after he was..
IndiaTimes - Published
Chest ailment lands Dalai Lama in hospital
The 83-year-old was flown from his residence in Dharamsala on Tuesday after he reported discomfort in the chest.
DNA - Published
Exclusive: Dalai Lama contemplates Chinese gambit after his death
By Krishna N. Das and Sunil Kataria DHARAMSHALA, India (Reuters) - The Dalai Lama, the spiritual leader of Tibetan Buddhism, said on Monday it was possible that once he dies his incarnation could be..
Firstpost - Published
Pakistan airspace to remain closed indefinitely to both domestic, international flights amid tensions with India
Amid tensions with Pakistan, flight operations across eight airports in India - Amritsar, Pathankot, Srinagar, Jammu, Shimla, Dharamshala, Kullu and Leh - were shut briefly on Wednesday.
Firstpost - Published
You Might Like