Zendaya
American actress and singer (born 1996)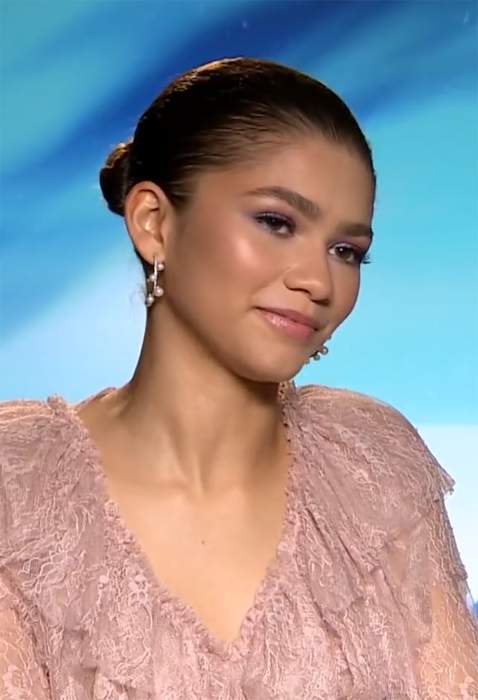 Zendaya Maree Stoermer Coleman is an American actress and singer. She has received various accolades, including two Primetime Emmy Awards and a Golden Globe Award. TIME magazine named her one of the 100 most influential people in the world on its annual list in 2022.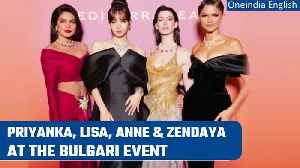 Priyanka Chopra, Anne Hathaway, Zendaya & BLACKPINK's Lisa at Bulgari's event | Oneindia News

The internet was ablaze after the four most well-known women in the entertainment industry Priyanka Chopra, Lisa Manoban, Zendaya, and Anne Hathaway appeared together at a recent Bulgari event in..
Credit: Oneindia Duration: 03:03
Published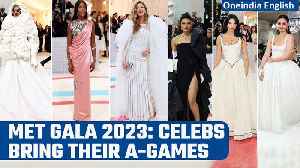 MET GALA 2023: Best dressed stars on the red carpet | Oneindia News

The 2023 Met Gala, co-chaired by Michaela Coel, Dua Lipa, Penelope Cruz, and Roger Federer, will be themed "In Honour of Karl," and will honour the late fashion designer Karl Lagerfeld, who worked for..
Credit: Oneindia Duration: 03:00
Published
You Might Like
Zendaya, Tom Holland Go Crazy Rooting For Warriors At Playoff Game
Zendaya and Tom Holland made it abundantly clear Thursday night they're all-in on Steph Curry and all-out on LeBron James -- cheering their faces off for the Warriors against the Lakers!! The A-list..
TMZ.com - Published
Tom Holland Holds Hands with Zendaya as They Leave Mumbai Together
And just like that, Tom Holland's taking charge ... and also taking Zendaya's hand as they jet out of India following a packed weekend for the couple, who now actually look like one. The two..
TMZ.com - Published
Zendaya Walks Red Carpet for India Gala Solo, Tom Holland Lingers Behind
It's been a while since we've seen or heard from Tom Holland and Zendaya -- and in case you're wondering, they are still together ... although they seem to be a little PDA shy lately. The two actors..
TMZ.com - Published
Keke Palmer's Career Compared to Zendaya's, Colorism Convo Ensues
Keke Palmer is getting the side-by-side treatment with Zendaya on Twitter after her starring role in Jordan Peele's new movie -- sparking a conversation about colorism in Hollywood. Here's the deal .....
TMZ.com - Published
Zendaya Shuts Down Pregnancy Rumors After Viral Prank Video
Zendaya's shutting down rumors that she and BF Tom Holland are expecting, after viral videos convinced the internet the two have a baby on the way. The actress took to Instagram Wednesday after some..
TMZ.com - Published
Viral Video of Woman Being Beaten, Speculation It Might Be Zendaya
A viral video of a young woman getting beaten up has led the internet to believe it could possibly be Zendaya -- but based on the visual evidence we've seen ... it's likely BS. This clip made the..
TMZ.com - Published
Zendaya's Kylie Jenner Look-Alike Wax Statue Gets Museum's Support
The internet is going wild about Zendaya's new homage at Madame Tussauds -- ripping it for looking more like another famous face ... but the museum is standing its ground! Madame Tussauds London..
TMZ.com - Published
'Selling Sunset' Star Chrishell Stause Agrees with Zendaya, Height No Big Deal
"Selling Sunset" star Chrishell Stause agrees with Tom Holland and Zendaya -- when it comes to men, height shouldn't matter -- and it's a silly standard for women to hold. Chrishell was on Sunset Blvd...
TMZ.com - Published
Tom Holland Doesn't Care That He's Shorter Than Costar GF Zendaya
Tom Holland and his girlfriend, Zendaya, don't always see eye to eye -- and that's mostly because she's taller than him ... something TH does not see a problem with. The 'Spider-Man' stars made an..
TMZ.com - Published
Zendaya & Tom Holland Grabbed Date Night Thai Day Before Going Public
Shortly before Tom Holland and Zendaya were smooching in a car for the whole world to see -- they were breaking bread on what appears to be a date ... and TMZ's got the photos. Check out these pics we..
TMZ.com - Published
Zendaya, Brad Pitt and Harrison Ford among hosts of this year's Oscars
Zendaya, Brad Pitt and Harrison Ford are among the famous faces who will be presenting awards at this year's Oscars ceremony.
Sky News - Published
Spider-Man stars tease titles, new pictures and rumoured cameos for third film
Tom Holland and Zendaya have teased Spider-Man fans with new images and suggested titles for the franchise's next superhero instalment.
Sky News - Published