Bono
Irish musician and lead vocalist of U2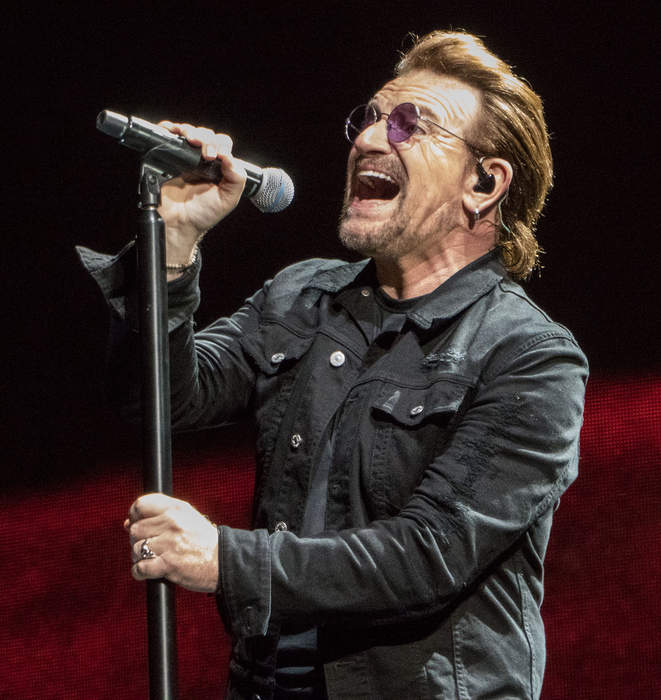 Paul David Hewson, known by his stage name Bono, is an Irish singer-songwriter, activist, and philanthropist. He is the lead vocalist and primary lyricist of the rock band U2.


Bono of U2 gives a show in the metro of Kyiv.

Singer Bono and guitarist The Edge of the Irish rock band U2 performed a mini concert in a metro station in central Kyiv on Sunday.
Credit: euronews (in English) Duration: 02:00
Published
You Might Like
Bono, Jill Biden & Justin Trudeau Visit Ukraine
Here's a sign that the tide might be turning in Ukraine -- Bono, First Lady Jill Biden and even Prime Minister Justin Trudeau paid a visit this weekend ... a very pleasant surprise. The trio don't..
TMZ.com - Published
Bono and the Edge give surprise performance in Kyiv
Sunday Bloody Sunday roared through a Kyiv metro station on Sunday as U2's Bono and the Edge performed in a "show of solidarity" with Ukraine.
Sky News - Published
DMX Album 'EXODUS' Drops with Jay-Z, Bono, Snoop, Kanye
DMX lives on with his voice ... and with an assist from some very famous musical friends. X's album, "EXODUS," just dropped, and it's filled with assists from folks like Alicia Keys, Bono, Jay-Z, Lil..
TMZ.com - Published
Search this site and the web: