Samoa
Country in the Central Pacific Ocean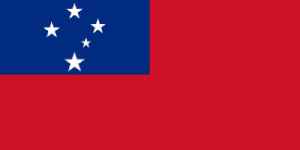 Samoa, officially the Independent State of Samoa and until 1997 known as Western Samoa, is a Polynesian island country consisting of two main islands, Savai'i and Upolu, two smaller inhabited islands, Manono and Apolima, as well as several small uninhabited islands including the Aleipata Islands. The capital city is Apia. The Lapita people discovered and settled the Samoan Islands around 3,500 years ago. They developed a Samoan language and Samoan cultural identity.


You Might Like
Samoa faces coronavirus threat after recovering from deadly measles outbreak
Just a few months ago, the Pacific island nation of Samoa was in the grip of a deadly measles epidemic.
Reuters - Published
Samoa extends measles state of emergency, NZ to fund Pacific vaccination campaign
The South Pacific island nation of Samoa on Saturday extended a state of emergency due to a measles outbreak which has killed 72 people, mostly infants, as New Zealand announced NZ$1 million ($640,700)..
Reuters - Published
Decorated with butterflies, infant-sized coffins sent to measles-ravaged Samoa
Volunteers in the New Zealand city of Rotorua are preparing two dozen white-lined coffins to be transported to Samoa at the end of the week as the measles-ravaged Pacific island nation languishes under..
Reuters - Published
Samoa says almost 90% of people vaccinated against measles after deadly outbreak
Samoa said on Saturday nearly 90% of eligible people had been vaccinated against measles as it lifted a two-day curfew imposed amid an outbreak that has killed 65 in recent weeks.
Reuters - Published
Samoa fights measles door-to-door in battle on anti-vaccination messages
Samoa on Thursday closed all non-essential public and private services for two days to combat a measles epidemic that has killed more than 60 people, mostly babies and children, in a battle complicated..
Reuters - Published
Samoa in Christmas lockdown as measles deaths top 50
The small Pacific island nation of Samoa has closed schools and is restricting travel ahead of the Christmas holiday season as the death toll from a measles outbreak tops 50, in the latest flare-up of..
Reuters - Published
Samoa measles deaths rise above 50, mostly small children
The death toll from a measles outbreak in Samoa climbed to 53, the government said on Monday, as the number of people infected in the small Pacific nation grows by more than a hundred a day.
Reuters - Published
Samoa declares state of emergency as measles spreads across Pacific
Samoa declared a state of emergency this weekend, closing all schools and cracking down on public gatherings, after several deaths linked to a measles outbreak that has spread across the Pacific..
Reuters - Published
Magnitude 5.9 quake off Apia, Samoa, no reports of damage
A magnitude 5.9 earthquake struck around 250 km (150 miles) south-southwest of Apia, Samoa, on Friday, but local workers said there had so far been little impact.
Reuters - Published
Judo helps Japan get to grips with China's expansion in Pacific
In a large church hall near the Samoan parliament, 175-kg (386-lb) judo practitioner Derek Sua is being thrown to the mat by his Japanese coach, a black-belt who is just a third his size.
Reuters - Published
MOVIE REVIEW: Fast & Furious Presents: Hobbs & Shaw
by Graham Pierrepoint - FAST & FURIOUS PRESENTS: HOBBS & SHAW IMDb Dir: David Leitch Starring Dwayne Johnson, Jason Statham, Idris Elba, Vanessa Kirby, Helen Mirren, Roman Reigns, Eddie..
One News Page Staff - Published