Wuhan
Prefecture-level & Sub-provincial city in Hubei, People's Republic of China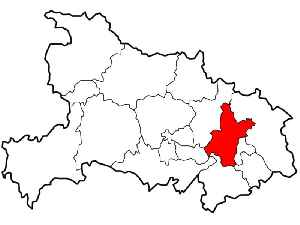 Wuhan is the capital of Hubei Province in the People's Republic of China. It is the largest city in Hubei and the most populous city in Central China, with a population of over 11 million, the ninth-most populous Chinese city and one of the nine National Central Cities of China.


Coronavirus pandemic kills one million people worldwide

Over one million people have now died from coronavirus worldwide. This milestone comes almost nine months after the first Covid-19 death was recorded in Wuhan, China. Data captured by Johns Hopkins..
Credit: ODN Duration: 02:00
Published
A cheaper, faster COVID-19 test

A method for fast, cheap, yet accurate testing for COVID-19 infection has been developed by a team of researchers. The method simplifies and frees the testing from expensive reaction steps, enabling..
Credit: ANI Duration: 01:36
Published
Kidney Damage Caused By COVID-19

Sept. 22 (UPI) -- COVID-19 causes acute kidney injury that can lead to death in some people infected with the virus, a study published Tuesday by the Clinical Journal of the American Society of..
Credit: Wochit News Duration: 00:33
Published
Nepal struggles with increases Covid-19 cases

Recovery rate of Nepal's COVID-19 infected patients stood at around 56 percent in an early fortnight of August, while towards the end of the month, it has dipped down to 54, increasing worries and..
Credit: ANI Duration: 02:36
Published
You Might Like



India, US can cooperate on defeating Wuhan-originated virus, threats from Chinese Communist Party: Pompeo

"We have a lot to discuss today, from cooperating on defeating the pandemic that originated in Wuhan, to confronting the Chinese Communist Party's threats to security and freedom, to promoting peace..




IndiaTimes - Published





Passengers from Dubai, UK lead to rise in COVID-19 cases in India: IIT Study

The research showed that Covid-19 got induced into Indian states mainly due to international travels with the very first patient travelling from Wuhan in China where the outbreak of the disease was..




DNA - Published





Study links abnormally high blood sugar to higher risk of death in Covid-19 patients not diagnosed with diabetes

A new research from Wuhan, China shows that in Covid-19 patients, but without a previous diagnosis of diabetes, abnormally high blood sugar is associated with more than double the risk of death and..




IndiaTimes - Published





60 GST registrations linked to Chinese national from Wuhan unearthed




IndiaTimes - Published





For virus-tamer Merkel, global alliances trumped nationalism

Travelling in convoy through the Chinese city of Wuhan last September, Angela Merkel called a halt. As her party crossed a bridge over the Yangtze river, the German Chancellor wanted to hear about a..




Reuters - Published





U.S. says consulate in China's Wuhan to reopen in near future

The United States will soon resume operations at its consulate in the Chinese city of Wuhan, where the novel coronavirus outbreak began late last year, the U.S. Embassy said on Wednesday.




Reuters - Published





Mumbai's COVID-19 tally is now more than that of Wuhan in China

The number of positive cases in Maharashtra alone is more than that of the entire country of China.




DNA - Published





China, scientists dismiss Harvard study suggesting COVID-19 was spreading in Wuhan in August

Beijing dismissed as "ridiculous" a Harvard Medical School study of hospital traffic and search engine data that suggested the new coronavirus may already have been spreading in China last August, and..




Reuters India - Published

Also reported by •Reuters


Coronavirus may have spread in Wuhan in August, Harvard research shows, but China dismissive

The coronavirus might have been spreading in China as early as August last year, according to Harvard Medical School research based on satellite images of hospital travel patterns and search engine..




Reuters India - Published

Also reported by •Reuters


With 51,100 COVID-19 cases, Mumbai crosses Wuhan tally

Maharashtra continues to be the epicenter of the coronavirus spread.




DNA - Published





Covid-19: Mumbai at 50,000, set to go past Wuhan's tally




IndiaTimes - Published





China drops Shanghai as a first port of entry for Beijing-bound flights

China on Monday dropped Shanghai as one of the first ports of entry for international flights bound for the capital, Beijing, while four new cities were added to the list and Wuhan, where the..




Reuters - Published





Breaking down Wuhan's blueprint for lifting lockdown

From outbreak to lockdown and reopening, the Chinese city of Wuhan, where the novel coronavirus emerged late last year, has been through all stages of dealing with the health crisis.




Reuters - Published





No new COVID sufferers, 300 asymptomatic, after Wuhan-wide tests

The Chinese city of Wuhan, where the novel coronavirus outbreak began, has found no new cases of people suffering from COVID-19 after testing almost its entire population, and 300 asymptomatic carriers..




Reuters - Published





China's Wuhan finds no new COVID cases, 300 asymptomatics in tests

The Chinese city of Wuhan, where the novel coronavirus outbreak first emerged, found no new cases of COVID-19 and 300 asymptomatic carriers after testing most of its 11 million residents, city..




Reuters - Published




'West Bengal shifting to Sweden model to contain coronavirus'

"I feel that they are shifting the model, they were till now going by the hammer and the tongs model which is a lockdown," he said. Referring to the 72-day lockdown in Wuhan, he said that a lockdown of..




IndiaTimes - Published





China's Wuhan says conducted 1,146,156 COVID-19 tests on May 23

The city of Wuhan, the epicenter of the novel coronavirus outbreak in China, conducted 1,146,156 nucleic acid tests on May 23, the local health authority said on Sunday, compared with 1,470,950 tests a..




Reuters - Published




China reports no new coronavirus cases for first time since pandemic began

China recorded no new confirmed COVID-19 cases on the mainland for May 22, the first time it had seen no daily rise in the number of cases since the pandemic began in the central city of Wuhan late..




Reuters India - Published

Also reported by •Reuters


China reports six new coronavirus cases, including one in Wuhan

China reported six confirmed coronavirus cases for May 18, including a new case in Wuhan, the health authority said on Tuesday, compared to seven a day earlier.




Reuters - Published





China's Wuhan nearly doubles number of COVID-19 tests per day

The city of Wuhan, where the new coronavirus outbreak originated in China, conducted 222,675 nucleic acid tests on May 16, the local health authority said on Sunday, nearly doubling from a day earlier.




Reuters - Published





Dancers bring Saturday night fever back to Wuhan as lockdown relaxed

Wearing masks and keeping about a metre apart, men and women in Wuhan were dancing once again on a Saturday night by the side of the Yangtze river, which winds through the central Chinese city where..




Reuters - Published





Crowds at Wuhan clinics fear coronavirus testing could rekindle disease

As Wuhan, the Chinese city where the COVID-19 pandemic began, revs up a massive testing campaign, some residents crowding the test centres expressed concern on Saturday that the very act of getting..




Reuters - Published





Fearing second wave, China's Wuhan ramps up coronavirus tests

Authorities in Wuhan have tested over 3 million residents for the coronavirus in April and May and aim to test all of the rest, state media said, as the city at the epicentre of the original outbreak..




Reuters - Published




China's Wuhan says tested almost a third of residents for coronavirus since April

Wuhan, the original epicentre of the new coronavirus outbreak in China, has tested over 3 million residents for the pathogen since April, and will now focus its testing efforts on the rest of its 11..




Reuters - Published




Wuhan residents brave rain, queues for COVID-19 mass-testing campaign

Residents in Wuhan braved pouring rain in queues of more than an hour to take part in a government-led exercise to test the city's 11 million people for the novel coronavirus, a scale health experts..




Reuters India - Published

Also reported by •Reuters


China's Wuhan kicks off mass testing campaign for new coronavirus

Authorities in the Chinese city where the novel coronavirus emerged launched an ambitious campaign on Wednesday to test all of its 11 million residents, after a cluster of new cases raised fears of a..




Reuters - Published





China's Wuhan reports first coronavirus cluster since lockdown lifted

Wuhan reported its first cluster of coronavirus infections since a lockdown on the city, the epicentre of the outbreak in China, was lifted a month ago, stoking concerns of a wider resurgence.




Reuters India - Published

Also reported by •Reuters


China's Wuhan plans city-wide testing for coronavirus over period of 10 days: sources

The Chinese city of Wuhan, the epicentre of China's coronavirus outbreak, plans to conduct city-wide nucleic acid testing over a period of 10 days, according to an internal document seen by Reuters and..




Reuters - Published





Mainland China reports 17 new COVID-19 cases amid new infections in Wuhan

China reported 17 new COVID-19 cases in the mainland on May 10, rising from a day earlier and marking the highest daily increase since April 28, highlighting the difficulty in stamping out the disease.




Reuters India - Published

Also reported by •Reuters


Northeast China hit by coronavirus infections, Wuhan reports new case

Chinese authorities reported on Sunday what could be the beginning of a new wave of coronavirus cases in northeast China, with one city in Jilin province being reclassified as high-risk, the top of a..




Reuters - Published

Also reported by •Reuters India


China reports first coronavirus case in Wuhan since April 3 among 14 new infections

China's National Health Commission reported 14 new confirmed coronavirus cases on May 9, the highest number since April 28, including the first for more than a month in the city of Wuhan where the..




Reuters - Published

Also reported by •Reuters India


Wuhan market had role in virus outbreak, but more research needed - WHO

A wholesale market in the central Chinese city of Wuhan played a role in the outbreak of the novel coronavirus last year, as the source or possibly as an "amplifying setting", the World Health..




Reuters India - Published

Also reported by •Reuters


Australia annoyed as U.S. pushes Wuhan lab COVID-19 theory

Australian officials are frustrated that their push for an inquiry into the origins of the coronavirus is being undermined by the White House, which has sought to link the outbreak to a Chinese lab,..




Reuters - Published





More people hit China roads in first major holiday since coronavirus easing

China's most populous cities saw a spike in outbound travellers, tourists and day-trippers on May 1, first day of a long holiday weekend, led by Wuhan, epicentre of the coronavirus epidemic that first..




Reuters - Published





Australian PM says no evidence coronavirus originated in China laboratory, urges inquiry

Australian Prime Minister Scott Morrison, who has angered Beijing by calling for a global inquiry into the coronavirus outbreak, said he had no evidence to suggest the disease originated in a..




Reuters - Published