Suella Braverman
British politician (born 1980)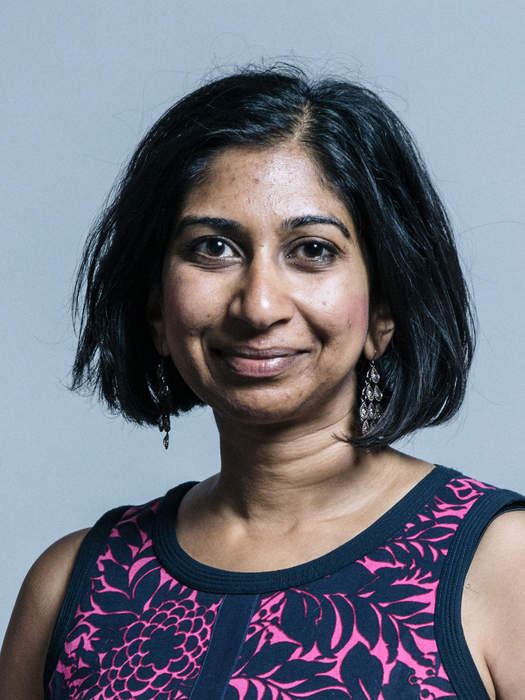 Sue-Ellen Cassiana "Suella" Braverman is a British politician and barrister who has been the Attorney General for England and Wales since 2020. She has been the member of parliament (MP) for Fareham in Hampshire since 2015. A member of the Conservative Party, she chaired the European Research Group from 19 June 2017 to 9 January 2018.


Suella Braverman welcomes 'needed' interest rates hike

Suella Braverman has welomed rising interest rates, as the Bank of England is expected to increase rates by 0.5 per cent, to their highest level since 1995, to "challenge global inflation".The attorney..
Credit: ODN Duration: 03:14
Published
Suella Braverman knocked out of Tory leadership race

Suella Braverman is the latest candidate to be knocked out of the Conservative leadership contest after she received the fewest votes in the second ballot. Report by Lewisl. Like us on Facebook at..
Credit: ODN Duration: 01:10
Published
Race To Replace Boris: One of These SIX Will Be Next PM

Jeremy Hunt and Nadhim Zahawi have been knocked out of the contest for the next leader of the Conservative party after they failed to secure 30 supporters in Wednesday's first round of voting among..
Credit: ODN Duration: 03:12
Published
Are Tory leadership candidates resorting to 'dirty tricks'?

Conservative MPs are resorting to "dirty tricks" in the race to find a new leader, according to insiders. Six contenders remain - Rishi Sunak, Penny Mordaunt, Liz Truss, Kemi Badenoch, Tom..
Credit: ODN Duration: 02:42
Published
Eight Tory MPs make first leadership ballot

Eight Conservative MPs have secured the required 20 nominations needed to make the first leadership ballot in their campaigns to succeed Boris Johnson as Prime Minister. Shortly after Sajid Jaivd..
Credit: ODN Duration: 01:20
Published
Jeremy Hunt launches leadership challenge

Former Health Secretary Jeremy Hunt has announced his bid to replace Boris Johnson as leader of the Conservative Party and Prime Minister. He says he would appoint Esther McVey as his deputy if he were..
Credit: ODN Duration: 00:18
Published
Leading Eurosceptic backs Suella Braverman to be Tory leader

Steve Baker says he is backing Attorney General Suella Braverman to Conservative Party leader, despite previously saying he was considering putting himself forward for the job. The former Brexit..
Credit: ODN Duration: 00:50
Published
You Might Like
Search this site and the web: