MOVIE REVIEW: Extraction

Monday, 27 April 2020
by 👨‍💻 Graham Pierrepoint


EXTRACTION

Dir: Sam Hargrave

Starring Chris Hemsworth, Rudhrasksh Jaiswal, Randeep Hooda, Golshifteh Farahani, Pankaj Tripathi, Priyanshu Painyuli, David Harbour





3.5 STARS (out of 5)
It feels like it's been a while since we've seen Chris Hemsworth on the big screen – or anyone on the big screen for that matter – and as such, British viewers this week have been treated to the (supposed)ex-God of Thunder take on a different kind of role. As you'll know from my previous reviews at One News Page, you'll know that I do have the occasional penchant for a good action movie – and Extraction promises to make the most of Hemsworth's charm in a way that's equal parts electric and mind-boggling at the same time.
Extraction is a movie that focus around Tyler Rake (Hemsworth), an Australian merc who is tasked with entering the city of Dhaka to bring back the kidnapped son of a drug baron – and as you can imagine, that's unlikely to be a task with too many thank yous. Along the way, of course, Rake runs into a variety of scummy drug-peddlers and villains armed to the teeth – all the while the teenage hostage's father is trying to secure passage for his son himself.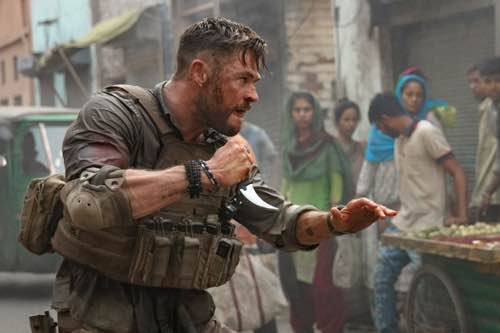 Extraction (Netflix)
So – yes – the plot is fairly simple. On paper, it's likely to be something you've seen or at least read the Cliff Notes for several times over. I'm pretty sure I've seen at least four movies with this plot in the same number of years. What I haven't seen, genuinely, however, is Chris Hemsworth offing several baddies with a garden rake – living up to his namesake.
Extraction benefits from bringing Hemsworth and the Russo Brothers (Avengers) back together, and it's a bit of treat. While the screenplay is never really anything more than cliched – yes, you'll spot the biggest twists a mile away, as always – but it's what happens along the way that's really worth digging into. This is a movie which is relentlessly violent – in all honesty, it's the sort of movie which is likely to go places you seriously wouldn't imagine it to. It's rare you get something quite as creative and as envelope-pushing as this debuting on UK Netflix, meaning do be prepared to grab a bucket if you're pretty sensitive in this regard.
Of course, Tyler Rake is a hell-for-leather merc with – you've guessed it – a tortured past. At this point, the movie's going to struggle to find anyone who cares. How often has an action movie chosen to do this with its main characters? Can't they simply offer badassery and bad attitudes without them carrying around psychological torture? Maybe not. After all, I guess you need to justify why Chris Hemsworth is literally smashing into people with garden implements. There are scenes in this movie which you'll be infinitely glad you saw, but which you'll wonder if you'll ever get the time back from again.
Extraction - Official Trailer (Netflix)
The movie trades a lot on Hemsworth's ability to lead a film. We already know that, generally, he is the go-to guy if you're looking for a hero with more than a few rough sides. Thor is a character who the actor transformed from a stoic hammer-wielding god into a haphazard, slightly dopey madman. Here, he takes the action hero staple and turns it up to ten, borrowing a little of the glorious madcap action we've seen Keanu Reeves smash around with in the John Wick series. We don't really get to know much about the driving motivations of the characters involved here, but we do get to see enough to really drive the plot home. That being said, as mentioned, the plot isn't fantastic – but it's just enough of a template for the ultraviolence to settle into.
The film is shot on location in Bangladesh, which does give it a fairly unique flavour and feel, and there's been a clear decision to cast stars who you won't necessarily find in Western blockbusters elsewhere. Therefore, there are a few twists to the production which are likely to set it apart from the pack. That being said, some more seasoned action movie fans will likely find a lot of the twists and turns a little rote, with the saving graces being Hemsworth and the fact that it's so blisteringly violent.
But when does unending movie violence become a positive trait? I guess in this case, it's sheer audacity. This is a film which would otherwise be plodding along at its own pace, only offering up a few staple moments here and there which are likely to be memorable. The fact that the film is so off-the-wall bizarre in places will likely help to keep its place in the pantheon of Netflix's best. Then again, is it original enough to be a staple of the genre? Maybe not, but you can at least have a damn good time and switch your brain off in equal measure.
You Might Like
💡 newsR Knowledge: Other News Mentions
Hulk Hogan jokes that Chris Hemsworth isn't handsome enough to play him

Hulk Hogan has joked that Chris Hemsworth isn't good looking enough to play him in an upcoming biopic.
Credit: Cover Video STUDIO Duration: 00:50
Published
Pankaj Tripathi: I often get to hear that I've become the superstar of OTT

Bollywood actor Pankaj Tripathi speaks to HT City Entertainment Editor, Monika Rawal, about being the 'man of the moment' whether it's on web platforms or in theatres. With multiple projects that released last year — Angrezi Medium, Extraction, Gunjan Saxena: The Kargil Girl, Ludo, Shakeela, Mirzapur 2 and Criminal Justice season 2 — the actor had a packed 2020. Even this year, he already has had a web film, Kaagaz, which opened to positive response. "Though I haven't done any project for nine months but since I had so many releases, so somewhere or the other, I am only talking about the films and my acting," he says. However, he readily adds that he would like to slow down in the next year and going forward, will try to take up lesser work that what he has been taking of late, and spend some time with his family and take a break. "There is a lot of demand and lot of filmmakers want to cast me but I have not learnt to say no yet. It's very tough. But agar samay hi nahi hai toh naa karna hi padega," he says. Tripathi admits there's a fear of getting typecast into doing mostly web only projects. "I've heard people say, 'Pankaj Tripathi toh OTT ka superstar hai'. But I only believe in acting, not the platform," he shares. The actor further also talks about saturation point in an actor's life, possibility of getting stereotyped in doing similar roles, the OTT boom, charm of theatres and a lot more, doing more of message-oriented projects and a lot more.
Credit: HT Digital Content Duration: 25:49
Published
Army Day: Akshay Kumar flags off marathon, plays volleyball with soldiers

Actor Akshay Kumar celebrated the Army Day with Indian Army soldiers. He took to Instagram and shared a video of him playing volleyball with jawans from the Army. The actor, who took out time to celebrate the day, also flagged off a marathon. The short clip showed Akshay jump and hit the ball amid a thick cloud of mist. Soon, the ball was deftly blocked by his opponent on the other side of the net. Akshay and the rest of the men were dressed in black t-shirts and track bottoms. A referee sat on a raised seat at the nets, while a number of bystanders watched. Akshay has been busy shooting for his upcoming film, Bachchan Pandey in Jaisalmer. Videos of the actor at various shooting locations have landed on the internet. While little is known about the storyline of the film, it is being directed by Farhad Samji. Film also stars Kriti Sanon, Prateik Babbar, Arshad Warsi, Pankaj Tripathi and others.
Credit: HT Digital Content Duration: 01:53
Published
Pankaj Tripathi And Satish Kaushik Get Candid About Kaagaz, The Film Industry And Lots More

Pankaj Tripathi is known for adding a flavor of comedy even to tragedy scenes with his characters. Well, the actor is all set to blow the audience away once again with his upcoming film Kaagaz, directed by the very talented Satish Kaushik. Ahead of the film's release, the two kalakars opened up about their characters, the film industry and lots more in an exclusive chat with Desimartini.
Credit: HT Digital Content Duration: 23:50
Published
Salman Khan announces release of Radhe: Your Most Wanted Bhai in theatres

Bollywood actor Salman Khan has confirmed that his upcoming movie Radhe: Your Most Wanted Bhai will be releasing in theatres this year. The actor said the movie will be released on Eid 2021. The movie was earlier scheduled to release on the OTT platform, as per reports. Salman took to social media and shared a post where he announced the release of his upcoming movie. The movie also stars Disha Patani, Jackie Shroff, and Randeep Hooda in pivotal roles. Watch the full video for more details.
Credit: HT Digital Content Duration: 01:06
Published
Zendaya left frustrated when she couldn't hit the right emotions for 'Malcolm & Marie'

The Emmy-winning actress teamed up with her Euphoria director Sam Levinson for the upcoming black-and-white Netflix movie.
Credit: Cover Video STUDIO Duration: 01:19
Published
The White Tiger - Movie Review | Priyanka Chopra Jonas, Rajkummar Rao | Netflix |

Based on Arvind Adiga's acclaimed novel, the Adarsh Gourav, Priyanka Chopra, Rajkummar Rao starrer The White Tiger released on Netflix. The movie stressing on the difference between the rich and the poor with a humorous take has been much awaited. Check out our review to see if the movie lives up to the novel it is based on.
Credit: HT Digital Content Duration: 03:14
Published
Priyanka Chopra Jonas and Adarsh Gourav on representation of south Asian people in cinema

Priyanka Chopra Jonas and Adarsh Gourav have spoken about the importance ofrepresentation of south Asian people in global cinema and said they hope theirnew Netflix film The White Tiger is a step in the right direction. Alsointerview with director Ramin Bahrani. The White Tiger is out now on Netflix.
Credit: PA - Press Association STUDIO Duration: 00:40
Published
Netflix's Shuffle Play Feature Will Launch This Year

According to 'Variety,' the streaming service announced that the new feature will launch in the first half of 2021.
Credit: Cover Video STUDIO Duration: 00:57
Published
COVID vaccine consignment arrives at Mumbai airport, ready for dispatch to Nepal, Bangladesh

Serum Institute of India's vaccine consignment arrived at Mumbai's Chhatrapati Shivaji Maharaj International Airport on January 21. The consignment is containing 10 lakh dosages which will be dispatched to Kathmandu and 20 lakh dosages to Dhaka.
Credit: ANI Duration: 01:00
Published
Bangladeshi PM pays gratitude to Indians for their wholehearted support for liberation cause

Prime Minister Narendra Modi and Prime Minister of Bangladesh, Sheikh Hasina held virtual summit. The event was held on December 17 via video conferencing. Speaking at the event, Bangladesh PM Sheikh Hasina said, "I pay deep homage to the 3 million martyrs, who laid their lives. I pay tribute to the members of the Indian armed forces martyred in the 1971 war. I pay my gratitude to the govt and people of India who extended wholehearted support for the cause of our liberation," "Bangladesh is on the verge of celebrating 50 years as an independent nation. Your (PM Modi) visit to Dhaka on 26th March 2021 will be the crowning glory of our joint commemoration of Bangladesh's Liberation War 1971," she added.
Credit: ANI Duration: 02:35
Published
Daily Punc- Dhanush Joins The Cast Of 'The Gray Man'

Dhanush Joins The Cast Of Ryan Gosling, Chris Evans Starrer Netflix Film 'The Gray Man', Helmed By Russo Brothers. In other News Carryminati to make his Bollywood debut with Ajay Devgn's Mayday, which also stars Amitabh Bachchan. to know more watch Daily Punch
Credit: HT Digital Content Duration: 03:43
Published
Russo brothers eye up franchise potential for 'The Gray Man'

Joe and Anthony Russo would like to see their big-budget spy film 'The Gray' Man become a franchise.
Credit: Cover Video STUDIO Duration: 00:51
Published
Related news from verified sources
•More original news reports from newsR