MOVIE REVIEW: Extraction

Monday, 27 April 2020
by 👨‍💻 Graham Pierrepoint


EXTRACTION

Dir: Sam Hargrave

Starring Chris Hemsworth, Rudhrasksh Jaiswal, Randeep Hooda, Golshifteh Farahani, Pankaj Tripathi, Priyanshu Painyuli, David Harbour





3.5 STARS (out of 5)
It feels like it's been a while since we've seen Chris Hemsworth on the big screen – or anyone on the big screen for that matter – and as such, British viewers this week have been treated to the (supposed)ex-God of Thunder take on a different kind of role. As you'll know from my previous reviews at One News Page, you'll know that I do have the occasional penchant for a good action movie – and Extraction promises to make the most of Hemsworth's charm in a way that's equal parts electric and mind-boggling at the same time.
Extraction is a movie that focus around Tyler Rake (Hemsworth), an Australian merc who is tasked with entering the city of Dhaka to bring back the kidnapped son of a drug baron – and as you can imagine, that's unlikely to be a task with too many thank yous. Along the way, of course, Rake runs into a variety of scummy drug-peddlers and villains armed to the teeth – all the while the teenage hostage's father is trying to secure passage for his son himself.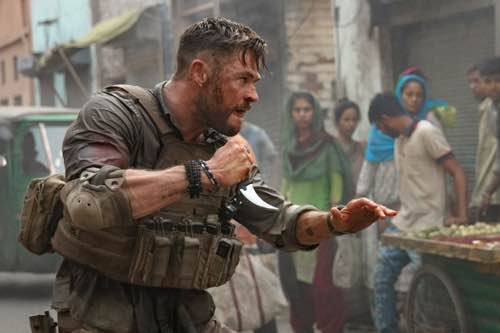 Extraction (Netflix)
So – yes – the plot is fairly simple. On paper, it's likely to be something you've seen or at least read the Cliff Notes for several times over. I'm pretty sure I've seen at least four movies with this plot in the same number of years. What I haven't seen, genuinely, however, is Chris Hemsworth offing several baddies with a garden rake – living up to his namesake.
Extraction benefits from bringing Hemsworth and the Russo Brothers (Avengers) back together, and it's a bit of treat. While the screenplay is never really anything more than cliched – yes, you'll spot the biggest twists a mile away, as always – but it's what happens along the way that's really worth digging into. This is a movie which is relentlessly violent – in all honesty, it's the sort of movie which is likely to go places you seriously wouldn't imagine it to. It's rare you get something quite as creative and as envelope-pushing as this debuting on UK Netflix, meaning do be prepared to grab a bucket if you're pretty sensitive in this regard.
Of course, Tyler Rake is a hell-for-leather merc with – you've guessed it – a tortured past. At this point, the movie's going to struggle to find anyone who cares. How often has an action movie chosen to do this with its main characters? Can't they simply offer badassery and bad attitudes without them carrying around psychological torture? Maybe not. After all, I guess you need to justify why Chris Hemsworth is literally smashing into people with garden implements. There are scenes in this movie which you'll be infinitely glad you saw, but which you'll wonder if you'll ever get the time back from again.
Extraction - Official Trailer (Netflix)
The movie trades a lot on Hemsworth's ability to lead a film. We already know that, generally, he is the go-to guy if you're looking for a hero with more than a few rough sides. Thor is a character who the actor transformed from a stoic hammer-wielding god into a haphazard, slightly dopey madman. Here, he takes the action hero staple and turns it up to ten, borrowing a little of the glorious madcap action we've seen Keanu Reeves smash around with in the John Wick series. We don't really get to know much about the driving motivations of the characters involved here, but we do get to see enough to really drive the plot home. That being said, as mentioned, the plot isn't fantastic – but it's just enough of a template for the ultraviolence to settle into.
The film is shot on location in Bangladesh, which does give it a fairly unique flavour and feel, and there's been a clear decision to cast stars who you won't necessarily find in Western blockbusters elsewhere. Therefore, there are a few twists to the production which are likely to set it apart from the pack. That being said, some more seasoned action movie fans will likely find a lot of the twists and turns a little rote, with the saving graces being Hemsworth and the fact that it's so blisteringly violent.
But when does unending movie violence become a positive trait? I guess in this case, it's sheer audacity. This is a film which would otherwise be plodding along at its own pace, only offering up a few staple moments here and there which are likely to be memorable. The fact that the film is so off-the-wall bizarre in places will likely help to keep its place in the pantheon of Netflix's best. Then again, is it original enough to be a staple of the genre? Maybe not, but you can at least have a damn good time and switch your brain off in equal measure.
💡 newsR Knowledge: Other News Mentions
Elsa Pataky shares bath snap of Chris Hemsworth in belated Father's Day post

Elsa Pataky gave fans a glimpse into life with Hollywood heartthrob Chris Hemsworth in a sweet Father's Day tribute.
Credit: Cover Video STUDIO Duration: 00:48
Published
Chris Hemsworth's wife Elsa Pataky felt 'lost' after welcoming first child

Model and actress Elsa Pataky struggled to accept motherhood over her career after welcoming her first child with her husband Chris Hemsworth.
Credit: Cover Video STUDIO Duration: 00:55
Published
Chris Hemsworth going swimming with sharks for TV special

Avengers star Chris Hemsworth will be taking a deep dive to swim with sharks for a new National Geographic special.
Credit: Cover Video STUDIO Duration: 00:42
Published
Gunjan Saxena: The Kargil Girl | No Rating Movie Review | Janhvi Kapoor | Pankaj Tripathi | Angad Bedi

Starring Janhvi Kapoor in the titular role, this biographical film, Gunjan Saxena: The Kargil Girl is inspired by the life of Indian Air Force pilot, Gunjan Saxena — the first Indian female air-force pilot in combat, and the first and only woman to be part of the Kargil War in 1999. Directed by Sharan Sharma, the film stars Pankaj Tripathi and Angad Bedi in supporting roles as Gunjan's father and brother respectively. The films shows Gunjan's journey of realizing her dream of becoming a pilot and upon reaching the IAF flying base, how she beats patriarchal mindset, deals with gender bias, proves her physical strength and tales a test at every step. The music of the film is quite a package and there's a song for every situation. Even as the film looks a bit rushed at times, there's rarely a dull moment in this inspiring tale. Gunjan Saxena: The Kargil Girl will stream on Netflix starting August 12.
Credit: HT Digital Content Duration: 04:28
Published
Janhvi Kapoor, Pankaj Tripathi interview: Gunjan Saxena stars defend film against backlash

Gunjan Saxena: The Kargil Girl, starring Janhvi Kapoor, Pankaj Tripathi, Angad Bedi, Vineet Kumar Singh, Ayesha Raza & Manav Vij, is the inspiring true story of a simple girl with big dreams who stood her ground to rule the skies. Watch our exclusive interview with Janhvi, Pankaj and director Sharan Sharma where they discuss the wave of negativity chasing the film, and how they're handing the situation.
Credit: HT Digital Content Duration: 15:45
Published
'A true statesman': Bollywood condoles former president Pranab Mukherjee's demise

Bolloywood mourned the demise of former president Pranab Mukherjee. Pranab Mukherjee died at 84 in an army hospital in New Delhi. The news was announced by Mukherjee's son Abhijit on Twitter. Soon after Mukherjee's demise condolences started pouring in from Bollywood. Many of the celebrities recalled meeting the former president. Actor Ajay Devgn expressed condolences to Mukherjee's family. Actor Riteish Deshmukh expressed grief, calling it 'a big loss for India'. Veteran singer Lata Mangeshkar expressed her heartfelt condolences. Actor Taapsee Pannu recalled having watched Pink in his presence. Actor Randeep Hooda condoled the demise of the Congress veteran. Actor Varun Dhawan also mourned the loss of former president. Former president Pranab Mukherjee was admitted to hospital on August 10. Mukherjee later developed lung infection and was on ventilator support. Pranab Mukherjee was the 13th president of India from 2012 to 2017.
Credit: HT Digital Content Duration: 02:22
Published
Sir David Attenborough reflects on his extraordinary career in 'A Life On Our Planet'

Sir David Attenborough's extraordinary life and career is celebrated in a newfilm premiering in theaters in September and on Netflix. Attenborough alsooffers a stark warning about the destruction to natural habitats and fragileecosystems he's witnessed across the decades and the devastating impactclimate change is having on the planet. The film - created by SilverbackFilms, the team behind Attenborough's acclaimed "Planet Earth" and "BluePlanet" series, and WWF, the world's leading conservation organisation - wasoriginally supposed to premiere in theaters in April 2020 but had to bepostponed because of the pandemic.
Credit: PA - Press Association STUDIO Duration: 00:53
Published
'Julie and the Phantoms' Cast Talk Fan Reactions, Season 2 Wishlist | THR Interviews

The cast of Netflix's 'Julie and the Phantoms,' including Madison Reyes, Charlie Gillespie, Jeremy Shada, Owen Joyner, Booboo Stewart and Cheyenne Jackson, as well as director Kenny Ortega, talk about bringing their new Netflix series to life.
Credit: The Hollywood Reporter Duration: 05:49
Published
Massive protest held in Dhaka against China's repression of Uighur Muslims

A massive protest was held outside Dhaka Press Club on Friday to condemn the Chinese brutality and suppression against Uighur Muslims in Xinjiang Autonomous region. Bangladesh Freedom Fighters organised the demo in memory of August 28 Uighur Repression Day saying that Muslims in many countries are unhappy with the inhuman treatment of Uighur Muslims by China's Communist regime. The Chinese government has reportedly detained more than a million Muslims in re-education camps. Most of the people who have been arbitrarily detained are Uighur, a predominantly Turkic-speaking ethnic group primarily from China's north-western region of Xinjiang. Human rights organizations, UN officials, and many foreign governments are urging China to stop the crackdown. But Chinese officials maintain that what they call vocational training centers do not infringe on Uighurs' human rights. They have refused to share information about the detention centers, and prevented journalists and foreign investigators from examining them. However, internal Chinese government documents leaked in late 2019 have provided important details on how officials launched and maintained the detention camps. Human rights activists allege that most people in the camps have never been charged with crimes and have no legal avenues to challenge their detentions. The detainees seem to have been targeted for a variety of reasons, according to media reports, including traveling to or contacting people from any of the twenty-six countries China considers sensitive, such as Turkey and Afghanistan; attending services at mosques; having more than three children; and sending texts containing Quranic verses. Often, their only crime is being Muslim, human rights groups say, adding that many Uighurs have been labeled as extremists simply for practicing their religion.
Credit: ANI Duration: 01:43
Published
You Might Like
Tweets about this
•More original news reports from newsR