Army
Military branch for ground warfare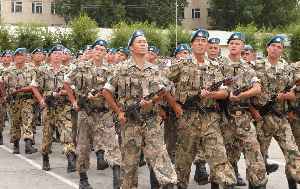 An army, ground force or land force is a fighting force that fights primarily on land. In the broadest sense, it is the land-based military branch, service branch or armed service of a nation or state. It may also include aviation assets by possessing an army aviation component. Within a national military force, the word army may also mean a field army.


Retired Army major bids to row home-made Tintanic boat 100 miles for charity

An 80-year-old retired Army major has embarked on a 100-mile charitychallenge, travelling at 2mph in his home-made boat. Michael Stanley, whoserved in The Royal Scots Dragoon Guards for 35 years,..
Credit: PA - Press Association STUDIO Duration: 01:11
Published
Guinea attack: Army commander killed at Kindia military base

Soldiers attacked the military camp in Kindia where the rally was held, killing the camp commander.
Credit: Al Jazeera STUDIO Duration: 01:56
Published
Army reveals Pak's terror plan, days after Rajnath slammed China-Pak 'mission'

Indian Army revealed Pakistan's plan to push terrorists across LoC days after the govt's China-Pakistan joint 'mission' revelation. Army said Intel suggests around 250 terrorists are waiting to..
Credit: HT Digital Content Duration: 03:24
Published
Newly inaugurated Nimmu bridge will improve Army's strategic movements: BRO Chief Engineer

Defence Minister Rajnath Singh on October 12 inaugurated 8 bridges in Leh. Border Road Organization Chief Engineer, Vijayak said that the newly inaugurated Nimmu Bridge will improve Army's strategic..
Credit: ANI Duration: 02:52
Published
'Punish whoever is responsible': J&K ex-CM on Army's Shopian encounter

Former Jammu and Kashmir Chief Minister Farooq Abdullah on Saturday said that he was not against the operations being carried out by security forces in the valley but against the loss of innocent lives..
Credit: HT Digital Content Duration: 02:53
Published
'Desperate for freedom': PoK activist exposes Pakistan brutality at UNHRC

PoK activist Dr. Amjad Mirza exposed Pakistan's brutalities during a session of the United Nations Human Rights Council. He said that the world has been hypnotized by the lies dished out by Pakistan..
Credit: HT Digital Content Duration: 01:58
Published
Govt feels only they can speak in support of Army: Congress Dy leader on party's walkout from LS

Congress MPs walked out from Lok Sabha demanding discussion on India-China border issue on September 15. Congress Deputy Leader, Gaurav Gogoi on Congress' walk out said, "Our leader AR Chowdhury wanted..
Credit: ANI Duration: 01:59
Published
Watch: PM Modi asks MPs to send message of support to Army; Tharoor responds

PM Modi asked all parliamentarians send a message of support to the army soldiers who are guarding the border in tough terrains. Ahead of the parliament session, PM Modi said this session needs to send..
Credit: HT Digital Content Duration: 02:28
Published
After Trump remarks, Army chief defends top brass

[NFA] A day after President Donald Trump accused the U.S. military brass of wanting to fight wars to keep weapons makers happy, the Army's top general said on Tuesday leaders of the armed forces would..
Credit: Reuters Studio Duration: 02:32
Published
Army pays tribute to soldier killed in Pak ceasefire

Indian Army on September 08 paid tribute to late Gunner Bhupender, who made a supreme sacrifice on 05 Sep 2020 in North Kashmir. High rank officials paid tribute to the braveheart soldier on behalf of..
Credit: ANI Duration: 01:53
Published
You Might Like



Defence minister lauds Army's handling of current security environment

The top Army commanders are carrying out a comprehensive review of India's combat readiness along the Line of Actual Control with China as well as the situation in Jammu and Kashmir at a four-day..




IndiaTimes - Published





Focus on China, Pakistan as meeting of Army brass begins today

The Army commanders' conference chaired by General M M Naravane, from October 26 to 29 comes amid the continuing military confrontation with China in eastern Ladakh and the sharp rise in ceasefire..




IndiaTimes - Published





Army commanders to review situation in Ladakh, internal reforms at 4-day conference from Monday

Top commanders of the Army will carry out a comprehensive assessment of India's combat readiness in eastern Ladakh as well as other sensitive areas along the Line of Actual Control with China at a..




IndiaTimes - Published





PLA soldier to be freed 'after due process' in 'a few days': Army




IndiaTimes - Published





Army's EME commemorates its 78th year of raising




IndiaTimes - Published





Leaders, Army not on same page on women permanent commission, says Supreme Court

The Supreme Court on Tuesday said there was a chasm between the thinking of top political leaders and the Army bureaucracy when it came to grant of permanent commission (PC) to women Short Service..




IndiaTimes - Published





Army slams state-sponsored social media campaign from Pakistan to defame it

In a statement, the Army said it is a secular organisation and all officers and soldiers serve the nation with pride irrespective of their religion, caste, creed or gender. The Army specifically..




IndiaTimes - Published





Govt approves Rs 7,796 crore upgrade of Army's telecommunication network

The Cabinet Committee on Security has approved the long-pending Rs 7,796 crore project to further upgrade the Army's digital telecommunication network across the country. The Phase-IV of the Army..




IndiaTimes - Published





Army pays tributes to jawan killed in Pak firing along LoC in Rajouri




IndiaTimes - Published





Amid tensions at LAC, Army prepares for long winter in Ladakh

From heating appliances and climate appropriate clothing to rations, fuel and tents that protect from the biting cold, all necessary supplies have reached the forward areas for the Army to gear up for..




IndiaTimes - Published





PM sets the tone, calls upon House to back jawans on the China front

"This House, particularly this session, has one more crucial responsibility. Today, the brave soldiers of our Army are on the borders. They are defending the borders with great courage and high..




IndiaTimes - Published





'Contact tracing' helping Army wean youths away from terrorism: Lt Gen Raju

"Contact tracing" is the new strategy being adopted by the Army in terror-hit Kashmir Valley and under it, friends and relatives of local terrorist recruits or those killed in encounters are located..




IndiaTimes - Published





Don't allow transgressions, maintain utter discipline: Army instructs ground commanders

Engaged in a stand-off with the Chinese army, the Indian Army has given instructions to field commanders that the Chinese should not be allowed to transgress at any cost and also directed them that..




IndiaTimes - Published





No trace of 5 Arunachal youths 'abducted' by PLA

The five youths were engaged by Army as porters and had gone to the border area and two of their friends, who managed to retuned home, told villagers that the five have been abducted from Sera-7 area,..




IndiaTimes - Published





LAC stand-off: Army chief says troops prepared for contingencies

The Army is fully geared to handle the "delicate and serious" situation along the border with China, having undertaken precautionary deployments to safeguard the country's territory integrity, Gen M..




IndiaTimes - Published





Army, IAF chiefs visit forward areas as China moves more forces near Chushul

China has moved additional forces opposite the Chushul sector in eastern Ladakh after a large number of well-armed Indian troops occupied virtually all the dominating heights from Thakung to Reqin La..




IndiaTimes - Published




Mann Ki Baat: PM mentions 'Sophie' and 'Vida', the two award-winning Army dogs

Military sources said Vida, belonging to an Army dog unit under Udhampur-headquartered Northern Command, was instrumental in the timely detection of five mines and one grenade buried underground,..




IndiaTimes - Published





Parts of Madhya Pradesh flooded after heavy rain; Army,NDRF deployed in Hoshangabad

Torrential rain over the last two days triggered flooding in several districts of Madhya Pradesh, including Hoshangabad, where the Army and the NDRF were roped in on Saturday to rescue people from..




IndiaTimes - Published





Three Hizb terrorists, Army soldier killed in encounter in J&K




IndiaTimes - Published





Advised after 2017 Doklam face-off, crucial Army post yet to be created

A crucial new Army post, the operational need for which came to the fore during the 73-day troop confrontation at Doklam with China in 2017, is still missing in action due to bureaucratic hurdles...




IndiaTimes - Published





Army soldier injured during Pulwama encounter is critical




IndiaTimes - Published





One terrorist killed as Army foils infiltration bid along LoC in J&K's Poonch

"Subsequent search in the area showed that the dead body of the terrorist had been dragged away from the incident site. However, one AK 47 rifle, two AK 47 magazines and some eatables were recovered..




IndiaTimes - Published





Amid border tensions with China, Army chief tells field commanders to be prepared for any 'eventuality'

He gave the remarks during his recent visit to the Tezpur-based 4 Corps, which looks after the China border with Arunachal Pradesh. "The Army Chief has told all his commanders to be prepared for any..




IndiaTimes - Published





Army reviews security situation in Kashmir ahead of first anniversary of abrogation of Article 370

Senior officers from Army, police and other security agencies reviewed the security situation in Kashmir on Monday ahead of the first anniversary of the abrogation of Article 370, officials said.




IndiaTimes - Published





Army pays tribute to solider martyred after accidentally stepping on old explosive in Kargil

A 24-year-old Indian army man was martyred after he accidentally stepped on an old landmine along the Line of Control in Kargil.




DNA - Published





PM Modi inquiries about Covid-19 positive servicemen; asks Uttarakhand CM, Army to ensure treatment

Prime Minister Narendra Modi spoke to Uttarakhand Chief Minister Trivendra Singh Rawat and received information regarding servicemen who have contracted Covid-19. The Prime Minister asked the state..




IndiaTimes - Published





Lt Colonel moves Delhi HC against Army ban on apps

Lieutenant Colonel P K Choudhary, currently posted in Jammu & Kashmir, has said that he uses Facebook responsibly and needs it to connect with friends and family as most of them are settled abroad,..




IndiaTimes - Published





Army chief visits forward areas to review operational preparedness in Jammu-Pathankot region

The Chief of Army staff (COAS), General M M Naravane on Monday visited forward areas under the strategic, Rising Star corps of army to review the current security situation and operational readiness of..




IndiaTimes - Published





Sharechat, Dailyhunt among 89 apps banned by Army




IndiaTimes - Published





Terrorists attack Army convoy in Kashmir; soldier, pedestrian injured




IndiaTimes - Published





Army asks soldiers, officers to delete Facebook and Instagram accounts, uninstall 80 apps

The 13-lakh strong Army has directed all its officers and soldiers to delete their Facebook and Instagram accounts as well as over 80 apps from their mobile phones by July 15.




IndiaTimes - Published





Chinese troops move back by 2 km at LAC friction points in Eastern Ladakh

"Disengagement between troops of India and China has been completed today at Patrolling Point 15. The Chinese troops have moved back by approximately 2 kilometres," the Army sources said. The..




IndiaTimes - Published





Congress lauds Army, seeks PM's apology

Congress lauded the "valour" of Indian Army after reports of partial Chinese withdrawal from some points in Ladakh, even as it demanded that Prime Minister Narendra Modi apologise for his "no..




IndiaTimes - Published





Comments on medical facility in Leh 'malicious', says Army

The Army has rejected as "malicious and unsubstantiated" the allegations by "some quarters" on social media and elsewhere about PM Narendra Modi's visit to the military hospital at Leh being..




IndiaTimes - Published





Army to procure multipurpose survival kits for infantry troops

The Indian Army will procure multipurpose survival kits for foot soldiers as part of its infantry modernisation plan, said Army sources on Monday.




IndiaTimes - Published





Army pays tribute to soldier who died in Ladakh during road construction

The mortal remains of Naik DSV Sachin More, who lost his life during the construction of a road and bridge in Leh was given full military honours at the Pune airport where it arrived on Friday evening...




IndiaTimes - Published





PM using Army's valour for Bihar assembly polls: Shiv Sena

The ruling coalition lead party in Maharashtra said the PM is playing "caste and regional card" by highlighting the role of a particular Army regiment whose personnel were involved in the fierce clash..




IndiaTimes - Published





Army alert to PLA build-up in hotspot Depsang

Army chief General Naravane, during his trip to forward areas of eastern Ladakh over the last couple of days, directed further strengthening of patrolling to the 65 points on the LAC to plug all gaps,..




IndiaTimes - Published





Indian Army Chief awards commendation cards to soldiers who fought Chinese troops in face-offs in Ladakh

Army Chief General Manoj Mukund Naravane on Wednesday awarded commendation cards to the soldiers, who fought with the Chinese troops in face-offs in the Eastern Ladakh sector, Army sources said. Indian..




IndiaTimes - Published





Army Chief visits forward areas in Ladakh; takes stock of ground situation

Army Chief Gen MM Naravane on Wednesday visited various forward areas in eastern Ladakh and took stock of the Army's combat preparedness in the region in the wake of the bitter border standoff with..




IndiaTimes - Published





Army Chief on visit to forward locations in Eastern Ladakh, to interact with troops

"On a two-day visit to Ladakh, Army Chief General MM Naravane is on a visit to the forward locations in the Eastern Ladakh area today. The chief will also interact with troops on the ground there,"..




IndiaTimes - Published





Army Chief MM Naravane to visit Leh today

Army Chief General Manoj Mukund Naravane will visit Leh on Tuesday after the Army Commanders' Conference gets over, to review the on-ground situation and the progress in talks with the Chinese..




IndiaTimes - Published





'Batman, not bats': Jibe at China in Army's Bihar Regiment tribute

Hours after PM Narendra Modi saluted the valour of the Bihar Regiment in the Galwan Valley skirmish with Chinese troops, a video tweeted by the Army's Northern Command late Saturday to celebrate the..




IndiaTimes - Published





No Indian troops missing in action, says Army

The Army on Thursday said "no Indian troops are missing in action" after the violent skirmish with Chinese troops in the Galwan Valley of eastern Ladakh on Monday night, discounting reports of 10..




IndiaTimes - Published





Indian troops on border duty carry arms: Jaishankar to Rahul

All Indian troops guarding the border with China carry arms, external affairs minister S Jaishankar said on Thursday, replying to Congress leader Rahul Gandhi's poser that why Army personnel in Galwan..




IndiaTimes - Published





Bow to exemplary courage and supreme sacrifice of our soldiers: President on Galwan Valley stand-off

At least 20 Army personnel, including a colonel-rank officer, were killed in Galwan Valley in eastern Ladakh on Monday.




DNA - Published





Galwan clash: Army, Navy, Air Force raise alert level

Front-line bases of the Indian Army and the Air Force along the nearly 3,500 km de-facto border with China were on Wednesday put on high alert in view of a major clash between Indian and Chinese troops..




IndiaTimes - Published





Army pays tribute to fallen soldiers: Here is the list of 20 jawans martyred in Galwan Valley face-off

Army chief General MM Naravane paid tribute to the fallen soldiers and offered condolences to the families.




DNA - Published





Pension hurdle for Army's retired Nepalese soldiers




IndiaTimes - Published





India, China continue Army talks in Galwan area, Hot Springs

Sources said that after the June 6 talks between Military commanders followed by other rounds of talks, there has not been any considerable build-up activity by both sides and Chinese aggressive..




IndiaTimes - Published