MOVIE REVIEW: Inferno

Wednesday, 26 October 2016
by 👨‍💻 Graham Pierrepoint


INFERNO

Dir: Ron Howard

Starring Tom Hanks, Felicity Jones, Omar Sy, Sidse Babett Knudsen, Irrfan Khan, Ben Foster





2 STARS (out of 5)
There appear to be thrillers abound at the movies just lately – and while some, such as The Girl on The Train, take one route to creating suspense, others go in a completely different direction. Anyone familiar with other Dan Brown adaptations – The Da Vinci Code and Angels and Demons – will know exactly what to expect from Inferno, as Hanks' brainbox Professor Robert Langdon returns to the big screen to save the world from hidden peril once again. The question being posed now is – do these movies still have a place and a relevance in 2016? Maybe – but then again, maybe not.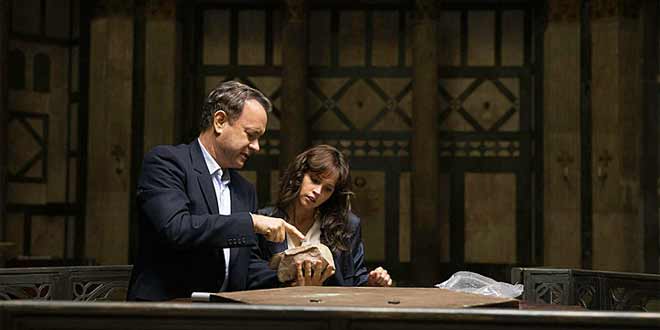 Prof Langdon finds himself in a hospital in Florence without knowing how or why. He's been shot, and his doctor in attendance (Jones) helps him escape a further attempt on his life – and from there, the symbologist discovers that there's a sinister underground plot been reverberating to unleash a virus upon the world (known as 'Inferno'), which looks set to wipe out half of the Earth's population. The instigator (Foster) has since committed suicide, meaning that it's up to Langdon and his new friend to solve clues, puzzles and dodge an unlimited amount of bullets to track down exactly where the deadly contagion is hidden.
Anyone familiar with Dan Brown, again, will know exactly what to expect – and I can safely say that Inferno is as by-the-numbers as you can get in that regard. There's plenty of action, plenty of stern conversations, epiphanies, twists and turns to keep more than a fair amount of moviegoers happy – while it may present itself as a rather intricate piece of cinema, it is largely big, brash escapism – and in all honesty, it seems to be having a good time with it. Critics' responses to the movie vary from tedium to outright displeasure, to which I can sympathise to an extent – for this isn't a movie that particularly challenges, nor does it especially try too hard.
Certainly, all the clichés are here – and some commentators have even pointed out that the formula is painfully similar to Langdon's earlier adventures. But does that make it a bad movie? Yes and no. These movies are immensely popular – while tastes may have moved on since Angels and Demons graced our presence, it's likely that there will still be an audience for Inferno – even if purely to see Hanks, reliable as ever, carry much of the movie's gravitas. It's been a busy year for Hanks – and while he may only really have struck gold with Sully in recent months, I am happy to say that at least Inferno isn't the slow trudge that A Hologram For The King is.
This all being said, Inferno is still flawed – whether or not it's for a specific type of movie-goer. The plot is often outlandlishly ridiculous, and the pacing is likely to lose a lot of people – as is reliance upon cliché and the rather serious, boisterous tone it adopts (while making everything seem an awful lot of fun at the same time). This is the main issue – we have certainly seen this all before, and since Langdon was last seen in cinemas, it's been done better. Humour in adventure movies has changed, as has character development. Even character twists and plot turns in the second and third act are trite and hard to swallow – it's as by-the-numbers as you can get.
Inferno - Official Trailer (Sony Pictures)
Inferno is not a bad movie – but it's far too safe. Far too safe in that it never really goes anywhere new, or interesting – we see plenty of beautiful Florence and get to learn a little about European culture of centuries past, but we've done all this before. The madcap adventures of Professor Langdon and whoever he chooses to caper with have been seen before – and what's most damning is that they've been done in a very similar way. Ron Howard has proven himself to be a fantastic director, and while shot-for-shot and technique-for-technique he sells us this movie as best he can, he never takes us anywhere beyond the comfortable confines of what we've already seen. We know that a code is going to be found somewhere unthinkable. We know there's going to be a race against time. We know it's all going to be ok in the end – where's the danger, where's the intrigue?
A while ago, you could easily have said the same about James Bond – though Skyfall and Spectre respectively have done extraordinary work in reinventing the character, things still become old hat rather quickly. It's been a while since a Dan Brown epic graced our presence, and while those who have missed Hanks as Langdon will likely be happy with his return, it's hard to imagine anyone getting much out of what is a fairly flimsy carbon copy of earlier movies. For a bit of mindless escapism, it's always going to be harmless – it's just nothing new.