MOVIE REVIEW: Personal Shopper

Tuesday, 21 March 2017
by 👨‍💻 Graham Pierrepoint


PERSONAL SHOPPER

Dir: Olivier Assayas

Starring Kristen Stewart





3.5 STARS (out of 5)
This is a movie that has seemingly come out of the blue from its native France, and yet it will very likely come under scrutiny very quickly for more than one reason – and these are largely down to the genre it occupies, and its lead – and mainly only – star. If, only a handful of years ago, critics had been advised about a horror / suspense movie largely based around the acting talent of Kristen Stewart coming to theaters, it may well have been met with derision on paper – yet, while Stewart has endeavoured to leave behind her legacy as Twilight's Bella Swan with a variety of different roles and characters, she has rarely been given the chance to shine in a script that plays to her and her alone. Personal Shopper, therefore, is the perfect opportunity – and, for the most part, the actor is something of a revelation here.
Stewart plays Maureen, a personal shopper for a celebrity who finds herself buying expensive clothes and accessories for her boss in and around Paris – she's also extremely troubled. Maureen also has the ability to see spirits, and, is, as such, a medium – and she shared this talent with her twin brother, who has recently passed away. The movie catches up with Maureen as she is only just starting to process the death of her close brother, unable to let go and process his passing until she has heard from him from the spirit world beyond. One day, she begins receiving texts from an unknown number – and from here, things start to take a more sinister tone.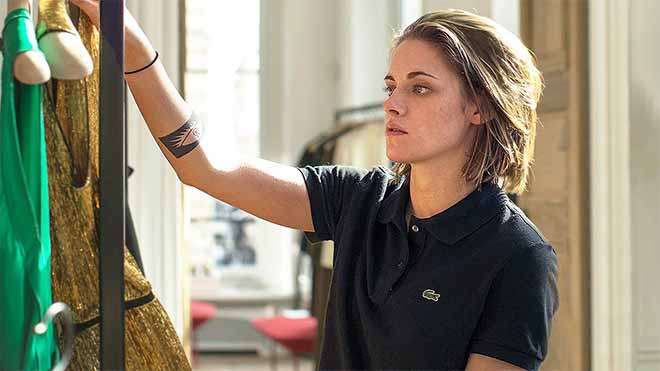 The movie has a rather Hitchcockian feel to it, something which hasn't been missed out on by other critics – and for good reason. Stewart largely carries what may be considered a fairly muddled and occasionally predictable movie on her back, much in the same way that Hitchcock may have considered James Stewart worthy of carrying much of the unbearable tension and paranoia in Rear Window on his. Am I being glib in comparing Rear Window to Personal Shopper? I certainly am – but it's important to understand that, with another actor in this central role, it would have been very different – and perhaps nowhere near as effective.
Stewart is a very divisive actor, often playing awkward characters who may or may not demand such skittishness and self-doubt – yet, here, Maureen demands such uncertainty. Stewart runs the gamut of being perfectly affable to being suitably haunted without the benefit of jump scares or visual shocks – it's largely thanks to her performance here that so much of the atmosphere can be sold to the audience. She is the only link we have to her world and her story – and as she is so defiantly muted in some scenes and so disquietingly unsure in others, she is undoubtedly the perfect choice.
Personal Shopper may not fare well with fans of generic horror. While there are predictable moments and there are tropes and twists used which you will have seen elsewhere, this isn't your by-the-numbers scarefest. It's rather – as stated – muted when it needs to be, and remarkably tense otherwise. This isn't the sort of movie that will have the thrill factor of, say, the Conjuring movies, nor the outright genre stupidity of films such as The Forest – but it's a movie that will likely do well with genre fans looking for something a little different.
Personal Shopper - Official Trailer (IFC Films)
There are criticisms levelled at the story, and while I do think they're valid – this is hardly the most thrilling of movies despite its atmosphere and direction – yet the character's struggles with wanting to speak with the spirit world despite the build-up suggesting that she may be deep into a sinister scenario are rather compelling. They may not be unique, but this is hardly your standard horror movie plot. Personal Shopper is an artsy and challenging piece of genre work that, at least, tries something new while fumbling around with some of cinema's bigger clichés.
If anything, I'm in agreement that Kristen Stewart should perhaps be judged on what she does from this movie onwards – sadly, she may be remembered for her turns as Bella Swan and for controversies surrounding Snow White and The Huntsman (she didn't return for last year's sequel) for some time – but if there is a marker for the moment where perception of her talent changed, it may well be this movie. On its own, it may be a movie destined to be buried below bigger movies – and for what it's worth, it's a perfectly novel experience that will likely leave a mark on moviegoers looking for something a little different. Get Out, however, appears to be holding water as the more critically well-received horror movie of the season.