MOVIE REVIEW: King Arthur: Legend of the Sword

Monday, 22 May 2017
by 👨‍💻 Graham Pierrepoint


KING ARTHUR: LEGEND OF THE SWORD

Dir: Guy Ritchie

Starring Charlie Hunnam, Astrid Berges-Frisbey, Djimon Hounsou, Aidan Gillen, Jude Law, Eric Bana, David Beckham





2 STARS (out of 5)
There are one or two public-domain legends, even stories, which seem to be reliable to roll out once in a while. Last year, we had the forgettable (if not for Christoph Waltz) Legend of Tarzan hit the big screen in an attempt to cash in on the ape-man stories of old for new audiences – and in May 2017, we are treated to another retelling of the legend to end them all. Who hasn't heard of King Arthur? The stories of the Round Table have been retold and retooled so many times that it's hard to keep track – and many of them have missed, while others have connected very well indeed. One of the most-beloved, indeed, is Disney's animation The Sword in the Stone – while that movie largely focuses on young Arthur's life prior to wielding Excalibur. Other movies and TV series aside, the news that Guy Ritchie was planning to take over the well-trodden tales likely got many people sat up and listening – after all, he did marvellous work for Sherlock Holmes. So does his take on Arthur, Guinevere et al cut the mustard?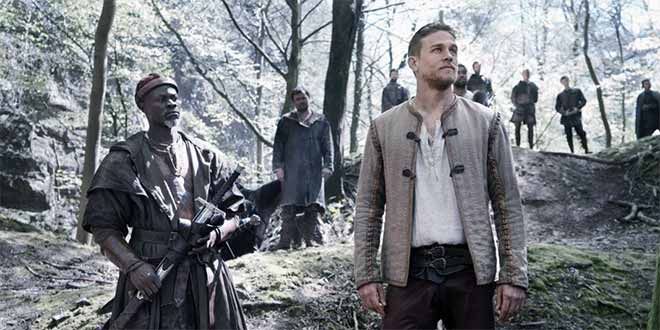 In a gritty re-imagining of the legend we've heard told hundreds of times before, Arthur is cast into orphanhood after the death of his parents at the hands of a vicious tyrant (portrayed here by the versatile Jude Law). Cast into (impolite) society and without a claim to his rightful throne, the young Arthur finds himself growing up the hard way – and, in time, finds himself a band of likeminded rogues who feel empowered enough to try and wrestle the throne from the villain's fingers. In true Ritchie style, there's plenty of big action, cheeky dialogue and over-liberal use of CG along the way – and a fairly bizarre piece of celebrity casting to rival, if not trump, Harry Styles appearing in Christopher Nolan's Dunkirk.
Guy Ritchie is a very capable director, producer and writer – he's taken on the task of all three here, and his hallmarks certainly make themselves known. As with most directors, he has his tropes and he has his trappings – and in Arthur, it seems that his trademark gritty hyperbole may not be the best fit. Ritchie revamped Sherlock Holmes for a new generation completely off the bat, with the hugely charismatic Robert Downey Jr adding star power to aid the movie along – and people may forget that this way before the BBC retooled the sleuth even further (and maybe even more divisively). It's clear to see why the director has made the choices he has made here – in some ways – the idea of a beaten-down, urban Arthur and a band of merry men does appeal in an odd way. Yet, ultimately, the over-saturation of fight scenes, clumsy banter and even faint connection to the original story wears very thin very quickly.
Charlie Hunnam is a good actor but as Arthur he may not be the best leading man to root for – and he does come across as perhaps a little too smug on occasion. That being said, he is flanked by a marvellous cast, not least the reliable Jude Law and the sorely-underrated Aidan Gillen, who you may recognise being underhanded in HBO's Game of Thrones. Cast aside, however, it is still a very clumsy, very predictable retooling that, on screen, doesn't feel too involving. It rather dashes through the motions, throwing clichés around and stopping to marvel once in a while. We've seen much of this before – and yes, while in many ways it is certainly classic Ritchie, the character of Arthur needed something a little more daring, even – it's daring enough to plunge this classic story into a dirge-like world, but the characters and the concepts need to be more outlandish if they are to make the impact Sherlock Holmes did years ago.
King Arthur: Legend of the Sword - Official Trailer (Warner Bros. Pictures)
If you have read the cast list, you'll know David Beckham is in this movie. It's odd casting, and while he certainly tries his best, it seems a rather odd footnote that really takes you out of the film. Beckham isn't listed in the central cast and may therefore be classed as something of a cameo – but ultimately, why? It's not the first time Ritchie has employed the former international footballer, but his presence really does stick out.
All things considered, if you love the legend and are keen to see what Guy Ritchie can bring to the table, it may be worth a look – but for everyone else, the movie goes through far too many tropes and motions, dumbing down and taking away the lighter moments – and the impact of this great cast – away from what could have been a highly enjoyable reboot. All things considered, it's not terrible – but it's far from the game-changer it seems to believe itself to be.