MOVIE REVIEW: Dunkirk

Monday, 24 July 2017
by 👨‍💻 Graham Pierrepoint


DUNKIRK

Dir: Christopher Nolan

Starring Fionn Whitehead, Aneurin Barnard, Mark Rylance, Tom Glynn-Carney, Jack Lowden, Tom Hardy, Kenneth Branagh, James D'Arcy, Harry Styles





4.5 STARS (out of 5)
Here's a big question - how do you perfect the war film? Heaven knows that it has been a genre with plenty of contributors – going back decades, to even within a few years of the end of the Second World War – but to many, the idea of watching conflict on screen has always seemed more than a little bit unnerving. There has also been the art of juggling how to approach such movies – how do you respect and honour the lives of those lost during times of war? How do you make such a movie palatable for audiences of the time? There are two routes – you can go one, and make it a slapdash, overly-hokey and cookie cutter Hollywood affair (such as, say, Pearl Harbor) – or, you can go the Christopher Nolan route and make matters as timeless as possible.
Nolan is one of those directors who may not come around too often, but whom seems to be synonymous with intensity, quality and overall challenging cinema. Not in a David Lynchian sense, of course – but in terms of storytelling, visual narratives and in terms of overall attention to absolute perfection. News of Nolan directing and masterminding a retelling of the evacuation of soldiers during the Second World War was met with interest and perhaps even concern – this was a reportedly visionary director who had chiefly been credited with fantasy works. His most notable work includes the likes of The Dark Knight trilogy, Interstellar and Inception – all of which are, at least by the majority of critics, regarded as cinema-changing prose. Dunkirk, it would appear, seems to have been picked up by critics as just as epoch-making – and, if the hype is to be believed, Nolan's best-ever movie.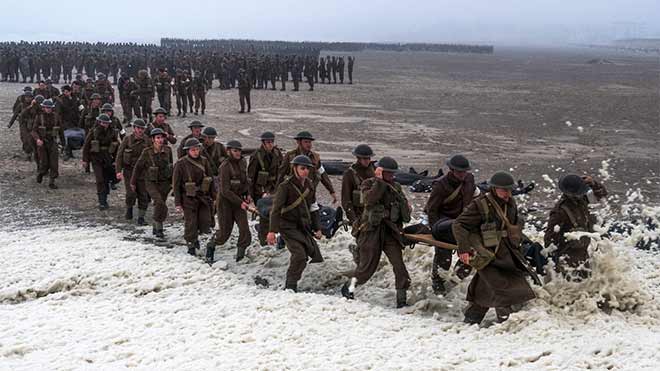 The movie is depicted in three disparate narrative strands – of course, no one would ever think a Nolan movie could be that simple – covering land, sea and air during the evacuation of Dunkirk during World War II, and over various lengths of time. One focus covers a week, another a day and another a week. These strands aren't told in a straight line – they weave in and out in fashion that makes for surprisingly compelling viewing – while there is more focus on the events of Dunkirk as opposed to the private lives of those who were involved, we are thrown into a number of different lives and 'struggle bubbles' as the saga is shown from a number of different angles. This is a truly unique form of storytelling – and with Nolan at the helm, it is handled masterfully – and in a way that we as an audience remain consistently entertained and fixated.
This is a movie that is a masterpiece in terms of sound and vision – there has perhaps been no war movie in recent memory that has given so much focus to the horrors of war in such a psychological and traumatic way. While Hacksaw Ridge captivated the Oscar nomination for its truly macabre visuals and for its stunning attention to the horrors of war, Dunkirk offers a broader scope – one which is absolutely mesmerising and allows us to feel as much as possible for as many people as possible. This, potentially, is the movie's only downfall, technically – while Dunkirk boasts an incredible cast, we are given meagre snapshots of their lives and motivations – but this can perhaps be forgiven.
Dunkirk - Official Main Trailer (Warner Bros. Pictures)
It can be argued that Nolan's approach is to tell as much of the wider story as possible – this certainly is common to his directorial style – and by doing this, he has focused on several different parties and, as such, we are shown how genuine fear and terror grips a multitude of different people in extremely different circumstances. While the standardised Hollywood-lite version of the story would perhaps zoom in on one or two attractive leads (who just happen to be star-crossed lovers – see, perhaps, Titanic) – Dunkirk is a hugely satisfying patchwork quilt of drama. Hans Zimmer's soundtrack is every beat as intense as the visuals peeling into view on screen, adding up to an immersive and truly frightening experience. This is, perhaps, the way that all war movies were intended to be told – and while it does still possess some of that expected Nolan twisting – it is surprisingly straightforward when viewed in its entirety. It is available in a wide range of formats, meaning that whether you view it via IMAX or through a smaller perspective, you can expect all of your sense to be given a thorough intervention.
Dunkirk is bold, daring and largely succeeds – on the weight of sheer spectacle alone, this may be one of the most satisfying movies you see this year.