What happened during PM Modi's 'security breach' in Karnataka? Here's what police said

Sunday, 26 March 2023
Years after PM Modi's convoy in Punjab faces a major security breach, another such incident was reported from Karnataka, posing a threat to PM Modi's safety.
You Might Like
💡 newsR Knowledge: Other News Mentions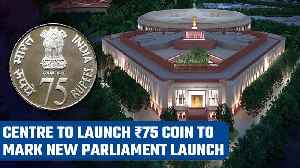 Finance Ministry issues notice to launch ₹75 coin to mark Parliament Building launch | Oneindia News

The Ministry of Finance has said that a special ₹75 coin will be launched to commemorate the inauguration of the new parliament building. The new parliament building will be inaugurated by Prime Minister Narendra Modi on Sunday. While as many as 25 parties are expected to attend the ceremony, at least 20 opposition parties have decided to boycott the event. #Parliament #₹75Coin #FinanceMinistry ~PR.151~HT.98~ED.155~
Credit: Oneindia Duration: 02:01
Published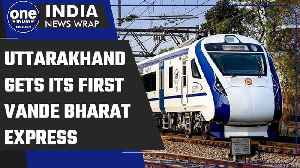 Uttrakhand gets its first Vande Bharat Express, PM Modi flags off virtually | Oneindia News

Prime Minister Modi on Thursday inaugurated the first ever Vande Bharat Express of Uttarakhand via video conference. #VandeBharatTrain #Uttrakhand #PMModi ~PR.150~HT.98~ED.103~
Credit: Oneindia Duration: 02:14
Published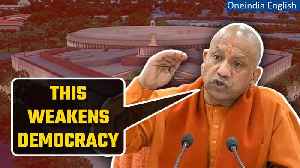 New Parliament Building: Yogi Adityanath reacts to parties boycotting inauguration | Oneindia News

The inauguration of India's new parliament in New Delhi on Sunday will see nearly zero representation from the opposition, with 20 parties announcing they will be boycotting the ceremony. The opposition parties have denounced plans by Prime Minister Narendra Modi to inaugurate the new parliament, instead of President Draupadi Murmu, to make a political statement ahead of next year's national election. Uttar Pradesh Chief Minister Yogi Adityanath has now criticised the Opposition and has called their decision unfortunate and irresponsible adding that it weakens democracy. #NewParliamentBuilding #NewParliamentInauguration #PMModi #DraupadiMurmu #OppositionParties #YogiAdityanath ~PR.152~HT.98~ED.155~
Credit: Oneindia Duration: 04:37
Published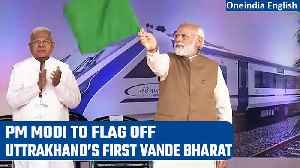 PM Modi to flag off Uttrakhand's first Vande Bharat Express via video conference | Oneindia News

PM Modi on Thursday will flag off the first Vande Bharat Express train of Uttrakhand. The train will travel from Delhi to Dehradun. #PMModi #VandeBharatExpress #Uttrakhand ~HT.98~PR.150~ED.101~
Credit: Oneindia Duration: 02:03
Published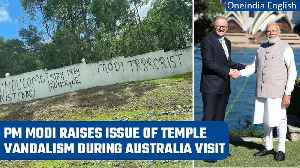 PM Modi raises the issue of temple vandalism in Australia during his visit | Oneindia News

Prime Minister Modi who is in Australia, raised the issue of attacks on the Hindu temples in the country with his Australian counterpart Anthony Albanese. #PMModi #TemplesinAustralia #ModiinAustralia ~HT.97~PR.150~ED.155~
Credit: Oneindia Duration: 02:01
Published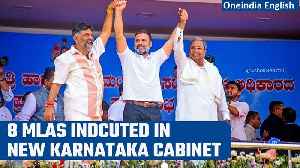 Karnataka oath-taking ceremony: 8 MLAs take oath as ministers | Siddaramaiah & DKS | Oneindia News

Eight Congress MLAs were sworn in as ministers in the Karnataka Cabinet during the oath-taking ceremony in Bengaluru on Saturday. Governor Thaawarchand Gehlot administered the oath of office and secrecy to the MLAs at the swearing-in ceremony held at the Kanteerava Stadium in Bengaluru. Congress president Mallikarjun Kharge's son Priyank Kharge, party's MLAs G Parameshwara and MB Patil were among the eight MLAs. The other MLAs who took oath included KH Muniyappa, KJ George, Satish Jarkiholi, Ramalinga Reddy and BZ Zameer Ahmed Khan. Congress leader Siddaramaiah was sworn in as the Chief Minister of Karnataka for the second time on Saturday after the party's sweeping victory in the Assembly elections. DK Shivakumar was sworn in as only Deputy Chief Minister of Karnataka. #KarnatakaCabinet #KarnatakaOathTakingCeremony #Congress ~PR.151~ED.103~HT.178~
Credit: Oneindia Duration: 03:01
Published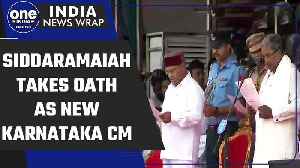 Siddaramaiah takes oath as Karnataka CM, DK Shivakumar as deputy CM | Oneindia News

Veteran Congress leader Siddaramaiah took oath as the new chief minister of Karnataka. DK Shivakumar took oath as the deputy CM of the state. #Siddaramaiah #DKShivakumar #Karnataka ~HT.97~PR.150~ED.102~
Credit: Oneindia Duration: 02:28
Published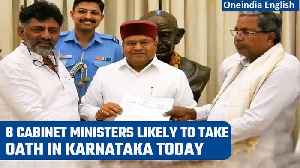 Karnataka Congress releases list of eight cabinet ministers taking oath today | Oneindia News

Karnataka Congress on Saturday released the first list of cabinet ministers. Apart from CM designate Siddaramaiah and Deputy CM designate DK Shivakumar six other ministers are likely to take the oath. #Karnataka #Siddaramaiah #DKShivakumar ~PR.150~ED.102~GR.125~HT.96~
Credit: Oneindia Duration: 01:33
Published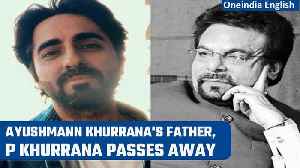 Ayushmann Khurrana's Father & Renowned Astrologer, P Khurrana, Passes Away | Oneindia News

In a rather shocking update, famous astrologer and Ayushmann Khurrana's father, P Khurrana, passed away. He was admitted to a hospital in Punjab two days ago where he breathed his last. He is survived by his wife and sons, Ayushmann and Aparshakti Khurana. Please watch the video to know the details. #AyushmannKhurrana #PKhurrana #RIP ~PR.154~HT.99~
Credit: Oneindia Duration: 03:01
Published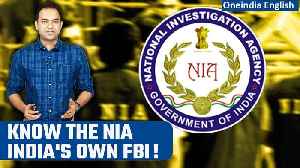 India's National Investigation Agency: World's most successful anti-terror agency | Oneindia News

In a major operation to bust the nexus between narcotics, terrorism and mafias… the National Investigation Agency..or the NIA has conducted raids across several states this morning. The agency has cracked down upon homes of suspects in Haryana, Punjab, Rajasthan, Uttar Pradesh, Uttarakhand, and Madhya Pradesh. The raids have been conducted in connection with three separate cases lodged by the agency last year. The aim of such crackdowns is to neuter foreign-based terror networks…influx of narcotic drugs in the country..and to completely dismantle their funding and support infrastructure. The NIA was also in the news for conducting operations against the PFI a while back. In this video, we explain to you what the NIA ..or the the National Investigation Agency..is and what type of operations it usually undertakes. But before that, don't forget to like, share and subscribe to Oneindia. #NIA #NIAraids #Terrorism ~PR.153~HT.98~PR.100~
Credit: Oneindia Duration: 04:15
Published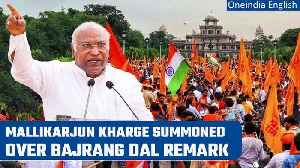 Mallikarjun Kharge summoned by Punjab Court over Bajrang Dal remark | Oneindia News

A court in Punjab on May 15 summoned Congress chief Mallikarjun Kharge in a ₹100 crore defamation case filed by Hitesh Bhardwaj, the founder of Hindu Suraksha Parishad, against Mr. Kharge for allegedly making defamatory remarks against Bajrang Dal during the recently concluded Karnataka Assembly elections. #MallikarjunKharge #BajrangDal #CongressManifesto ~PR.152~ED.101~GR.124~HT.96~
Credit: Oneindia Duration: 02:19
Published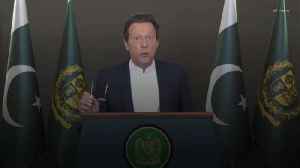 Imran Khan's Arrest Was Illegal, Pakistan's Supreme Court Rules

Imran Khan's Arrest Was Illegal, , Pakistan's Supreme Court Rules. The former prime minister was arrested on corruption charges by paramilitary troops at a courthouse in Islamabad on May 9, CNN reports. At the time, PTI spokesperson Fawad Chaudhry described the arrest as an "abduction," saying Khan had been "whisked away by unknown people to an unknown location.". Khan was reportedly detained in a police headquarters guesthouse and brought before a judge in a closed-door hearing on May 10. Khan's lawyers petitioned against the judicial proceedings since they didn't take place at a courthouse. On May 11, Pakistan's Supreme Court ruled that the arrest was unlawful and Khan must be released. Following Khan's detainment, protests have resulted in hundreds of arrests, over 300 injuries and eight deaths, CNN reports. . According to a government official, over 650 protesters have been detained in Khyber Pakhunkhwa. 1,000 supporters were arrested in Punjab. Khan's political party released a pre-recorded message after he was arrested. Khan told his supporters that "the time has come for all of you to come and struggle for your rights."
Credit: Wibbitz Top Stories Duration: 01:30
Published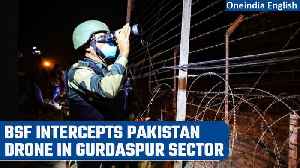 Pakistan drone intercepted by BSF in the Gurdaspur sector'; it was forced to return | Oneindia News

The latest incident of a drone from Pakistan trying to infiltrate the border has been reported from Punjab's Gurdaspur sector. The Border Security Forces or BSF intercepted the drone by firing at it forcing it to return. #BSF #Gurdaspur #Drone ~PR.151~HT.98~ED.102~
Credit: Oneindia Duration: 02:09
Published
Related videos from verified sources
Related news from verified sources