Eid-ul-Fitr will be celebrated on April 22

Thursday, 20 April 2023
Eid-ul-Fitr would be celebrated on April 22 as the crescent moon was not seen marking the end of the fasting month of Ramzan, Muslim religious scholars said on Thursday.The scholars, including India Union Muslim League (IUML) state president Sayyid Sadiq Ali Shihab Thangal, said that since the crescent moon was not seen, Eid would be celebrated on Saturday.
You Might Like
💡 newsR Knowledge: Other News Mentions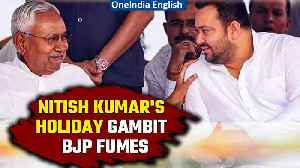 Nitish Govt Faces Criticism: Hindu Holidays Reduced, Muslim Holidays Increased| Oneindia

The Bharatiya Janata Party (BJP) criticized Bihar Chief Minister Nitish Kumar for allegedly reducing the number of school holidays during Hindu festivals while increasing those for Muslim festivals. Reports suggest the Bihar education department's 2024 holiday calendar eliminated Hartalika Teej and Jitiya holidays while extending Eid al-Fitr and Eid al-Adha (Bakrid) holidays to three days each. BJP MP Sushil Modi accused the government of an "anti-Hindu" stance, prompting Union Minister Giriraj Singh to claim it was operating on "Islamic religious beliefs." The move sparked outrage, with calls for reinstating Hindu festival holidays. #BJPvsNitish #BiharGovernment #HolidayCalendar #AntiHinduDecision #EidHolidays #VoteBankPolitics #SanatanOutrage ~HT.178~ED.103~
Credit: Oneindia Duration: 06:25
Published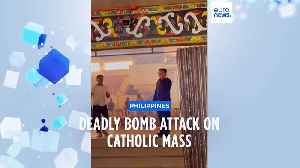 Deadly bomb attack on catholic mass in the Philippines kills four and injures dozens

A powerful explosion believed caused by a bomb ripped through a Catholic Mass and killed at least four people, wounding dozens of others, Sunday in a predominantly Muslim city in the southern Philippines, officials said.
Credit: euronews (in English) Duration: 00:35
Published