Today's J&K is land of peace, not of stone-pelters: LG at G20 meet

Wednesday, 24 May 2023
The Union government's "whole of government approach" in Jammu and Kashmir helped dismantle the ecosystem of Pakistan-sponsored terror and transformed J&K into a land of peace, prosperity and progress, Lieutenant Governor Manoj Sinha said on Tuesday while speaking on the sidelines of the G20 Tourism Working Group meeting underway in Srinagar.
💡 newsR Knowledge: Other News Mentions
You Might Like
Related videos from verified sources
Future Today 230521 – Israel and Nakba – Genesis 13:14-17

Pastor Rick Lancaster shares a topical message related to Bible prophecy in the series The Future Today. It has been seventy-five years since Israel was established as a nation again. When Israel moved..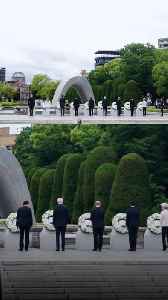 G7 Leaders Pay Respects at Hiroshima's Peace Memorial Park

Today, the leaders of the G7 countries embarked on a visit to Hiroshima's Peace Memorial Park, a solemn and significant location that commemorates the victims of the atomic bombing during..
Credit: Rumble Duration: 00:21
Published