Chhattisgarh
Central-east state in India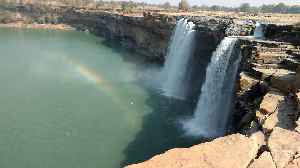 Chhattisgarh is one of the 29 states of India, located in the centre-east of the country. It is the tenth-largest state in India, with an area of 135,191 km2 (52,198 sq mi). With a 2011 population of 25.5 million, Chhattisgarh is the 16th-most populated state in the country. A resource-rich state, it is a source of electricity and steel for the country, accounting for 15% of the total steel produced. Chhattisgarh is one of the fastest-developing states in India.


Congress may fail to capitalise on gains in MP, Rajasthan and Chhattisgarh, predict exit polls
The Congress seems to have failed to capitalise on the gains it made in the 2018 assembly elections in the 3 states of MP, Chhattisgarh and Rajasthan, according to the exit poll predictions. The poll..
IndiaTimes - Published
Government to conduct survey of tribals displaced from Chhattisgarh
As per CGNet Swara Foundation (an NGO based in Raipur), when the Naxal violence escalated around 2004-05, about 16,000 tribals (5000 families) were uprooted from Chhattisgarh. Around 3000 families..
IndiaTimes - Published
Centre to identify tribals who fled Chhattisgarh due to Red terror
IndiaTimes - Published
Search this site and the web:
You Might Like