Lucas Paqueta: West Ham set to sign Lyon and Brazil midfielder for £36.5m

Sunday, 28 August 2022
West Ham are set to complete the signing of Lyon's Brazil midfielder Lucas Paqueta.
You Might Like
💡 newsR Knowledge: Other News Mentions
Suicide of Iranian man in Lyon : 38-year-old said he wanted to draw attention to Iran crackdown


Credit: FRANCE 24 English Duration: 01:36
Published
Iranian national kills himself in Lyon decrying Tehran's crackdown on protests

An Iranian national jumped into the Rhône River on Monday after posting a video on Facebook forewarning he was going to kill himself to raise awareness of his country's plight. According to NGO Iran Human Rights (IHR), 476 protesters have so far been killed in the crackdown.
Credit: euronews (in English) Duration: 01:30
Published
Japanese chef crowned World Pie Champion in Lyon, the cradle of French gastronomy

Planning and preparing to make a perfect pie? Then perhaps you should take tips from Japanese chef Ryutaro Shiomi who tasted success at the 13th World pate en croute championship held in Lyon.
Credit: euronews (in English) Duration: 01:38
Published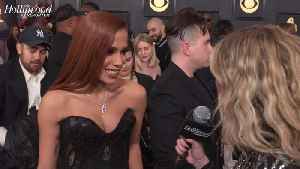 Anitta On Her Best New Artist Nomination, Listening To Rosalía & Returning To Brazil | Grammys 2023

Anitta chatted with The Hollywood Reporter on the red carpet of the 2023 Grammy Awards.
Credit: The Hollywood Reporter Duration: 01:50
Published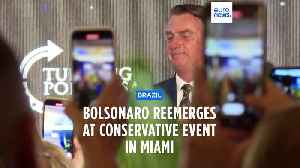 Brazil's ex-leader Jair Bolsonaro resurfaces in Miami still confused he lost election

Only a few weeks after his supporters stormed the seat of his country's government, former Brazilian President Jair Bolsonaro on Friday expressed bafflement at how he could have lost October's election.
Credit: euronews (in English) Duration: 00:35
Published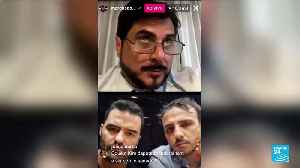 Brazil's Lula accuses Bolsonaro of preparing Jan 8 'coup'


Credit: FRANCE 24 English Duration: 01:43
Published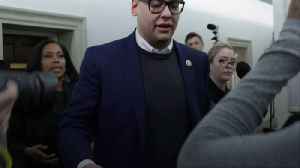 Rep. George Santos Steps Down From House Committee Assignments

Rep. George Santos Steps Down , From House Committee Assignments. NBC News reports that Santos recused himself from assignments for the House Small Business and Science committees on Jan. 31. He says that he did so "to prevent from being a distraction" amid investigations into his finances and other matters. The representative is being investigated by the Nassau County district attorney and NY federal prosecutors. . Federal authorities are reportedly looking into his finances, specifically any irregularities regarding financial disclosures and campaign loans. The NY attorney general's office is also "looking into a number of issues.". In December, 'The New York Times' published an investigation claiming much of Santos' résumé was a lie. Alleged fabrications include graduating from Baruch College, previously working for Goldman Sachs and Citigroup and owning numerous properties. According to NBC News, Santos also lied about his mother being in the World Trade Center at the time of the 9/11 attacks. Immigration records show that she was actually living in Brazil at the time. A new poll conducted by Newsday and Siena College shows that in Santos' district, 78% of voters feel he should resign from Congress
Credit: Wibbitz Top Stories Duration: 01:30
Published