"Voters Day"
Latest news and video coverage curated from trusted media outlets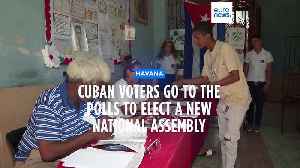 Government claims strong turnout in Cuba Assembly vote

There had been fears of abstention ahead of the vote as the government struggles with shortages, inflation and growing social unrest. But official figures say some 8 million people - more than 70% of..
Credit: euronews (in English) Duration: 00:35
Published
Lawyer For Katie Hobbs Makes Odd Closing Argument Against Kari Lake

"Who goes out and tells their voters don't vote on day one of early voting, day 2, day 3… wait till the last second. That's political malpractice."
Credit: Rumble Duration: 01:26
Published
Trumped! In a State of Hate Movie Trailer

What happens when a Trump Republican runs for United States Congress in a Big Tech dominated State like Washington? In the 2022 elections, teacher, author, veteran and documentary producer Matthew..
Credit: Rumble Duration: 01:02
Published
You Might Like



Prime Minister Modi extends greetings on National Voters' Day




newKerala.com - Published





National Voters' Day: PM Modi calls for strengthening active participation in elections




IndiaTimes - Published





Young voters are future of Indian democracy, says CEC Rajiv Kumar on National Voters' Day




newKerala.com - Published





National Voters Day 2023: History, Theme, Significance- all you Need to Know

National Voters Day 2023: Every year on January 25, India observes National Voters Day encourage every voter in the country to take part in the electoral process.




Zee News - Published

Also reported by •DNA


'Nothing Like Voting, I Vote for Sure' theme for National Voters' Day




newKerala.com - Published





Voter IDs for conjoined twins Sohna, Mohna in Punjab

Punjab chief electoral officer (CEO) S Karuna Raju on Tuesday handed over two separate electoral photo identity cards (EPIC) to Amritsar-based conjoined twins Sohan Singh and Mohan Singh, fondly known..




IndiaTimes - Published





National Voters Day: PM Modi lauds EC, India's electoral process at BJP's workers meet




newKerala.com - Published

Also reported by •IndiaTimes


National Voters' Day: PM Modi urges BJP workers to help raise voter turnout to 75%




Indian Express - Published





12th National Voters' Day to be celebrated on Jan 25




newKerala.com - Published





National Voters` Day: Exercise democratic right enthusiastically, EC tells voters in 5 poll-going states

In his message on the 12th National Voters' Day, Chief Election Commissioner said the presence of voters at polling stations strengthens democracy.




Zee News - Published





ECI to celebrate National Voters' Day today




IndiaTimes - Published

Also reported by •newKerala.com


Female voters up 5.1%, male 3.6% since 2019 Lok Sabha polls: CEC

The number of female electors in the country has witnessed a sharper rise of 5.1% over the past three years, from 43.8 crore in the 2019 Lok Sabha elections to 46.1 crore now, as compared to the 3.6%..




IndiaTimes - Published





EC to roll out e-EPIC cards for all electors from February 1

Joint Collector M. Venugopal Reddy said that the Election Commission is launching e-EPIC on the occasion of 11th National Voters Day on Monday for fre




Hindu - Published




Exercise right of franchise, SEC urges youth

National Voters Day is being observed on January 25 every year since 2011




Hindu - Published




National Voters' Day observed

MaduraiStressing the need for casting votes without fail, Collector T. Anbalagan said that it was an important part of the nation-building exercise. H




Hindu - Published




National Voters' Day celebrated in Puducherry

The programme hosted at the Kamban Kalai Arangam was aimed at spreading awareness among future voters and first-time voters for effective participation in the electoral process.




Hindu - Published




Rally taken out for voter awareness

Awareness programmes, rallies and administration of pledge marked National Voters Day observation here on Monday.Students of Periyar E.V.R. College to




Hindu - Published




Motorbike rally marks National Voters' Day

VirudhunagarA motorbike rally by Government employees and police personnel was taken out to mark the 11th National Voters' Day in Virudhunagar on Mond




Hindu - Published




Awareness programmes mark National Voters' Day

TIRUNELVELIA range of awareness events – releasing colourful balloons in air to signing of voter awareness banners - were organised here on Monday as




Hindu - Published




Always respect right to vote: President

Digital voter ID cards launched during ECI's National Voters Day celebration




Hindu - Published