Martín Vizcarra
President of Perú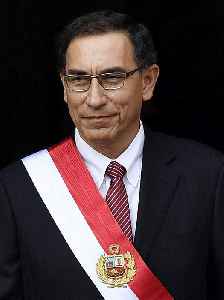 Martín Alberto Vizcarra Cornejo is a Peruvian engineer and politician who is the current President of Peru. Vizcarra previously served as Governor of the Moquegua Region (2011–2014), Minister of Transport and Communications of Peru (2016–2017), and Ambassador of Peru to Canada (2017–2018), with both of the latter two during the presidency of Pedro Pablo Kuczynski.


Tension in Peru amid coronavirus lockdown

A day after Peruvian President Martin Vizcarra called the coronavirus outbreak "a most serious crisis in our history," street vendors clashed with riot police who tried to remove them amid a nationwide..
Credit: Reuters Studio Duration: 01:29
Published
You Might Like



Peru extends nationwide lockdown until May 24 as coronavirus cases rise

Peru has extended a nationwide lockdown by two weeks until May 24, President Martin Vizcarra said on Friday, the fourth extension of the isolation period amid a sharp rise in cases of COVID-19 in the..




Reuters - Published





Peru's leader says to propose comprehensive pension reform

Peruvian President Martin Vizcarra on Wednesday rejected a bill approved by Congress earlier this month that would have let people withdraw up to 25% of their holdings in private pension funds and..




Reuters - Published





Coronavirus cases accelerate in Peru to top 20,000, government extends quarantine

Peru's reported coronavirus cases rapidly increased this week and topped 20,000 on Thursday, doubling in nine days, as President Martin Vizcarra extended a national quarantine in the world's No. 2..




Reuters - Published





Peru will emerge from 'economic hibernation' by May, elections date safe: president

Peru hopes to gradually emerge from the economic hibernation aimed at halting the spread of the novel coronavirus and return to "more or less" normal levels of productive activity in 2021, President..




Reuters - Published





Gender divide: Peru limits men and women to alternate days out to stall virus

Amid a strict quarantine in Peru to slow the spread of a coronavirus pandemic, men and women will only be allowed to leave their homes on designed days divided up by gender, the country's President..




Reuters - Published





Peruvian president announces nighttime curfew as coronavirus spreads

Peru´s President Martin Vizcarra on Wednesday announced an immediate restriction on overnight movement across the country in a bid to halt the spread of coronavirus.




Reuters - Published





Peru records first confirmed case of coronavirus, President Vizcarra says

Peru recorded its first confirmed case of coronavirus, President Martin Vizcarra said in a televised statement on Friday, as the disease begins to spread around South America.




Reuters - Published





'Stunning defeat': Fujimori's ghost fades in Peru after legislative gamble

Peruvian President Martin Vizcarra took a gamble last year when he shuttered Congress after a bruising battle over a corruption crackdown with opposition lawmakers allied to the powerful Fujimori..




Reuters - Published





Gas truck explodes in Lima, killing two and injuring dozens

A truck carrying natural gas exploded on Thursday in Peru's capital, killing at least two people and injuring 48 in an accident that Peruvian President Martin Vizcarra labeled a "tragedy."




Reuters - Published





Peru's top court says Vizcarra's closure of Congress was legal

In a win for Peruvian President Martin Vizcarra, the country's top court ruled on Tuesday that his dissolution of Congress amid a long-running standoff with lawmakers was legal.




Reuters - Published




Peru president vows tougher sanctions for labor accidents after McDonald's deaths

Peru's President Martin Vizcarra said he will seek to strengthen labor laws to take more "concrete action" against companies involved in workplace accidents after two teenaged employees died in a..




Reuters - Published





Peru lawmaker files last-ditch legal appeal over Congress closure

The head of Peru's dissolved Congress presented a legal appeal to the country's top court on Thursday seeking to suspend the closure of parliament on the grounds that President Martín Vizcarra had..




Reuters - Published





Writer Llosa roasts Peru's 'shameful' Congress, backs president

Peruvian Nobel Prize-winning writer Mario Vargas Llosa praised centrist President Martin Vizcarra on Tuesday for dismissing the country's right-wing opposition-dominated parliament and labeled its..




Reuters - Published





Peru's Vizcarra unveils new Cabinet as leadership challenge fizzles out

Peru's centrist President Martin Vizcarra swore in a new Cabinet on Thursday as a challenge to his leadership by dismissed lawmakers fizzled out, potentially ushering in a rare period of political calm..




Reuters - Published




Explainer: Rebellion in Congress - How Peru tipped into political crisis

Peruvian President Martin Vizcarra's drive to clean up the ruling class after a series of graft scandals has left the South American country with an open rebellion in a dissolved Congress as its..




Reuters - Published





Peru's 'Mechita,' the rebel lawmaker who was 'president' for a day

In a hasty ceremony on Monday, rebel lawmakers swore in Vice President Mercedes Araoz as Peru's interim leader, looking to install her in place of President Martin Vizcarra after he moved to dissolve..




Reuters - Published





Peru's VP gives up claim to the presidency in blow to opposition

Peru's vice president renounced her claim to the presidency on Tuesday in a surprise twist to a constitutional crisis, dealing a fresh blow to a rebel band of former lawmakers resisting President..




Reuters - Published





Rebel lawmakers in Peru stay put in Congress in defiance of Vizcarra

About 20 dismissed Peruvian lawmakers remained cloistered in Congress on Tuesday in defiance of President Martin Vizcarra's decision to dissolve the body, with police in riot gear blocking others from..




Reuters - Published





Peru military, police back Vizcarra as rebel lawmakers vow loyalty to VP

Peru's armed forces and police reaffirmed allegiance to President Martin Vizcarra late on Monday after his move to close Congress prompted dozens of dismissed lawmakers to pledge loyalty to vice..




Reuters - Published





Peru's Vizcarra closes Congress, but rebel lawmakers refuse to leave

Peruvian President Martin Vizcarra dissolved Congress on Monday to end a yearlong battle with rightwing lawmakers over his anti-graft campaign, but rebel legislators refused to leave the chamber as..




Reuters - Published





Peru's Vizcarra announces he is dissolving Congress

Peruvian President Martin Vizcarra announced he was dissolving Congress after it defied his warnings and elected a new member of the Constitutional Tribunal on Monday, prompting opposition lawmakers to..




Reuters - Published





Peru's Congress defies Vizcarra's shutdown threat by holding key vote

Peru's opposition-run Congress defied President Martin Vizcarra's threat to close it by electing the first of up to six new leading court justices in a raucous vote on Monday, bringing the nation to..




Reuters - Published




Peru's Vizcarra threatens Congress shutdown as lawmakers cry 'coup'

The centrist government of Peruvian President Martin Vizcarra made a last-minute appeal to Congress to halt the opposition's plans to name new members of Peru's top court on Monday, a vote that..




Reuters - Published





Peru's Vizcarra threatens to close Congress as constitutional crisis looms

Peru's centrist president threatened to shut the opposition-run Congress if it carries out a plan to make appointments to the country's top court on Monday, as rightwing lawmakers vowed to physically..




Reuters - Published





Peru's Vizcarra calls for vote of confidence as political crisis escalates

Peru's centrist President Martin Vizcarra on Friday called for a vote of confidence over lawmakers' proposed members for the Constitutional Tribunal, a move that would allow him to dissolve Congress if..




Reuters - Published





Peruvian Congress shelves Vizcarra's proposal for snap election, markets rattled

Peruvian opposition lawmakers shelved a snap election proposal from centrist President Martin Vizcarra on Thursday, knocking the country's sol currency and setting the stage for a new bout of political..




Reuters - Published





Peru orders army to secure port in face of protest against mining project

Peruvian President Martín Vizcarra on Sunday authorized the army to maintain order at a key mining port, a day before an expected new round of protests against Southern Copper Corp's $1.4-billion..




Reuters - Published





Peru's Vizcarra proposes early elections in April 2020

The government of Peruvian President Martin Vizcarra wants legislative and presidential elections to be held next April 19, part of his proposal to hold a vote a year earlier to end a stalemate with..




Reuters - Published




Peruvian President Vizcarra proposes early legislative elections

Peruvian President Martin Vizcarra on Sunday proposed moving up legislative elections and cutting his mandate for 2020, considering that Congress has not approved all his requested political reforms.




Reuters - Published





With confidence vote, Peru revives debate over anti-graft reforms

Peru's government won a confidence vote in the country's Congress on Wednesday, reviving debate over President Martin Vizcarra's flagging effort to pass anti-corruption measures.




Reuters - Published





Peru Congress gives vote of confidence to government

Peru's government won a confidence vote in the country's Congress on Wednesday after a marathon debate centered on President Martin Vizcarra's effort at passing anti-corruption measures.




Reuters - Published