Dalai Lama
Tibetan Buddhist spiritual teacher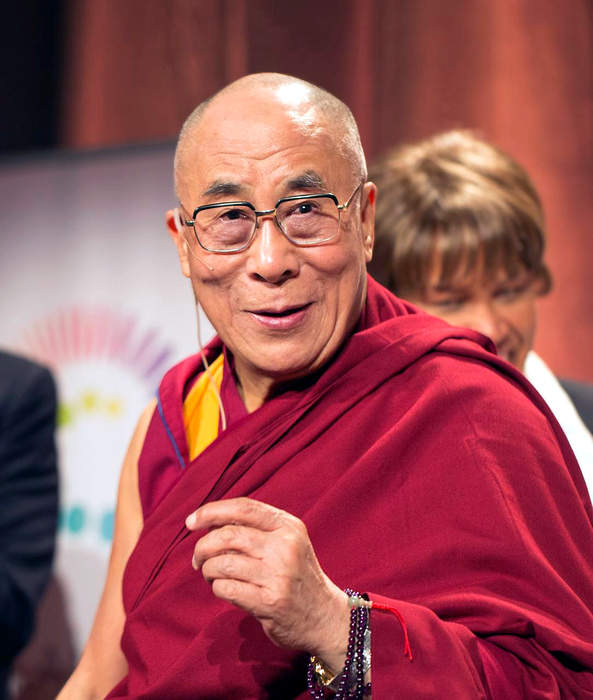 Dalai Lama is a title given by the Tibetan people to the foremost spiritual leader of the Gelug or "Yellow Hat" school of Tibetan Buddhism, the newest and most dominant of the four major schools of Tibetan Buddhism. The 14th and current Dalai Lama is Tenzin Gyatso, who lives as a refugee in India. The Dalai Lama is also considered to be the successor in a line of tulkus who are believed to be incarnations of Avalokiteśvara, the Bodhisattva of Compassion.


Dalai Lama marks 87th birthday by opening library

Tibetan spiritual leader the Dalai Lama marked his 87th birthday on Wednesday by inaugurating a library and museum in his hillside Indian headquarters. He was cheered by a large number of followers,..
Credit: euronews (in English) Duration: 01:00
Published
You Might Like



'Ladakh visit religious': Govt functionary on Dalai Lama's visit to UT

"The Dalai Lama is a spiritual leader and his visit to Ladakh is completely religious. Why should anyone have objections to the tour," the government functionary said. The spiritual leader's visit..




IndiaTimes - Published





Dalai Lama says most people in China realise he is seeking preservation of Tibetan Buddhist culture




IndiaTimes - Published





Dalai Lama set to visit Jammu, Ladakh next week




IndiaTimes - Published





PM Modi birthday greetings to Dalai Lama should be seen in overall context: MEA




IndiaTimes - Published





China criticises PM Modi, Blinken for greeting Dalai Lama on his 87th birthday




IndiaTimes - Published




PM Modi wishes Dalai Lama on his 87th birthday, prays for 'good health'




IndiaTimes - Published




Himachal Pradesh CM wishes Dalai Lama on his 87th birthday

The chief minister had a pre-scheduled programme to personally attend the spiritual leader's birthday celebrations at Dharamshala, but due to unfavourable weather conditions, he virtually attended the..




IndiaTimes - Published




US special coordinator for Tibet set to visit India in mid-May to meet Dalai Lama




IndiaTimes - Published





Himachal Pradesh: Dalai Lama makes first public appearance after two years in Dharamshala




IndiaTimes - Published





Problems, disagreements best resolved through dialogue: Dalai Lama on Ukraine crisis

Tibetan spiritual leader the Dalai Lama expressed anguish over the Ukraine crisis, and said that problems and disagreements are best resolved through dialogue. War is outdated and non-violence is the..




IndiaTimes - Published





RSS chief Mohan Bhagwat meets Dalai Lama in Dharamsala




IndiaTimes - Published





India role model for religious harmony in the world, says Dalai Lama




IndiaTimes - Published




Dalai Lama condoles loss of lives due to tornadoes in US




IndiaTimes - Published





COP26: Climate change must be addressed on cooperative global level, says Dalai Lama

In his message to the UN conference on climate change known as the Conference of Parties (COP26), the Tibetan spiritual leader said realistic action founded on scientific understanding was needed to..




IndiaTimes - Published





China does not have any right in choosing next Dalai Lama: Head of Tawang monastery




IndiaTimes - Published





Kerala rains: Dalai Lama expresses sadness over loss of lives, announces financial aid




IndiaTimes - Published





China opposes meeting of US Charge d'Affaires to India with Dalai Lama's representative




IndiaTimes - Published





US, India avoid stumble on rights issue even as Blinken sends message to China by meeting Dalai Lama's aide




IndiaTimes - Published





Dalai Lama's close aides were potential Pegasus spyware targets: Report




IndiaTimes - Published





Dalai Lama wants to meet PM Modi soon, says President of Tibetan govt-in-exile




IndiaTimes - Published





Talks possible if China allows Dalai Lama to visit Tibet, says president of Tibetan govt-in-exile

Penpa Tsering, president of the Tibetan government-in-exile on Wednesday, hinted that talks with China are possible if it allows Dalai Lama to visit Tibet on a pilgrimage.




IndiaTimes - Published





India has consistent policy to treat Dalai Lama as an honoured guest: MEA

India has a consistent policy of treating the Dalai Lama as a respected religious leader and an honoured guest in the country, the ministry of external affairs said on Thursday. The assertion, in..




IndiaTimes - Published





Dalai Lama thanks PM Narendra Modi for birthday wishes

On Tuesday, in a departure from the past, India's Prime Minister Narendra Modi has called Tibetan spiritual leader Dalai Lama on his 86th birthday.




DNA - Published





I am the 'longest guest' of India, says Dalai Lama

Describing India as a secular country, the Tibetan leader in exile said he has been promoting "Ahimsa and Compassion", which are intrinsic values of Indians that have been followed over thousands of..




IndiaTimes - Published





PM Narendra Modi wishes Dalai Lama over the phone on his 86th birthday

PM Modi tweeted, "Spoke on phone to His Holiness the @DalaiLama to convey greetings on his 86th birthday. We wish him a long and healthy life."




DNA - Published





Dalai Lama contributes to PM Cares Fund to strengthen India's fight against Covid-19

Tibetan spiritual leader the Dalai Lama on Tuesday announced to contribute to the PM Cares Fund as a token of solidarity with fellow Indian brothers and sisters.




IndiaTimes - Published





Dalai Lama given first COVID vaccine dose - as he urges others to be brave

The Dalai Lama has received his first dose of a coronavirus vaccine. 




Sky News - Published





Dalai Lama receives first shot of COVID-19 vaccine, urges people to get vaccinated

After getting the jab, the 85-year-old Nobel Peace Laureate thanked the Central and the state governments for facilitating him to get the jab.




DNA - Published





Dalai Lama get first Covid-19 shot in Dharamshala

Spiritual leader the Dalai Lama on Saturday received the first dose of the Covid-19 vaccine in Dharamshala. He received the dose at Zonal Hospital here at 7:10 am. He was kept under observation for..




IndiaTimes - Published





Tibetan govt-in-exile lauds Trump for new Tibet policy

On Sunday, Trump signed the Tibetan Policy and Support Act of 2020 to modify and re-authorise various programmes and provisions related to Tibet. The bill reaffirms the right of Tibetans to choose a..




IndiaTimes - Published





Chinese spy was tasked to get info on Dalai Lama; sleuths looking for her Kolkata aide: Police




IndiaTimes - Published





WFP's Nobel win reminder of everyone's responsibility to narrow gap between rich and poor, says Dalai Lama




IndiaTimes - Published





Steps should be taken to avert another pandemic: Dalai Lama




IndiaTimes - Published





Dalai Lama urges govts, individuals to work for achievement of peace

The Dalai Lama on Thursday, the 75th anniversary of the atomic bombings of Hiroshima and Nagasaki in Japan, urged governments, organisations and individuals to work for achieving a demilitarized world..




IndiaTimes - Published





US Ambassador to India meets representatives of Dalai Lama




IndiaTimes - Published





Dalai Lama saddened by Assam floods, writes to CM expressing solidarity

The Dalai Lama has expressed his sadness at the loss of lives and devastation of properties due to flooding in parts of Assam.




IndiaTimes - Published





US thanks India for hosting Dalai Lama since 1959

The US has thanked India for hosting the Dalai Lama since 1959 as the world commemorated the 85th birthday of the Tibetan spiritual leader. The Dalai Lama has been living in India ever since he fled..




IndiaTimes - Published





Union Minister Kiren Rijiju greets Dalai Lama on birthday

Union Minister Kiren Rijiju on Monday conveyed his greetings to Tibetan spiritual leader the Dalai Lama on the occasion of his 85th birthday and said his values and ideals are the guiding light towards..




IndiaTimes - Published





US Ambassador to India wishes Dalai Lama on his birthday




IndiaTimes - Published





Dalai Lama marks 85th birthday with album of mantras

Tibetan spiritual leader The Dalai Lama made a bid for music chart stardom on Monday, his 85th birthday, with the release of an album of mantras and teachings.




IndiaTimes - Published





Dalai Lama writes to Naveen, Mamata; expresses sympathy for cyclone Amphan victims




IndiaTimes - Published





Dalai Lama expresses solidarity for people of Odisha, West Bengal following cyclone Amphan




IndiaTimes - Published





Steps being taken under PM Modi's firm leadership will be effective in combating virus: Dalai Lama




IndiaTimes - Published





I learnt from Bofors never to act in a case involving internal Indian politics, says Sarosh Zaiwalla

Sarosh Zaiwalla's clients have included global political leaders, the Dalai Lama, Greek shipping tycoons, Russian oligarchs, the 'Pathur Natarja' and even Mafia boss Joseph Zappia. The..




IndiaTimes - Published





Dalai Lama asks devotees to chant mantra to contain spread of coronavirus

Responding to their concern, the Dalai Lama advised his followers and Buddhist monasteries across China to chant the 'Tara Mantra' as it would be "beneficial for effectively containing the spread of..




IndiaTimes - Published





Tibetans retain power of truth, China exercises power of guns: Dalai Lama




IndiaTimes - Published





Why this hurry to discuss my reincarnation, asks Dalai Lama




IndiaTimes - Published





'Urgent need for India's traditions of non-violence and compassion in today's world': Dalai Lama

He had also talked about the importance of making this a part of the education system.




DNA - Published

Also reported by •IndiaTimes


No truck with Dalai Lama please, China to India

China officially reminded India this month that any interaction which senior Indian leaders or government functionaries might have with the Dalai Lama was going to be detrimental to the bilateral..




IndiaTimes - Published





Reincarnation feudal, should end now: Dalai Lama amid successor row with China




IndiaTimes - Published