Stephanie Grisham
White House Press Secretary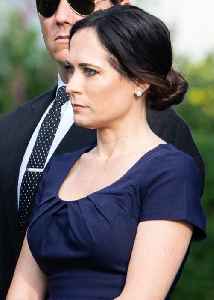 Stephanie Ann Grisham is an American White House official who served as the 30th White House press secretary and as White House communications director from July 2019 to April 2020. She held no press conferences as press secretary. She was a press aide to Donald Trump's 2016 presidential campaign, and member of his presidential transition team.


Grisham steps down as White House press secretary

White House press secretary Stephanie Grisham announced plans on Tuesday to become chief of staff to first lady Melania Trump and an administration official said she is expected to be replaced by a..
Credit: Reuters Studio Duration: 01:09
Published
Trump Signs Executive Order Against Hoarding Supplies

President Donald Trump signed an executive order that prevents hoarding and price gouging of crucial medical supplies. Attorney General William Barr announced the Justice Department would launch..
Credit: Wochit News Duration: 00:32
Published
Assange offered pardon by Trump, says lawyer

U.S. President Donald Trump offered to pardon WikiLeaks founder Julian Assange if he said that Russia had nothing to do with WikiLeaks' publication of Democratic Party emails in 2016, a London court..
Credit: Reuters Studio Duration: 01:40
Published
Convicted Trump ally Stone loses bid to delay sentencing

A federal judge denied a bid by longtime Donald Trump friend Roger Stone to delay his sentencing, despite furious tweets by the president defending the political operative and self-proclaimed "dirty..
Credit: Reuters Studio Duration: 02:24
Published
You Might Like
Search this site and the web: