Jake Paul
American YouTuber and Internet personality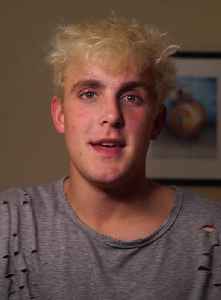 Jake Joseph Paul is an American YouTuber. He initially rose to fame on the now-defunct video application Vine, before playing the role of Dirk Mann on the Disney Channel series Bizaardvark for two seasons.


You Might Like
Jake Paul Heads to Mountains for Fight Camp, Uncertain About FBI Case
Jake Paul is taking a cue from "Rocky IV" and heading to the mountains to train for his upcoming boxing match ... and TMZ Sports has the video. He's confident about the fight -- but when it comes to..
TMZ.com - Published
Jake Paul Making Music Video About FBI Raiding His Home
Jake Paul is making lemonade outta the FBI's lemons ... namely that raid at his mansion, which is his inspiration for a music video shoot ... one that has some folks up in arms. The YouTube star is..
TMZ.com - Published
Jake Paul Says He'll K.O. Nate Robinson 1st Round, McDonald's Diet Fine
Jake Paul says you can bet your mortgage on him knocking out Nate Robinson early in their celeb boxing match ... which might explain him messing with Big Macs without worry. The YouTube star was..
TMZ.com - Published
Jake Paul's Raided Home Hosts Sloppy Boxing Match, COVID Nightmare!
LET'S GET READY TO RRRRRRRRRRONA!!! Jake Paul's Calabasas mansion turned into packed boxing venue Wednesday night -- with dozens of people blowing off COVID safety measures to watch two people throw..
TMZ.com - Published
Jake Paul Claims FBI Raid Tied to AZ Looting Case, Chills with Dog and Ex-GF
Jake Paul says he knows exactly why the FBI raided his home and, for now at least, he doesn't seem too concerned -- but he is making some changes to his inner circle. The YouTube star posted a vid..
TMZ.com - Published
Jake Paul Focusing on Boxing Amid FBI Probe, Not Bailing on Nate Robinson Fight
Jake Paul is NOT backing out of his upcoming boxing match with NBA star Nate Robinson despite the mysterious FBI investigation involving him, TMZ Sports has learned. In fact, our sources say Jake is..
TMZ.com - Published
Jake Paul FBI Raid Was Not Over Firearms
The firearms seized in the FBI raid at Jake Paul's house are now in the hands of the Sheriff ... and we're told the guns aren't the reason the feds stormed the place with a warrant. Law enforcement..
TMZ.com - Published
Jake Paul Had Guns on Display in YouTube Video Before FBI Raid
Jake Paul hasn't been low-key about showing off his weapons, and a casual display of 2 firearms in a recent video may have been a factor in the massive response by the FBI during the raid at his home...
TMZ.com - Published
Jake Paul's Home Being Searched by FBI, Warrant Issued
Jake Paul's L.A.-area home the scene of an early morning FBI raid ... TMZ has learned. Law enforcement sources tell us ... Jake's house in Calabasas is currently being searched by the feds -- and that..
TMZ.com - Published