Amy Coney Barrett
United States Supreme Court justice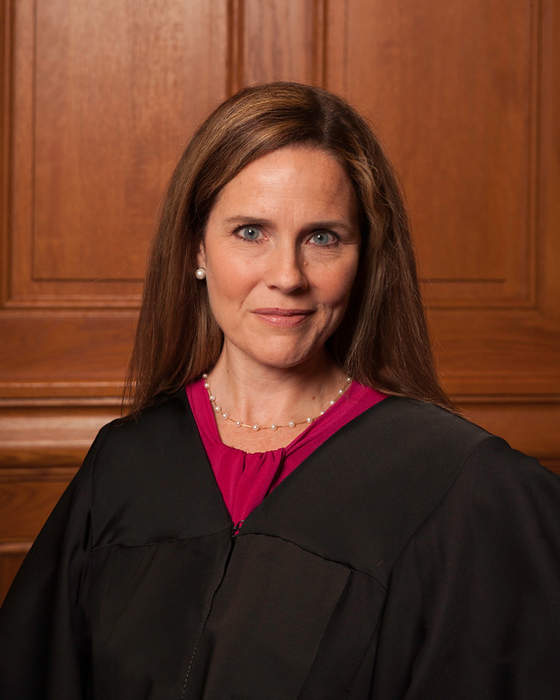 Amy Vivian Coney Barrett is an American jurist serving as an associate justice of the Supreme Court of the United States. She is the fifth woman to serve on the court. She was nominated by President Donald Trump and has served since October 27, 2020. She was a United States circuit judge on the United States Court of Appeals for the Seventh Circuit from 2017 to 2020.


You Might Like
Planned Parenthood Rallying Voters to Avoid Another Amy Coney Barrett
With Amy Coney Barrett now confirmed to the Supreme Court -- as President Trump and Sen. Mitch McConnell promised -- one organization is vowing to get revenge at the polls. Sources tell us Planned..
TMZ.com - Published
Amy Coney Barrett Confirmation Triggers Protest Outside Capitol Building
Amy Coney Barrett's confirmation to the Supreme Court is bringing out heated reactions -- pro and against -- which spilled onto the steps of the U.S. Capitol. Tons of protesters -- including some..
TMZ.com - Published
Amy Coney Barrett Confirmed to Supreme Court of U.S.
There were no eleventh-hour surprises -- Amy Coney Barrett got the votes she needed to be confirmed to the Supreme Court of the United States, which is now staunchly conservative. President Trump's..
TMZ.com - Published
Nebraska Senator Uses ACB Hearing To Crap All Over Astros, 'Miserable Cheaters'
"I'd like to talk about the Houston Astros, who are miserable cheaters." Nebraska U.S. Senator Ben Sasse used time during the Amy Coney Barrett hearing Wednesday to dump ALL OVER the Astros ... and we..
TMZ.com - Published
Amy Coney Barrett Says She Would Consider Recusal in Election Dispute
Amy Coney Barrett claims she has too much integrity to allow herself to be used as a pawn to get President Trump re-elected ... and she'll consider recusal if an election dispute ends up at SCOTUS...
TMZ.com - Published
COVID Positive Donald Trump Holds White House Rose Garden Event Saturday
Donald Trump is going back to the scene of the crime -- AKA the Rose Garden at The White House, and it's happening today. Our COVID President is throwing a campaign event Saturday afternoon for..
TMZ.com - Published
Chris Christie Released From Hospital a Week After COVID Diagnosis
Former New Jersey Governor Chris Christie is out of the hospital, after spending a solid week in there after suffering COVID symptoms. As you know, Christie tested positive for coronavirus after..
TMZ.com - Published
Republicans Sell 'Notorious A.C.B.' T-Shirts Supporting Amy Coney Barrett
The best you can call this is bad taste, and the worst is despicable because a Republican group decided to jack the moniker of the late Justice Ruth Bader Ginsburg -- The Notorious R.B.G. -- by..
TMZ.com - Published
President Trump Announces Amy Coney Barrett as Supreme Court Nominee
President Trump just officially tapped his pick for the next Supreme Court justice to replace the late Ruth Bader Ginsburg ... and he unveiled his top choice as Amy Coney Barrett. TMZ will be live..
TMZ.com - Published
Amy Coney Barrett Railed on Abortion, Health Care Rights
Amy Coney Barrett is Donald Trump's pick to fill Ruth Bader Ginsburg's seat, according to multiple reports, and judging by Barrett's past comments, her confirmation would squarely put abortion rights..
TMZ.com - Published