Chandigarh
Union territory and capital city of Punjab and Haryana states in northern India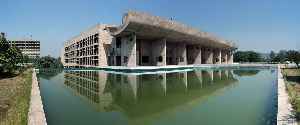 Chandigarh is a city, district and union territory in India that serves as the capital of the two neighbouring states of Punjab and Haryana.


Watch: Ram, Laxman & Ravana spread awareness about Covid in Chandigarh

It is festival season in India but unlike previous years, the festive fervor this time around is mixed with equal levels of caution. Ramlila characters Ram, Laxman & Ravana joined hands in Chandigarh..
Credit: HT Digital Content Duration: 01:53
Published
Chandigarh's Artist makes portrait of Olympic gold medallist Balbir Singh Senior using hockey, ball

On the 97th birth anniversary of Balbir Singh Senior, an artist made his portrait with hockey and ball at Sector-42 hockey stadium. Legendary hockey player Balbir Singh Senior was an Olympic gold..
Credit: ANI Duration: 01:57
Published
Fire at dumping ground in Chandigarh left residents with burning eyes

A major fire broke out at Dadu Majra garbage dumping site in Chandigarh on October 6. "The smoke was so pervasive it permeated masks. The effects of fire still persist in the area. The stench of smoke..
Credit: ANI Duration: 02:14
Published
Misbehaviour of parliamentarians with RS Deputy Speaker is political hooliganism: Hardeep Singh Puri

While addressing a press conference in Chandigarh, Union Ministre Hardeep Singh Puri talked about the misbehaviour of parliamentarians with the Deputy Speaker. He said that whatever happened on..
Credit: ANI Duration: 01:10
Published
Multiplexes in Chandigarh all set to welcome people by adhering COVID guidelines

After months of shutdown due to COVID-19 scare, a huge relief for multiplex operators as under the rules for Unlock 5.0 the Centre has allowed multiplexes to re-open with up to 50% seating capacity..
Credit: ANI Duration: 02:28
Published
Farmers protest: Punjab CM meets farm unions; 'rail roko' enters 6th day

Protests in Punjab intensified as rail roko agitation entered the 6th day in Amritsar on Tuesday. Punjab Chief Minister Captain Amarinder Singh met representatives of farmers' union in Chandigarh. CM..
Credit: HT Digital Content Duration: 02:01
Published
Unlock 4: Schools to reopen on voluntary basis across country

Schools across several states to reopen on voluntary basis from September 21 amid coronavirus pandemic. Preparations underway in Chandigarh's Model Senior Secondary school as it reopened today...
Credit: ANI Duration: 02:50
Published
'Today it's my home, tomorrow it'll be your pride': Kangana warns CM Uddhav

Kangana Ranaut has launched a direct attack on Maharashtra CM Uddhav Thackeray over the demolition of a party of the house by the BMC. In a video posted on Twitter, Kangana said that while the BMC..
Credit: HT Digital Content Duration: 02:02
Published
Chandigarh-based businessman Kunal Malik introduces special cabs for COVID patients

Prime Minister Narendra Modi's new abhiyaan of Aatma Nirbhar Bharat is a booster for multiple domestic sectors amid this pandemic. With the unique ideas, Indian companies are trying to boost the..
Credit: ANI Duration: 02:57
Published
COVID-19: Chandigarh's artists paint masks for needy

Chandigarh's artists came together under the umbrella of Unique Society of Artists to send out messages in the society. Artists painted masks to spread messages including 'stay home', 'value of..
Credit: ANI Duration: 02:03
Published
Students appear for NDA exams across country amid COVID fears

Several candidates arrived at various examination centres in different states to appear for the National Defence Academy (NDA) exams on September 06 amid the COVID-19 pandemic. Students arrived at an..
Credit: ANI Duration: 02:47
Published
Chandigarh Students encourage youngsters to donate gadgets to underprivileged girls for online learning

In the wake of COVID-19 crisis, when educational institutions are being forced to remain closed the school going teenagers have come together for a noble cause in Chandigarh. A group of 5 girls have..
Credit: ANI Duration: 01:42
Published
Chandigarh start-up assists job seekers

A small start-up started by two young entrepreneurs in Chandigarh is easing job search amid COVID-19 pandemic. In the times of pandemic, when job cuts have halted aspirations, a website called..
Credit: ANI Duration: 02:45
Published
Class 10th boy assembles motorbike using scrap

Class 10th boy in Chandigarh, Gaurav designed and developed a motorbike using scrap materials. Gaurav initially developed an electric bike, but he was not thrilled with it. He further modified the..
Credit: ANI Duration: 02:33
Published
You Might Like



Maharashtra, Chandigarh and Delhi worst performers in Covid-19 grant utilisation

Union health minister Dr Harsh Vardhan on Sunday said that Maharashtra with 42.5%, Chandigarh with 47.8% and Delhi with 75.4% are the worst performers in Covid-19 grant utilisation.




IndiaTimes - Published





Chandigarh teen raped, strangled, left to die




IndiaTimes - Published





SAD leaders Sukhbir Badal, Harsimrat, briefly detained while marching to meet Punjab guv over farm laws

SAD chief Sukhbir Singh Badal, his wife and former Union minister Harsimrat Kaur Badal, Prem Singh Chandumajra and other senior Akali leaders were detained by the Chandigarh police on Thursday night..




IndiaTimes - Published





South-west monsoon starts withdrawing; dry weather over north-west India, rainfall in south: IMD

According to the IMD, conditions are becoming favourable for further withdrawal of the South-west monsoon from some more parts of Rajasthan, Punjab, Haryana, Chandigarh, Delhi, Uttar Pradesh and Madhya..




DNA - Published





BJP's strategy for Punjab Assembly Election 2022 in wake of broken ties with Shiromani Akali Dal

The emergency meeting of the core committee of the party's Punjab unit was held in Chandigarh on Sunday under the chairmanship of State President Ashwani Sharma. It is learned that party workers have..




DNA - Published





Hyderabad doctors perform India's first double lung transplant on COVID patient from Chandigarh

A team of doctors in Hyderabad have performed the country's first double lung transplant on a COVID-19 patient. The patient, Rizwan from Chandigarh in Punjab, was suffering from a severe lung problem..




DNA - Published





Central teams sent to help Punjab & Chandigarh




IndiaTimes - Published





COVID-19: Health Ministry rushes central teams to Punjab, Chandigarh

The teams have been sent to guide in effectively addressing the challenges related to timely diagnosis and follow up.




DNA - Published





Chandigarh lockdown: Non-essential shops to remain closed on weekends

The Chandigarh administration has decided to close all shops in the city except essential services on Saturday and Sunday,




DNA - Published





Maternal deaths rise in Chandigarh, Punjab, Bengal

India's maternal mortality ratio (MMR), a key health system indicator, dropped to 113 in the 2016-18 period from 122 in 2015-17, according to the latest data released by the office of the registrar..




IndiaTimes - Published





Chandigarh puts a price to cow dung: 1.5 a kilo




IndiaTimes - Published





Congress didn't criticise China while questioned Modi govt on Ladakh standoff: Union minister

Union minister Ravi Shankar Prasad on Sunday lashed out at the Congress, accusing it of "not criticising China" while "posing questions" to the Prime Minister Narendra Modi-led Union government over..




IndiaTimes - Published





Mercury drops in parts of north India; monsoon to reach Delhi, UP in 2 days

Mercury dropped a few notches in parts of north India which also witnessed rainfall in some places, with the MeT Department stating that monsoon is likely to reach Uttar Pradesh, Punjab, Haryana and..




IndiaTimes - Published





Covid-19: 5 states manage to keep positivity rate below 3%

Five states — MP, Rajasthan, Kerala, Himachal Pradesh and Punjab — and the Union territory of Chandigarh have managed to slow the incidence of Covid-19 cases with the positivity rate (confirmed..




IndiaTimes - Published





Corona-related searches on Google drop in May as people go back to films, weather

'Coronavirus' dropped to 12th most searched topic overall during May, behind topics like Film, Meaning, News and Weather. All these terms are consistently highly searched topics in India. This probably..




IndiaTimes - Published





Chandigarh schools can't strike off students, deny education over non-payment of fees: High Court

Even if the parent is unable to pay the tuition fee, the school can neither cut the name of the child nor deprive them of the right to education.




DNA - Published





Delhi, Chandigarh among strictest lockdown enforcers: Study

Chandigarh and Delhi top and Bihar ranks lowest on severity of lockdown enforcement, according to a study by Mumbai University's economics school. Ranking states on an immobility index, the..




IndiaTimes - Published





Why 5 lakh J&K employees must go to Chandigarh for service disputes, SC asks Centre

The Supreme Court has asked the Union government to explain why it forced five lakh employees of Union Territory of Jammu and Kashmir to travel hundreds of kilometres to go before an ill-equipped..




IndiaTimes - Published





7 states/UTs to remain shut if WHO advisory is followed

At least seven states and Union Territories — Maharashtra, Gujarat, Delhi, Telangana, Chandigarh, Tamil Nadu and Bihar — would remain under lockdown with an increase in confirmed coronavirus cases..




IndiaTimes - Published





Congress should send buses to Punjab to transport migrants home instead of UP: Mayawati

BSP chief Mayawati on Sunday advised the Congress party to send a fleet of buses to Punjab and Chandigarh instead of Uttar Pradesh for ferrying migrant workers home as it would avert any risks of them..




IndiaTimes - Published





IAF conducts fly-past over Delhi saluting 'corona warriors'

The military jets, including Sukhoi-30 MKI, MiG-29 and Jaguar, flew over Rajpath, Delhi's centrepiece boulevard, and then orbited over the city for around 30 minutes from 11 am. IAF is carrying out..




IndiaTimes - Published





Coronavirus in India LIVE updates: Nine new COVID-19 cases reported in Chandigarh; three doctors infected

The total number of confirmed cases of COVID-19 infection in India crossed the 28,000-mark on Monday




DNA - Published





Punjab Police launches 'MainBhiHarjeetSingh' campaign to show solidarity with cop whose hand was chopped off

Singh was immediately rushed to Rajindra hospital in the town from where he was referred to PGIMER in Chandigarh. In the hospital, he underwent a complex surgery and his hand was successfully..




DNA - Published





DRDO lab develops 10,000 face shields for PGI, Chandigarh




IndiaTimes - Published





Chopper carrying Covid-19 samples lands on UP road

A Cheetah helicopter of the Indian Air Force (IAF) on its way to Chandigarh carrying samples for Covid-19 testing from Ladakh had to make an emergency landing on the Eastern Peripheral Expressway in..




IndiaTimes - Published





New monsoon calendar: Duration gets eight days longer in Mumbai, five days in Chandigarh and 26 days in Jalandhar




IndiaTimes - Published





Chandigarh lockdown relaxations retrograde step: PGI doctors




IndiaTimes - Published





'Unusual' trend: Chandigarh man shows symptoms on 15th day, tests corona-positive

In an "unusual" trend on coronavirus affliction, a 22-year-old Dubai-returned Chandigarh resident developed symptoms for coronavirus infection and tested positive for it a day after the expiry of the..




IndiaTimes - Published





COVID-19: IAF creates nine quarantine facilities at its nodal bases across country

IAF aircraft are continuing to fly in medical supplies and doctors to Leh and fly out blood samples for COVID-19 testing to Chandigarh and Delhi, the release noted.




IndiaTimes - Published





Top news: Chandigarh woman tests positive, toll climbs to 166

The total number of confirmed cases of coronavirus rose to 166 on Wednesday, Ministry of Health and Family Welfare announced.




DNA - Published





Fire at illegal PG kills 3 students in Chandigarh




IndiaTimes - Published





Average Delhi temp in April could be 1-1.5°C higher than normal

In April, the mean temperature is likely to be higher than normal by 1-1.5°C in Delhi, UP, Haryana, Chandigarh, Rajasthan, MP and most of Maharashtra. February has already turned out to be warm this..




IndiaTimes - Published





Chandigarh to finally get Sector 13 after 54 years of formation

Le Corbusier, who designed the city, considered number 13 as inauspicious and therefore, he did not include it.




DNA - Published





Light rains likely over Punjab, Haryana, Delhi in 24 hours

The weather department also predicted dense fog in isolated parts over Punjab, Haryana, Chandigarh and Delhi, Madhya Pradesh, Bihar, Sub-Himalayan West Bengal and Sikkim during the next 24 hours.




IndiaTimes - Published





Got Rs 12 lakh to help J&K terrorists reach Delhi, admits arrested DSP

Deputy superintendent of police Davinder Singh, who was arrested on Saturday along with two Hizb terrorists and a Hizb overground worker in Kulgam, has told his interrogators that he had received Rs 12..




IndiaTimes - Published





IMD predicts heavy snowfall in parts of J-K, Himachal, Uttarakhand

IMD has predicted heavy rain and snowfall in isolated places over J&K, Himachal Pradesh and Uttarakhand on Monday. Predicting thunderstorm accompanied with hail and lightning at isolated places over..




IndiaTimes - Published





India organises training programme for Afghan civil registration authority officials

The programme for Afghanistan central civil registration authority, was conducted from Dec 23-30, 2019, followed by a field visit to Chandigarh, the ministry of external affairs said in a statement...




IndiaTimes - Published





Intense cold in northern states on Christmas, water supply lines freeze in Srinagar

It was freezing cold in most parts of the northern states on Christmas, with Srinagar recording its coldest night of the season at minus 4.3 degrees Celsius that froze water supply lines at several..




IndiaTimes - Published





Mercury dips in Delhi, North India reels under severe cold

The Indian Meteorological Department (IMD) has predicted that the cold day conditions will continue to prevail in pockets over Punjab, Haryana, Chandigarh, Delhi, and Rajasthan.




DNA - Published





North India shivers under severe cold, several flights disrupted in Chandigarh

Himachal Pradesh received fresh snowfall and several other areas in northern India were in the frigid grip of cold wave on Monday even as the maximum temperature in Delhi settled 10 notches below the..




IndiaTimes - Published





Rains, snowfall continue in northern states; cold conditions to prevail

Rains and snowfall in several parts of Jammu and Kashmir, Himachal Pradesh and Uttarakhand on Saturday pulled the mercury down in the region. The weatherman said the mercury is expected to hover around..




IndiaTimes - Published





Balakot message was to tell Pak there will be cost for terror attacks: Former Air Chief Marshal

The message of the Balakot air strike was to tell the Pakistani establishment and terrorist organisations that there will be a cost to pay for terror attacks in India which was effectively conveyed,..




IndiaTimes - Published





ED quizzes former Haryana CM Bhupinder Singh Hooda in land allotment case

The Enforcement Directorate (ED) on Wednesday quizzed former Haryana chief minister and Congress leader Bhupinder Singh Hooda in connection with an alleged money laundering case pertaining to the..




IndiaTimes - Published





CEC holds meeting with CEOs of Punjab, Haryana, Himachal, Chandigarh

Chief Election Commissioner (CEC) Sunil Arora on Thursday said innovative ways of thinking should be adopted to ensure delivery of quality electoral services to the stakeholders. The CEC held a meeting..




IndiaTimes - Published





Road accident deaths plunge drastically in some states, UTs post new Motor Act: Govt

Post implementation of new Motor Vehicle Act on September 1, deaths in road accidents have reduced drastically in some states and union territories including Chandigarh, which saw a 75% dip in..




IndiaTimes - Published





CBI conducting searches across the country in bank fraud cases

The Central Bureau of Investigation (CBI) has registered around 35 cases related to bank frauds. The searches are being conducted in Andhra Pradesh, Chandigarh, Delhi, Gujarat, Haryana, Karnataka,..




IndiaTimes - Published





Manohar Lal Khattar takes oath as Haryana CM for second term, Dushyant Chautala sworn in as his deputy

The two leaders were administered the oath of office and secrecy by Haryana Governor Satyadeo Narain Arya at Raj Bhavan in Chandigarh.




DNA - Published




Manohar Lal Khattar to be Haryana CM again, to meet governor

Jannayak Janta Party (JJP) leader Dushyant Chautala is also expected to reach Chandigarh later in the day and meet the Governor to submit his party's letter of support to the BJP.




IndiaTimes - Published





Khattar reaches Chandigarh, BJP legislative party meet to start shortly

Haryana chief minister Manohar Lal Khattar arrived here from New Delhi on Sunday morning to attend the BJP legislative party meeting, which will be held shortly to elect its leader.​ After reaching..




IndiaTimes - Published





Amit Shah may take up lynching cases in Eastern Zonal Council meeting

Amit Shah, who will be attending his first meeting of the Eastern Zonal Council, according to officials, has already held discussions with the Western Zonal Council in Goa and Northern Zonal Council at..




IndiaTimes - Published