Rishi Sunak
British Conservative politician (born 1980)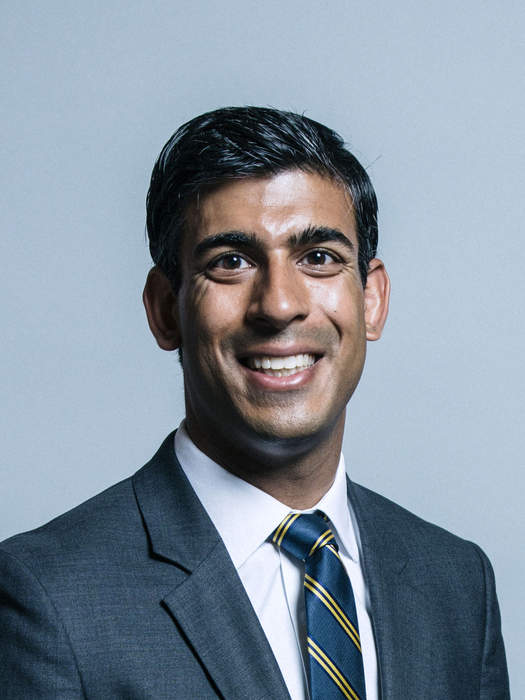 Rishi Sunak is a British politician, Chancellor of the Exchequer since 2020. A member of the Conservative Party, he was previously Chief Secretary to the Treasury from 2019 to 2020. He has been the Member of Parliament (MP) for Richmond (Yorks) in North Yorkshire since 2015.


Sunak unveils £1billion bailout for struggling businesses

Chancellor Rishi Sunak has announced extra support for hospitality and leisure sectors. Pubs and restaurants have been hit by a wave of booking cancellations as Covid cases rise and Brits limit social..
Credit: ODN Duration: 02:09
Published
Labour: Businesses still don't have certainty from govt

Shadow Chancellor Rachel Reeves says the government still does not have a plan or certainty for working people and businesses amidst rising Omicron cases. Her comments come after Chancellor Rishi..
Credit: ODN Duration: 01:01
Published
Sunak announces support for hospitality and culture sectors

Chancellor Rishi Sunak has announced three new measures to help businesses through the Omicron wave: £1bn in grants for the hospitality sector, £30m to the cultural recovery fund to support theatres..
Credit: ODN Duration: 01:31
Published
You Might Like



Sunak pledges £1bn for hospitality sector with £6k grants for businesses

Rishi Sunak has announced an additional £1bn in financial support for the hospitality and leisure sectors, with every business able to claim a one-off cash grant of £6,000.




Sky News - Published





Sunak urged to 'get on a plane' to deliver fresh support for Omicron-hit businesses

Rishi Sunak has been urged to "get on a plane" back to the UK amid a growing clamour for support for businesses hit by warnings over Omicron.




Sky News - Published





'Where's the chancellor?': Sunak urged to support hospitality firms suffering mass cancellations

Chancellor Rishi Sunak is facing growing calls to provide extra support to hospitality businesses suffering mass cancellations amid the rising number of COVID infections.




Sky News - Published





Questions arise over Chancellor Rishi Sunak's £2bn youth jobs scheme

There is limited evidence that Rishi Sunak's £2bn jobs programme for young people is working, according to a new report.




Sky News - Published





Sunak says global financial system is being 'rewired' as he announces new eco pledges

Former Bank of England governor Mark Carney has declared a "watershed" moment in financing the world's move to net zero following news that $130 trillion of private capital was waiting to be deployed.




Sky News - Published




Financial firms that control 40% of global assets 'will align with Paris Agreement 1.5' on climate

Financial firms that control around 40% of global assets will align themselves to the Paris Agreement 1.5 degree warming limit, Chancellor Rishi Sunak will say on Wednesday at critical UN climate..




Sky News - Published





Sunak denies raising taxes to cut them before next election to win votes

Rishi Sunak has denied he raised taxes in the autumn Budget so that he can cut them again ahead of the next general election in order to win more votes - but insisted he will aim to bring the tax..




Sky News - Published





Voters endorse budget and back Sunak's handling of economy - poll

Voters have endorsed Rishi Sunak's budget and continue to back his handling of the economy, a new poll for Sky News has revealed.




Sky News - Published





Rishi Sunak insists taxes are lowering and that is fairest way out of the pandemic

Rishi Sunak has said his intent as chancellor is to "lower taxes for people" and insisted that was the fairest way of coming out of the pandemic.




Sky News - Published





Sunak to face questions on budget after vowing to build 'stronger economy'

Rishi Sunak will hit the airwaves to sell his budget later, after it was warned that the chancellor's economic set piece will leave the poorest families "far worse off".




Sky News - Published





Sunak's budget responds to changing economy - but has he fumbled the climate crisis?

This was quite a complex budget - more so than usual.




Sky News - Published





Acid test for Sunak's budget will follow in the coming months

It was Rishi Sunak's third budget, but in some ways it was his first.




Sky News - Published





Education catch-up 'on the cheap' as Sunak offers 'inadequate' support

Chancellor Rishi Sunak has been accused of offering "completely inadequate" post-lockdown support to pupils with government help for schools being done "on the cheap".




Sky News - Published





Chancellor's budget a case of the good, the bad and the bubbly

Rishi Sunak's budget can be summed up as the good, the bad and the bubbly.




Sky News - Published





Cheaper pints and prosecco: New alcohol duty explained

Chancellor Rishi Sunak has announced a raft of changes to alcohol duties that he promised will bring the cost of a pint in the pub down by 3p "permanently".




Sky News - Published





Sunak outlines plans for 'new economy' after COVID - but issues warnings

Chancellor Rishi Sunak has set out new government spending rules as he outlined a budget to prepare for a "new economy" after the COVID crisis.




Sky News - Published





Budget 2021 key points: What has been announced in Chancellor Rishi Sunak's speech?

Here are the key points from Chancellor Rishi Sunak's budget speech:




Sky News - Published





Chancellor vows budget will deliver strong economy 'fit for a new age of optimism'

Rishi Sunak has claimed his budget will deliver a stronger economy "fit for a new age of optimism".




Sky News - Published





Budget set to be a monumental deluge of figures but it's only really about £36bn

This is, technically speaking, Rishi Sunak's third budget. But it might better be thought of as his first.




Sky News - Published





Chancellor puts finishing touches to budget as speaker again criticises raft of pre-speech announcements

The chancellor is putting the finishing touches to his budget, after the Commons speaker again hit out at policies being trailed ahead of Rishi Sunak's address to MPs on Wednesday.




Sky News - Published





What we know, expect - and could be missing from Sunak's budget

Rishi Sunak will deliver his Autumn Budget and Spending Review to MPs in the Commons today, setting out the government's spending and financial strategy.




Sky News - Published





There are still more questions than answers over the end of public sector pay freeze

Back when Rishi Sunak imposed a year-long freeze on public sector pay, in November 2020, earnings of state workers were outperforming those in the private sector.




Sky News - Published





Public sector pay freeze will end, chancellor to announce in budget

Millions of nurses, teachers and members of the armed forces will receive a pay rise next April as Rishi Sunak unfreezes public sector pay in the budget.




Sky News - Published





Sunak 'fighting in the fog' as he puts finishing touches to budget

When Rishi Sunak stands up to deliver his budget and three-year spending review on Wednesday it will be his first real opportunity to set the tenor of his chancellorship unencumbered from the immediate..




Sky News - Published





Sunak unveils 'game changing' £6bn investment to tackle NHS waiting lists

Rishi Sunak will pledge to invest £6bn in tackling NHS waiting lists across England and improving the use of digital technology in hospitals in the budget this week.




Sky News - Published





Sunak snubs Rashford's calls to continue free school holiday meals

Chancellor Rishi Sunak has snubbed a call from footballer Marcus Rashford to continue the free school holiday meals policy.




Sky News - Published





Sunak fails to commit to eastern HS2 leg days before autumn Budget

Rishi Sunak has refused to be drawn on the future of the eastern leg of HS2 just three days before announcing his spending plans in the autumn Budget later this week.




Sky News - Published





Mayors welcome £6.9bn local transport boost - but warned of HS2 'sting in the tail'

England's regional mayors have welcomed a £6.9bn spending boost for local transport - but they are also being warned of a "massive sting in the tail" to come from Chancellor Rishi Sunak.




Sky News - Published





Cheers! More than 100 MPs make pre-budget plea for Rishi Sunak to cut duty for draught beer

More than 100 Conservative MPs have made a fresh plea to Chancellor Rishi Sunak to do more to support pubs and clubs at next week's budget.




Sky News - Published





Rishi Sunak to call for 'global action' to tackle supply chain issues as fuel crisis continues

Chancellor Rishi Sunak is to call for "global action" to tackle supply chain issues on his first official visit to the United States.




Sky News - Published





'Recovery comes with a cost': Chancellor defends tax rises and stresses 'need to fix public finances'

Rishi Sunak has defended tax rises and stressed the need to "fix" the nation's finances as the economy emerges from the COVID-19 pandemic, declaring: "Our recovery comes with a cost."




Sky News - Published




Chancellor RIshi Sunak to announce £500m expansion of job support after furlough ends

Chancellor Rishi Sunak is set to announce a £500m expansion of government action to tackle unemployment and support job seekers following the end of the furlough scheme.




Sky News - Published





Chancellor Rishi Sunak accused of being 'missing in action' amid supply crisis

Rachel Reeves has accused Chancellor Rishi Sunak of being "missing in action" during the country's supply crisis, telling Labour's conference that the government has "lost control".




Sky News - Published





Cameron's lobbying 'did not take up very significant part' of Treasury's time, says Sunak

Dealing with David Cameron's multiple texts, WhatsApp messages, emails and phone calls "did not take up a very significant part" of the Treasury's time, Chancellor Rishi Sunak has told MPs..




Sky News - Published





Sunak faces spending test ahead as economy still lags pre-COVID level

The chancellor does have cause for some tentative optimism.




Sky News - Published





Johnson and Sunak challenge institutions to create 'Investment Big Bang'

Boris Johnson and Rishi Sunak will on Thursday challenge UK-based investors to invest in more "British success stories" in order to fuel the economy's post-pandemic recovery.




Sky News - Published





Office life beats Zoom and Teams for young workers, says Sunak

Young people benefit from being in the office, Chancellor Rishi Sunak has said, as he highlighted its positive influence on his own early career.




Sky News - Published





Chancellor writes letter to the PM calling for relaxation of travel rules, reports say

Rishi Sunak has written to Boris Johnson warning that the UK's travel restrictions are "out of step" in comparison to other countries, reports suggest.




Sky News - Published





Sunak to offload up further chunk of state-backed NatWest over next 12 months

The Treasury is to sell a further chunk of NatWest in a trading plan over the next 12 months as it further reduces its stake in the bank.




Sky News - Published





No 10 says PM was 'already at Chequers' when told to isolate - as Starmer slams initial bid to 'dodge' quarantine

Downing Street has said the prime minister was already at his country retreat when he was contacted by NHS Test and Trace and told to isolate - as Labour leader Sir Keir Starmer labelled Boris Johnson..




Sky News - Published





PM's quickest U-turn yet? From Hancock's downfall to Christmas bubbles, here's how his latest reversal compares

Boris Johnson and Rishi Sunak have performed a dramatic U-turn and announced they will no longer dodge self-isolation after a fellow minister tested positive for COVID.




Sky News - Published





PM and Sunak not isolating despite being pinged after Javid's positive COVID test

Boris Johnson and Rishi Sunak will not be isolating despite being pinged after Sajid Javid's positive COVID test, Downing Street has said.




Sky News - Published





MPs to vote on foreign aid budget cuts, but tax rises are threatened if government loses

Boris Johnson has called the bluff of rebel Tory MPs demanding a Commons vote on Rishi Sunak's controversial decision to cut spending on overseas aid.




Sky News - Published




Sunak urges workers to return to the office as ministers plan to make COVID app 'less sensitive'

Rishi Sunak is urging workers to return to the office - at the same time as ministers are planning emergency measures to cut quarantine numbers.




Sky News - Published





Javid looking at 'possible solutions' to people being told to self-isolate by COVID app, says Sunak

Health Secretary Sajid Javid is considering an "appropriate, balanced and proportionate" approach for self-isolation when people are 'pinged' by the NHS app, Rishi Sunak has said.




Sky News - Published





State pension 'triple lock' rise could cost Sunak extra £3bn a year, watchdog warns

Chancellor Rishi Sunak might have to stump up an extra £3bn a year if he sticks with the government's "triple lock" pledge on state pensions, according to the UK's fiscal watchdog.




Sky News - Published





Rishi Sunak says financial services deal with EU 'has not happened'

Britain's attempt to reach a post-Brexit financial services deal with the EU "has not happened", Rishi Sunak has told the City.




Sky News - Published





Businesses plead for taxpayer aid to be extended in line with Freedom Day delay

Chancellor Rishi Sunak is being urged to dig deep again and maintain taxpayer support for businesses if, as expected, Freedom Day is delayed due to rising coronavirus infection rates.




Sky News - Published





Sunak hails 'promising sign' as April reopening sees fastest GDP growth since last summer

Britain's economy grew by 2.3% in April as the high street and hospitality sector reopened, official figures show.




Sky News - Published





World cannot rely on tax system designed in 1920s, says Sunak

Chancellor Rishi Sunak has told world finance leaders the world cannot "continue to rely on a tax system that was largely designed in the 1920s".




Sky News - Published