Rishi Sunak
British Conservative politician, Chancellor of the Exchequer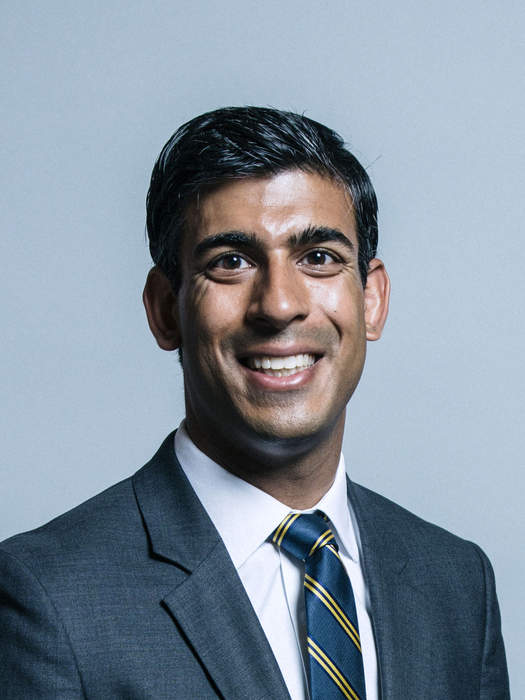 Rishi Sunak is a British politician who has been Chancellor of the Exchequer since February 2020. A member of the Conservative Party, he was previously Chief Secretary to the Treasury from July 2019 to February 2020. He has been the Member of Parliament (MP) for Richmond (Yorks) in North Yorkshire since 2015.


Cameron says he had 'big economic investment' in Greensill Capital

David Cameron has said he had a "big economic investment" in Greensill Capital but insisted that did not motivate his intense lobbying of the Government for the collapsed firm.The Conservative..
Credit: PA - Press Association STUDIO Duration: 01:57
Published
'All security protocols are followed' by PM, says Sunak

Prime Minister Boris Johnson has been accused of causing a security risk after it emerged, according to reports, that his personal mobile number had been available online for the last 15 years...
Credit: ODN Duration: 00:25
Published
Johnson and Sunak visit secondary school in London

Prime Minister Boris Johnson and Chancellor Rishi Sunak take part in a science lesson and meet staff and pupils at King Solomon Academy, in Marylebone, London. Report by Blairm. Like us on Facebook at..
Credit: ODN Duration: 00:58
Published
Government Lobbying Scandal Explained

Former Prime Minister David Cameron remains at the centre of a major lobbying scandal.  It comes as the current Prime Minister Boris Johnson faces questions over refurbishing his Downing Street..
Credit: ODN Duration: 02:22
Published
Labour activists protest against 'Tory sleaze'

Labour Party activists dressed as David Cameron, Rishi Sunak, Boris Johnson and Matt Hancock protested against "Tory sleaze and cronyism" outside the gates to Downing Street on Wednesday morning...
Credit: ODN Duration: 01:14
Published
Daily politics briefing: April 18

The key facts behind the day's headlines on April 18 as the controversy continues over the role former prime minister David Cameron played in securing Whitehall access for Greensill Capital.Sir Bernard..
Credit: PA - Press Association STUDIO Duration: 00:47
Published
UK opens probe into lobbying by ex-PM Cameron

Britain's government has opened an independent investigation into failed finance company Greensill Capital after lobbying by former Prime Minister David Cameron raised questions over its access to..
Credit: Reuters - Politics Duration: 01:23
Published
Sunak accused of being 'frit' of facing the Commons over Cameron claims

Shadow chancellor Anneliese Dodds questioned why Rishi Sunak was not in the Commons to answer an urgent question regarding the Greensill lobbying controversy.
Credit: PA - Press Association STUDIO Duration: 01:02
Published
Greensill urgent question asked in Commons

Shadow Chancellor Anneliese Dodds asks an urgent question in the House of Commons on Greensill Capital and a Covid-19 support scheme. Labour had asked for Chancellor Rishi Sunak to appear before MPs to..
Credit: ODN Duration: 01:57
Published
You Might Like



Why Rishi Sunak's 'super deduction' isn't as great as it sounds

In a factory somewhere on the outskirts of Birmingham sits a machine which tells you rather a lot about the UK economy and where it's heading.




Sky News - Published





Hospitality chiefs urge Sunak to 'stand ready' with new support package

Hospitality chiefs have urged the chancellor to prepare a new financial support package for the industry even as remaining restrictions on their operations are lifted in the coming weeks.




Sky News - Published





PM's mobile number accessible online sparks security fears

Chancellor Rishi Sunak has insisted "all security protocols have been followed" despite the prime minister's phone number being freely available online, prompting snooping fears.




Sky News - Published





Cameron and Sunak set to be quizzed by MPs over Greensill lobbying controversy

Former prime minister David Cameron and Chancellor Rishi Sunak are set to be hauled before MPs to answer questions over the Greensill Capital lobbying controversy.




Sky News - Published





Rishi Sunak summoned to parliament to explain Greensill-Cameron ordeal

Rishi Sunak has been asked to appear before parliament tomorrow to explain why he granted Greensill Capital access to a COVID loan scheme after David Cameron lobbied him.




Sky News - Published





David Cameron 'told friends it was a mistake' to text chancellor to lobby him for his employer

David Cameron has reportedly told friends it was a mistake to send private text messages to Chancellor Rishi Sunak to help his employer gain access to a coronavirus loan scheme.




Sky News - Published





Rishi Sunak confirms he 'pushed' to help David Cameron with Greensill COVID loan request

Rishi Sunak "pushed" officials to find alternative ways to help a financial services firm David Cameron was lobbying for, text messages released by the chancellor reveal.




Sky News - Published





Reopen offices after lockdown ends or your staff may quit, Rishi Sunak warns British businesses

Rishi Sunak is calling on Britain's employers to end working from home and allow staff back in the office - or risk them voting with their feet and quitting. 




Sky News - Published





Proposed 1% pay rise for NHS staff 'based on affordability', says chancellor

Chancellor Rishi Sunak has told MPs the offer of a 1% pay rise for NHS staff is "based on affordability".




Sky News - Published





Chancellor accused of 'not levelling with people' over budget plans

Rishi Sunak "isn't really levelling with people" about painful cuts that will be needed to repair the public finances, according to budget analysis by a respected economic think-tank.




Sky News - Published





Sunak defends tax changes as 'a fair way to help solve the problems that we need to'

Chancellor Rishi Sunak has defended his tax changes in yesterday's budget as "a fair way to help solve the problems that we need to".




Sky News - Published





Polls suggest public approve of chancellor's budget despite looming tax rises

Rishi Sunak's spend now, tax later budget has received a broad welcome from voters, according to two snap opinion polls carried out after the chancellor's statement.




Sky News - Published





Budget offers £5bn stimulus and no Sunak vision for economy

There are many figures contained in this budget but perhaps the most telling is a striking set of numbers announced by Rishi Sunak in the House of Commons.




Sky News - Published





Corporation tax rise and threshold freeze as Sunak vows 'fairer' UK in COVID victims' memory

The chancellor has vowed to build a "fairer" country in the memory of those who have died during the coronavirus pandemic after he outlined his budget.




Sky News - Published





Budget 2021: All the key points as Rishi Sunak sets out his plans

Here are the key points from Chancellor Rishi Sunak's budget speech:




Sky News - Published





Legal limit for contactless payments to increase, chancellor says ahead of budget announcement

The legal limit for contactless payments will more than double, Chancellor Rishi Sunak will confirm in today's budget.




Sky News - Published





What COVID support measures were announced in the budget?

Chancellor Rishi Sunak has announced several measures to support people affected by COVID-19 lockdowns.




Sky News - Published





Rise in corporation tax and freeze on thresholds as Sunak tries to recover COVID debt

Chancellor Rishi Sunak has set out an extra £65bn in COVID support for employees and businesses - but announced a freeze on income tax thresholds and a rise in corporation tax to help pay back the..




Sky News - Published





The perma-budget chancellor will not be going after your money (just) yet

It's a long time ago and a lot has happened since then but can you remember how much money Rishi Sunak set aside to spend on COVID-19 in last year's budget?




Sky News - Published





What measures can you expect to see in Rishi Sunak's budget?

What's going to be in the budget? A lot of the big announcements have already been revealed, leaked, or guessed at. Here's what to expect:




Sky News - Published





Sunak prepares to pump cash into COVID recovery as tax rise debate continues

The chancellor is expected to give £408m to help museums, theatres and galleries to reopen in England as coronavirus restrictions ease.




Sky News - Published





Ken Clarke urges Rishi Sunak to protect 'young and poor' and ditch pension 'triple lock'

Rishi Sunak should use this Budget to ditch the government's pensions triple lock, lift taxes on older voters and should be wary of raising corporation taxes, according to former chancellor Ken Clarke.




Sky News - Published





Sunak told now is not the time for 'significant' tax increases

Chancellor Rishi Sunak has been told by MPs that "now is not the time for tax rises" - though a moderate hike in corporation tax could help the government without damaging growth.




Sky News - Published





A tale of two chancellors promises a decisive follow-up

There are two ways of telling the Rishi Sunak story of the past 12 months.




Sky News - Published





No chance of earlier lockdown release, says chancellor

Chancellor Rishi Sunak has ruled out any chance of a speedier end to lockdown, telling Sky News the last thing the business needed was a "stop, start" return to normal life.




Sky News - Published





Budget to offer £5bn for firms hit hard by COVID - but rebels warn Sunak against raising taxes

A £5bn grant scheme to help pubs, restaurants and retailers hit hardest by lockdown restrictions is set to be unveiled by the chancellor in Wednesday's budget.




Sky News - Published





High streets look to Sunak for post-pandemic help in budget to save them from collapse

Guildford High Street, with its pretty cobbled streets, chi chi shops and historical architecture, is the perfect example of an affluent commuter suburb.




Sky News - Published





UK economy to face 'enormous strains' following lockdown, says Sunak

Chancellor Rishi Sunak has warned that Britain's public finances will face "enormous strains" in the wake of the latest national lockdown.




Sky News - Published





Tory MPs in the North call on Johnson and Sunak not to raise business taxes in Budget

Boris Johnson has been told not to raise business taxes in next week's Budget by Tory MPs in the North - as new Conservatives MPs told Sky News they "won't be here in four years' time" if he doesn't..




Sky News - Published





Pay growth at highest level since 2008 as Sunak prepares to extend furlough aid

Rates of pay growth are running at their highest level since 2008, according to official figures, despite the impact of the coronavirus pandemic on large parts of the economy.




Sky News - Published





Five Indian-origin persons, Indian activist feature in TIME magazine's list of 100 emerging leaders

Five Indian-origin personalities, including Twitter's top lawyer Vijaya Gadde and UK's finance minister Rishi Sunak, and an Indian activist feature in TIME magazine's annual list of 100 "emerging..




IndiaTimes - Published





Furlough aid must be phased out to prevent 'deferred' employment shock - IFS

Chancellor Rishi Sunak should ensure next month's budget secures the economic recovery from the COVID-19 crisis to date rather than try to start fixing the public finances, according to a report.




Sky News - Published





Sunak 'considering Amazon tax' to claw back pandemic borrowing

Amazon and other major internet retailers could be hit with a new online sales tax to help the UK pay its debts after extensive borrowing during the pandemic.




Sky News - Published





Chancellor urged to extend furlough scheme before budget

Chancellor Rishi Sunak has been urged by the CBI to extend the government's furlough and business rates holiday schemes - and to act before March's budget.




Sky News - Published





Sunak announces £4.6bn in new lockdown grants for struggling businesses

Chancellor Rishi Sunak has announced lockdown grants totalling £4.6bn to help struggling businesses after latest restrictions were announced.




Sky News - Published





Diwali 2020: UK's Chancellor of the Exchequer Rishi Sunak lights diyas at 11th Downing Street for first time, watch here

This is the first time in the history of the UK that 11th Downing street was lit up with diyas. Rishi Sunak, born to Punjabi Hindu parents, Chancellor of the Exchequer of the United Kingdom, lit the..




DNA - Published





Britain urgently reviewing distancing rules, could ease quarantine

Britain is urgently reviewing its social distancing rule and might be able to relax quarantine for travellers to help its economy recover from a coronavirus crisis collapse, the country's finance..




Reuters - Published





UK might be able to change quarantine rules for travellers: Sunak

Britain's government is looking at options for its two-week quarantine for people entering the country and might be able to make changes to the rules, finance minister Rishi Sunak said on Sunday.




Reuters - Published





Finance minister says Britain to urgently review distancing rule

Britain will urgently review its two-metre social distancing rule as it tries to help the economy recover from a 25% coronavirus crisis collapse, finance minister Rishi Sunak said.




Reuters - Published





UK will look at two-meter distancing rule urgently: Sunak

Britain's government will review its two-meter social distancing rule as a matter of urgency as it tries to help the country's economy recover from a 25% collapse after the onset of the coronavirus..




Reuters - Published





Britain's Sunak picks ex-official Hughes to head budget watchdog

British finance minister Rishi Sunak said on Friday he had picked Richard Hughes, a former senior official at Britain's Treasury and the International Monetary Fund, as the next head of the country's..




Reuters - Published





No trade-off between health and economy, Sunak says

British finance minister Rishi Sunak said he did not see a trade-off between measures to combat the health impact of the coronavirus and the country's economic wellbeing, after government forecasters..




Reuters - Published





UK does not face health versus economics choice over coronavirus: Sunak

British finance minister Rishi Sunak said the government was not facing a choice between slowing the spread of the coronavirus or protecting the economy.




Reuters - Published





UK's Johnson 'improving' as he fights COVID-19 in intensive care

British Prime Minister Boris Johnson's condition is improving and he is able to sit up in bed and engage with clinical staff, finance minister Rishi Sunak said on Wednesday as Johnson remained in..




Reuters - Published




UK finance minister Sunak, 39, next in line to lead country after Raab

British finance minister Rishi Sunak would take responsibility for leading the country if Dominic Raab, currently standing in for hospitalised Prime Minister Boris Johnson, were also incapacitated.




Reuters - Published





British health minister denies clash with finance chief over lockdown strategy

British Health Secretary Matt Hancock on Sunday denied there was any disagreement with Finance Minister Rishi Sunak about when lockdown restrictions to fight the coronavirus could be lifted.




Reuters - Published





UK finance minister Sunak is not self-isolating: Treasury source

British finance minister Rishi Sunak is not self-isolating after Prime Minister Boris Johnson tested positive for coronavirus, a source at the finance ministry said.




Reuters - Published





Factbox: UK unveils $400 billion loan guarantee plan as coronavirus bites

British Prime Minister Boris Johnson and his finance minister Rishi Sunak said they were facing an economic emergency due to the coronavirus but that the government would do whatever it takes to..




Reuters - Published





UK sees no need for its own U.S.-style travel ban: finance minister Sunak

British finance minister Rishi Sunak said on Thursday that Britain did not see the need for a U.S-style flying ban as part of its response to the spread of coronavirus.




Reuters - Published





Britain's new finance minister keeps March 11 budget date

Britain's new finance minister Rishi Sunak said he will stick with the March 11 date for the government's first post-Brexit budget, dispelling speculation that the plans, likely to entail a big..




Reuters - Published