Hindi
Indo-Aryan language spoken in India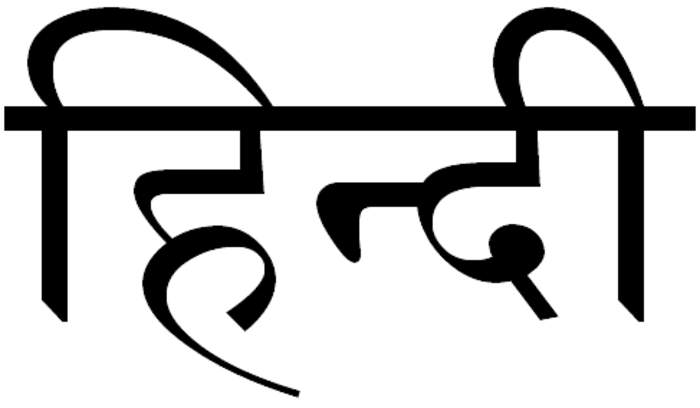 Hindi, or more precisely Modern Standard Hindi, is an Indo-Aryan language spoken chiefly in India. Hindi has been described as a standardised and Sanskritised register of the Hindustani language, which itself is based primarily on the Khariboli dialect of Delhi and neighbouring areas of Northern India. Hindi, written in the Devanagari script, is one of the two official languages of the Government of India, along with the English language. It is an official language in 9 States and 3 Union Territories and an additional official language in 3 other States. Hindi is also one of the 22 scheduled languages of the Republic of India.


RJD to form alliance in Assam? Tejashwi Yadav replies in poll-bound state

Rashtriya Janata Dal (RJD) leader Tejashwi Prasad Yadav on Saturday said his party will contest the upcoming Assam Assembly polls with the "like-minded" parties, a step seen as an effort to eat into..
Credit: HT Digital Content Duration: 02:41
Published
Rahul Gandhi slams Centre over rising fuel prices; Robert Vadra on bicycle

Congress leader Rahul Gandhi hit out at the Modi government over rising fuel prices. Rahul accused the Centre of emptying the pockets of the common man and filling the pockets of its friends for free...
Credit: HT Digital Content Duration: 03:03
Published
Hindutva has to win if Tamil has to survive: Tejasvi Surya

While addressing a public gathering in a poll bound state Tamil Nadu, BJP Yuva Morcha president Tejasvi Surya on February 21 said that Bharatiya Janata Party respects and promotes all regional..
Credit: ANI Duration: 01:48
Published
Sukhdeo Panse calls Kangana Ranaut Naachne-Gaane Wali: Video goes viral | Oneindia News

A video of Madhya Pradesh Congress leader Sukhdeo Panse calling bollywood actor Kangana Ranaut a "naachne-gaane wali" a Hindi taunt widely seen as misogynistic has gone viral in social media. The..
Credit: Oneindia Duration: 01:36
Published
'Prashant Kishor's team took over my social media': Dinesh Trivedi | On The Record

In this episode of On The Record, Hindustan Times' Sunetra Choudhury speaks with Ex-leader of Trinamool Congress Dinesh Trivedi. In the interview, he alleged that his social media was taken over by..
Credit: HT Digital Content Duration: 09:23
Published
Ht - Morning Playlist - 0802 Hindi

Ht - Morning Playlist - 0802 Hindi
Credit: HT Digital Content Duration: 07:26
Published
Rajnath Singh launches trailer of movie 'Fauji Calling'

Union Defence Minister Rajnath Singh launched the trailer of the film 'Fauji Calling' in the national capital on January 25. It is an upcoming Hindi film showing the life of a family who is trying to..
Credit: ANI Duration: 02:09
Published
Srinagar comes alive with cultural music amid winter season

To boost the cultural and traditional music in Kashmir, a cultural program was organised in Srinagar on January 25. The event was the first of its kind organised by the Actors Creative Theatre (ACT) in..
Credit: ANI Duration: 03:04
Published
FIR against director Prakash Jha for 'caste discrimination' in Ashram web series

FIR lodged against director Prakash Jha for allegedly hurting SC-ST sentiments in Aashram. Rajasthan Police said the case has been registered at Luni police station in Jodhpur Rural. Jha, who has also..
Credit: HT Digital Content Duration: 01:39
Published
Mayawati launches book on her 65th birthday

Bahujan Samaj Party (BSP) chief Mayawati has launched a book in the national capital. She launched the book on the occasion of her 65th birthday on January 15. The book is written in two..
Credit: ANI Duration: 01:14
Published
Adil Hussain: Bollywood missed an opportunity not casting a North-East actor in Mary Kom

Bollywood actor Adil Hussain speaks to HT City Entertainment Editor, Monika Rawal, about shooting for two films - Bell Bottom in Scotland and Footprints on the Water in Birmingham - amid the pandemic,..
Credit: HT Digital Content Duration: 40:38
Published
Kajol, Renuka Shahane, Tanvi Azmi mothers, daughters and Tribhanga

Director Renuka Shahane and actors Kajol and Tanvi Azmi talk to Hindustan Times about their upcoming film, Tribhanga. The Netflix film explores the themes of familial relationships, how 'hurt people..
Credit: HT Digital Content Duration: 17:02
Published
You Might Like



Inflation high, employment shut, government is cool with eyes closed, says Rahul Gandhi

"Employment shut, inflation high, the government is cool with eyes closed, so Bharat Bandh," read Gandhi's tweet translated from Hindi. The effect of 'Bharat Bandh' called by the Confederation of All..




IndiaTimes - Published





Centre has spent Rs 7.95 crore on campaign to bust myths about farm laws: Agriculture minister Narendra Singh Tomar

Agriculture minister Narendra Singh Tomar, in a written reply in the Rajya Sabha, further said the print advertisements have been published through the Bureau of Outreach and Communication (BOC) in..




IndiaTimes - Published





Uttarakhand floods: Home minister Amit Shah speaks to state CM; assures all help

Union home minister Amit Shah on Sunday spoke to Uttarakhand chief minister Trivendra Singh Rawat and assured him of all possible support to deal with the situation arising in the wake of glacier burst..




IndiaTimes - Published





Peaceful 'satyagraha' of farmers in national interest: Rahul Gandhi

"The peaceful satyagraha of annadatas is in national interest -- these three laws are not just harmful for farmers-labourers, but also for the people and the country. Full support!" Rahul Gandhi said..




IndiaTimes - Published





Farmers will not benefit from Union Budget 2021: Congress leader

Sibal told in Hindi, "The Central government is just offering dreams. I think they did not give weightage to two important sectors namely defence and agriculture. The defence budget has not increased..




IndiaTimes - Published





Rahul Gandhi says violence is not solution, calls for repeal of farm laws in national interest

As protesting farmers clashed with police at several places in the national capital, Congress leader Rahul Gandhi on Tuesday said violence is not the solution to any problem and sought repeal of the..




IndiaTimes - Published





President Ram Nath Kovind to address nation on the eve of Republic Day

The address will be broadcast from 1900 hrs on the entire national network of the All India Radio (AIR) and telecast over all channels of Doordarshan in Hindi followed by the English version, it said...




IndiaTimes - Published





WhatsApp chats prove Goswami-Dasgupta collusion to rig ratings, says NBA

The NBA said that the collusion between Goswami and Dasgupta had led to Republic TV's viewership numbers being boosted while "fraudulently manually reducing ratings of other channels". It..




IndiaTimes - Published





Sanskrit emerges as 5th most widely used language in Rajya Sabha

Rajya Sabha members spoke in 10 scheduled languages (other than Hindi) in the House on 269 occasions during 923 sittings between 2004 and 2017




DNA - Published





Rahul Gandhi attacks govt over loan waiver to industrialists

"The Modi government this year waived loans of Rs 2,37,876 crore of a few industrialists. With this amount, 11 crore families could have been provided Rs 20,000 each in these difficult Covid times. The..




IndiaTimes - Published





Akhilesh Yadav claims ground level BJP workers want withdrawal of new farm laws

In a tweet in Hindi, the SP chief said, "The BJP government should not 'cheat' farmers of the entire country for the benefit of a few rich friends and in today's talks, withdraw the agriculture laws...




IndiaTimes - Published





Era of good governance, welfare of poor started during Vajpayee's tenure as PM: Amit Shah

Amit Shah paid tribute to former prime minister Atal Bihari Vajpayee on his birth anniversary and said he had started the era of good governance and the welfare of poor in the country. In a series of..




IndiaTimes - Published





Arnab Goswami's channel fined Rs 20 lakh by UK regulator for promoting hatred towards Pakistanis

Republic TV owner Arnab Goswami's Hindi news channel in Britain, Republic Bharat, has been fined £20,000 by the UK's broadcasting regulator for promoting and justifying hatred towards Pakistani..




IndiaTimes - Published





Farmers 'apologise' to people with 'folded hands' for road blockade, inconvenience

Sanyukt Kisan Morcha, which is spearheading the protests at Delhi border points, distributed handbills in Hindi to commuters on the Jaipur-Delhi Highway near Haryana-Rajasthan borders, where hundreds..




IndiaTimes - Published





Om Birla pays tributes to victims of 2001 Parliament attack

"My humble tribute to personnel from police and Parliament who lost their lives on this day in 2001, in a bid to protect the House. Their loyalty and valour will continue to inspire us and further..




IndiaTimes - Published





How many sacrifices will farmers have to make to get agri laws repealed, asks Rahul Gandhi

"How many more sacrifices will the farmers have to make to get the agri laws repealed?" Gandhi asked in a tweet in Hindi, tagging a media report which claimed that 11 protesting farmers had lost their..




IndiaTimes - Published





Lok Sabha Speaker pays tribute to Pranab Mukherjee on his birth anniversary

"I pay my tribute to former President Shri Pranab Mukherjee who was honoured with Bharat Ratna on his birth anniversary. Mukherjee ji's life will always be exemplary for all of us for the work he had..




IndiaTimes - Published





Centre taking away fundamental rights of poor, says Rahul Gandhi

"Modi government is taking away the fundamental rights of the poor. It is a crime against humanity. For the better future of the country, we have to respect the rights of every class. #HumanRightsDay,"..




IndiaTimes - Published





Prime Minister Narendra Modi's Mann Ki Baat programme to be broadcast at 11 am today

After Hindi, the Mann Ki Baat programme will also be broadcast in regional languages by All India Radio.




DNA - Published





PM Modi lauds Advani on his 93rd birthday

In a tweet in Hindi, Modi said Advani, home minister and deputy prime minister in the Atal Bihari Vajpayee-led government, played a significant role in the country's development and also took the party..




IndiaTimes - Published





"Need Nitish govt for Bihar's development,'' PM Modi in open letter to voters

Taking to micro-blogging site Twitter, PM Modi posted a four-page letter written in Hindi addressing the people of Bihar.




DNA - Published





Congress helped migrant labourers during Covid-19 lockdown: Rahul Gandhi

"When lakhs of labourer brothers and sisters were forced to walk back to their homes in Bihar and Uttar Pradesh, the Modi and Nitish government were committing atrocities on them," the Congress leader..




IndiaTimes - Published





Priyanka Gandhi Vadra wishes Goddess Durga's strength, might to grace women this Navratri

Taking to social media, the Congress General Secretary wrote, "Wish you all a very happy Sharad Navratri. May all the people be benefited by the grace of Mother Durga. I wish Mother Durga's strength..




IndiaTimes - Published





Poor state of women safety in Uttar Pradesh disturbing: Priyanka Gandhi

"In the last one week, 13 horrific incidents of crime against women have occurred in UP. As per reports, victims have been killed or the victims committed suicide in four such incidents," she said in a..




IndiaTimes - Published





Modi govt 'betrayed' farmers: Rahul slams Centre on farm laws

Tagging a video which had snippets from his recent visits to Punjab and Haryana during which he held tractor rallies and public meetings against the laws, Gandhi tweeted in Hindi, "The farmers gave the..




IndiaTimes - Published





Amit Shah appeals to everyone to follow PM's public movement against Covid-19

"A global pandemic like Covid-19 can be fought only when all the countrymen come together. Let us all unite to fight against it by joining this mass movement started by PM Modi and play an important..




IndiaTimes - Published





Hathras gang-rape: Alleging victim's kin denied right to perform last rites, Congress demands UP CM's resignation

Party leader Rahul Gandhi, in a tweet, said, "A daughter of India is raped-murdered, facts are suppressed and in the end, the right to perform the last rites is also taken away from the victim's..




IndiaTimes - Published





You are accountable for safety of women in UP: Priyanka to Adityanath

The 19-year-old Dalit woman was raped allegedly by four men in Uttar Pradesh's Hathras district on September 14. She died at a hospital in Delhi where she was undergoing treatment on Tuesday morning...




IndiaTimes - Published





President gives assent to Jammu and Kashmir Official Languages Bill

A new law that provides for inclusion of Kashmiri, Dogri and Hindi in the list of official languages in Jammu and Kashmir, in addition to Urdu and English, has been notified after President Ram Nath..




IndiaTimes - Published





Mayawati slams both Opposition, govt over Monsoon Session chaos

In a tweet in Hindi, she said "Although Parliament is called the temple of democracy, its dignity has been shredded many times. Even during the ongoing Parliament session, the functioning of the..




IndiaTimes - Published





PM Modi pays tributes to Hindi poet Dinkar

PM Modi on Wednesday paid tributes to legendary Hindi poet Ramdhari Singh Dinkar on his birth anniversary, saying his timeless poems will continue to inspire all citizens. "Humble tributes to 'rashtra..




IndiaTimes - Published





J&K will have 5 official languages, Lok Sabha clears bill

Lok Sabha on Tuesday passed the J&K Official Languages (Amendment) Bill — which makes Kashmiri, Dogri and Hindi, apart from Urdu and English, as official languages of J&K. Section 47 of the J&K..




IndiaTimes - Published





Shocking! Retired government doctor's bank loan rejected in Tamil Nadu for not knowing Hindi

"We were having a conversation in English and he asked if we knew Hindi (in English) and added that there was a language problem. I told him that I knew English and Tamil and assured that I would..




DNA - Published





BSP not in support of two bills related to farmers passed in Parliament, says Mayawati

Bahujan Samaj Party (BSP) chief Mayawati on Friday said that her party is against the passing of two bills in the Lok Sabha related to "reforms" in agriculture marketing. In a tweet in Hindi, Mayawati..




IndiaTimes - Published





New PLA 'tactics': Punjabi songs, warning to Indian troops in Hindi

In a bid to "unnerve" Indian soldiers entrenched on the heights, the PLA has taken to loudspeakers to issue warnings in chaste Hindi apart from playing Punjabi songs. "The PLA is trying to stir..




IndiaTimes - Published





Use Hindi, local languages as much as possible: Amit Shah to govt offices




IndiaTimes - Published





Stalin to Amit Shah: Save people from Covid-19 instead of saving Hindi that 'divides people'




IndiaTimes - Published





What is there to celebrate in 'Hindi Diwas' for non-Hindi speakers, asks Kumaraswamy

Terming 'Hindi Diwas' celebration as an "underhand method" to impose the language on people speaking other languages, JD(S) leader H D Kumaraswamy on Monday demanded its cancellation.




IndiaTimes - Published





Parallel development of Hindi, other Indian languages under new education policy: Shah




IndiaTimes - Published





Hindi an unbreakable part of Indian culture: Amit Shah




IndiaTimes - Published




PM Modi extends greetings on 'Hindi Diwas', congratulates linguists for contribution

Prime Minister Narendra Modi on Monday extended greetings on the occasion of "Hindi Diwas". He also congratulated the linguists who have contributed to the development of the Hindi language.​"Best..




IndiaTimes - Published





Hindi Diwas 2020 Special: 11 English words that actually originated from Hindi

On Hindi Diwas, here's are some common words in the Oxford English Dictionary that have an Indian origin.




DNA - Published





'Jab tak dawai nahi, tab tak dhilai nahi': PM Modi says no carelessness till COVID-19 medicine is developed

Prime Minister Narendra Modi is relentless and won't rest until India has found a solution to the coronavirus disease (COVID-19) pandemic outbreak. To drive home this point, the Prime Minister on..




DNA - Published





No carelessness till medicine is developed: PM on Covid-19

Cautioning people against lowering their guard till an effective anti-coronavirus medicine is developed, Prime Minister Narendra Modi on Saturday came up with a slogan in Hindi to drive home his point...




IndiaTimes - Published





Kangana issue: Why Hindi? Jayant Patil's poser to Fadnavis

Reacting to the Brihanmumbai Municipal Corporation's (BMC) action of demolishing "illegal alterations" in Ranaut's bungalow, Fadnavis reacted both in Marathi and Hindi in separate video messages. He..




IndiaTimes - Published





Hindi, Kashmiri and Dogri to be added to J&K official languages list




IndiaTimes - Published




When will Modi show his 'red eyes' to China? Congress

The Congress on Monday upped the ante against the Modi government over the Chinese aggression at the border and asked "when will Prime Minister Narendra Modi show his red eyes to China?"In a statement..




IndiaTimes - Published





'Nobody is safe': Priyanka Gandhi slams UP CM over double murder

"The UP CM may say anything in the House, but right next to his residence, in a VIP area, the wife and son of a senior railway officer Mr. RD Bajpai being killed in broad daylight, shows that the..




IndiaTimes - Published





Priyanka Gandhi Vadra slams UP government over journalists' death

"Shubham MTripathi was killed on June 19, Vikram Joshi was killed on July 20, Ratan Singh was killed on August 24. Three journalists were killed in three months. FIRs have been filed against 11..




IndiaTimes - Published





PM Narendra Modi expresses deep sorrow over death of Varanasi's 'Dom Raja'

In a tweet in Hindi, the prime minister said Chowdhary was intrinsic to the culture of Kashi, another name of the city, and that he worked for social harmony all his life. Modi, who represents Varanasi..




IndiaTimes - Published