Hindi
Indo-Aryan language spoken in India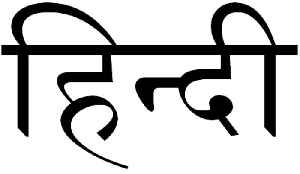 Hindi, or more precisely Modern Standard Hindi, is an Indo-Aryan language spoken in India. Hindi is often described as a standardised and Sanskritised register of the Hindustani language, which itself is based primarily on the Khariboli dialect of Delhi and neighbouring areas of Northern India. Hindi, written in the Devanagari script, is one of the two official languages of the Government of India, along with the English language. It is an official language of 9 states and 3 Union Territories and additional official language of 3 states. It is one of the 22 scheduled languages of the Republic of India.


Netflix user interface now available in Hindi

Video streaming service Netflix has announced support for the Hindi language across its platform. According to Techcrunch, users can choose the Hindi language from the 'Manage Profiles' section on the..
Credit: ANI Duration: 01:10
Published
War over three-language formula in NEP 2020: Who said what

A huge language war has erupted over the Modi government's New Education Policy 2020. The AIADMK and the DMK have raised the red flag over the three language policy in the NEP. Tamil Nadu Chief..
Credit: HT Digital Content Duration: 02:18
Published
Health call centre opened in Dantewada to boost institutional delivery

District administration sets up a health call centre, with an aim to promote institutional deliveries in Chhattisgarh's Dantewada. Callers inquire about the health of pregnant women in Hindi, Gondi and..
Credit: ANI Duration: 02:11
Published
You Might Like



Ram is the spirit of humanity which resides in our hearts, says Rahul Gandhi on 'bhoomi pujan' day

The Wayanad MP, through a tweet in Hindi, said that Lord Ram is the embodiment of the best human values, "he is the spirit of humanity which resides in the depths of our hearts."




IndiaTimes - Published





Will go for Ramlala's darshan after PM, others leave: Uma Bharti

"I will leave Bhopal today and on the way I might come in contact with a coronavirus infected person. Taking this into account, I will keep a distance from the place where @narendramodi and hundreds of..




IndiaTimes - Published





National Education Policy 2020: Tamil Nadu rejects 3-language formula; to continue with 2-language practice

It must be noted that Tamil Nadu saw widespread agitations in 1965 when the then Congress state government had attempted to make Hindi the state's official language.




DNA - Published





BSP whip to MLAs: Priyanka Gandhi says it is clean chit to those who murdered democracy

"Undeclared spokespersons of the BJP have issued a whip in support of the BJP. But, this is not a whip but a clean chit to those who murder democracy and the Constitution," she said in a tweet in..




IndiaTimes - Published





Rahul Gandhi accuses govt of benefitting by making profits during lockdown

"There are clouds of disease and people are in trouble, but one seeks to benefit -- this anti-people government is converting a disaster into profits and is earning," he said in a tweet in Hindi. The..




IndiaTimes - Published





UP CM Yogi Adityanath to provide Rs 10 lakh ex-gratia to journalist Vikram Joshi's kin; Rahul Gandhi condoles demise

"Journalist Vikram Joshi was killed for the opposing molestation of his niece. My condolences to the bereaved family. They had promised Ram Raj, instead, they gave Gunda Raj," Gandhi posted in Hindi..




DNA - Published





Rahul Gandhi lists alleged 'attempt to topple' govt in Rajasthan among govt's 'achievements' in Covid-era

Taking a dig at the Modi government, Congress leader Rahul Gandhi on Tuesday listed the alleged "attempt to topple" the government in Rajasthan and the "Namaste Trump" event as among the Centre's..




IndiaTimes - Published





Assam floods: Rahul Gandhi appeals to Congress workers to provide help to those affected

"The whole country is with Assam. People of Assam are battling this problem with their courageous nature and will overcome this disaster," Gandhi said in a tweet in Hindi. He also appealed to Congress..




IndiaTimes - Published





Rahul Gandhi: India will cross 20-lakh Covid-19 cases by August 10, govt must take concrete steps

"10,00,000-mark has been crossed. If Covid-19 spreads at this pace, by August 10, more than 20,00,000 will be infected in the country," the former Congress chief said in a tweet in Hindi.




IndiaTimes - Published





Priyanka Gandhi slams UP govt over handling of Covid-19 pandemic

The Covid-19 ward of the medical college is full of drainage water. The patients are worried and there is no system of draining out the water, the Congress general secretary in-charge of UP East..




IndiaTimes - Published





PIL in J&K HC seeks to declare Hindi as official language of Union Territory

A public interest litigation (PIL) has been moved in Jammu and Kashmir High Court seeking directions to declare Hindi as the official language of the Union Territory claiming that the people of Jammu..




IndiaTimes - Published





India will cross 10 lakh-mark of Covid-19 cases this week: Rahul Gandhi

Congress leader Rahul Gandhi on Tuesday said the total number of coronavirus cases in the country will cross the 10 lakh-mark this week. "This week, the figure of 10,00,000 will be crossed in our..




IndiaTimes - Published





Akhilesh Yadav questions Vikas Dubey's encounter

Samajwadi Party supremo Akhilesh Yadav on Friday raised questions on gangster Vikas Dubey's encounter killing after an accident, saying the car did not topple but it was an effort to save the..




IndiaTimes - Published





Rahul Gandhi extends wishes on Guru Purnima

"Three things that cannot be hidden for long - Sun, Moon, and Truth - Gautam Buddha. Best wishes to all of you on the occasion of Guru Purnima," the Congress leader wrote on the microblogging site..




IndiaTimes - Published





Rajnath Singh thanks PM Modi for Ladakh visit, says meeting soldiers boosted morale

"The borders of the country have always been secure under the Indian Army. Prime Minister Narendra Modi visiting Ladakh to meet and encourage the soldiers has certainly boosted the morale of the Army...




IndiaTimes - Published





Another proof of hooliganism in UP: Rahul Gandhi on killing of policemen in Kanpur

"Another proof of 'Gundaraj' in UP. When the police are not safe, how will the public be? My heartfelt condolences are with the families of the slain martyrs and I wish the injured a speedy recovery,"..




IndiaTimes - Published





Kanpur incident another proof of 'gundaraj' in UP, says Rahul Gandhi

"This is another proof of gundaraj in UP. When the police are not safe, how will the public be? My heartfelt condolences are with the families of the slain martyrs and I wish the injured a speedy..




IndiaTimes - Published





UP govt using police as 'tool of oppression': Priyanka Gandhi Vadra on arrest of party's minority cell chief

"Congress leaders and activists are committed to raising their voice on public issues. The BJP government can stop other parties from raising their voice, not our party, by making UP police a tool of..




IndiaTimes - Published





Sacrifice of people who fought for democracy during Emergency will not be forgotten: PM Modi

The sacrifice of people who fought for democracy during the Emergency will never be forgotten, Prime Minister Narendra Modi said on Thursday. "Emergency was imposed on the country exactly 45 years ago...




IndiaTimes - Published





New employment scheme to help migrant workers, poor facing challenges due to Covid-19: Amit Shah

Union home minister Amit Shah on Saturday said the employment scheme, launched by Prime Minister Narendra Modi, will help migrant workers and the poor facing challenges due to the coronavirus pandemic...




IndiaTimes - Published





Government adopting weak strategy by handing over rail contract to Chinese firm: Priyanka Gandhi

"Twenty of our soldiers have been martyred. In such a situation, the central government should give a strong message, but the government has adopted a weak strategy of kneeling down by handing over the..




IndiaTimes - Published





Priyanka Gandhi alleges UP recruitment machinery 'corrupt', youth determined to speak up against it

"The recruitment machinery of Uttar Pradesh is highly corrupt. Recruitments are either scrapped or get stuck in court battles on account of corruption, unfair rules, flawed social justice policy and..




IndiaTimes - Published





PM Modi wishes people on Ganga Dussehra

"May mother Ganga, the eternal source of Indian spirituality, culture, prosperity and harmony, provide healthy life and continued success to all countrymen. Best wishes on Ganga Dussehra," Modi tweeted..




IndiaTimes - Published





Nobody can stare down Modi's India: BJP on border standoff with China

"Narendra Modi ke Bharat ko koi aankh nahi dikha sakta (No country can stare down PM Modi's India)," BJP leader and Union minister Ravi Shankar Prasad said in Hindi during a press conference.




IndiaTimes - Published





Sufferings of migrants amid dispute between Centre and Maharashtra most unfortunate: Mayawati

"Due to the dispute between the Centre and the Maharashtra government, lakhs of migrant labourers are still suffering badly, which is sad and unfortunate. It is important to stop levelling of charges..




IndiaTimes - Published





Railways successfully operated 3,000 Shramik special trains to send migrants home: Piyush Goyal

"I am very happy to say that the Railways has successfully operated more than 3,000 Shramik special trains and transported migrant workers from different parts of the country to their home states,"..




IndiaTimes - Published





Mayawati lashes out at BJP, Congress for doing politics over migrant workers

"In the name of sending migrant labourers home, both the BJP and the Congress are playing disgusting politics. The parties are accusing each other and are diverting attention from the main issue. This..




IndiaTimes - Published





UP govt opposing Priyanka Gandhi because she wants to help migrant labourers: Ahmed Patel

"Uttar Pradesh government, its administration and some media channels are opposing Priyanka Gandhi and Uttar Pradesh Congress leaders because they want to help the troubled and helpless migrant..




IndiaTimes - Published





Self-reliant India Mission is nothing but repackaged version of Make in India: Shashi Tharoor

He tweeted a Hindi couplet to express his views on the subject. The couplet roughly translates to: "He sold the old couplet/lion with a new name; He sold piles of dreams again." The Prime Minister had..




IndiaTimes - Published





Rs 20 lakh crore package to serve interests of poor, farmers, middle class: Amit Shah

The Modi government takes decisions in the interest of the country and the just announced Rs 20 lakh crore relief package will help the poor, farmers and middle class, Union home minister Amit Shah..




IndiaTimes - Published





I am healthy, not suffering from any disease, says Amit Shah

Union home minister Amit Shah on Saturday said he is "totally healthy" and not suffering from any disease. Shah said rumours about his health conditions have been spread through social media. "I am..




IndiaTimes - Published





Mayawati urges Centre, states to protect livelihood of labourers, working-class amid lockdown

"The International Labour Day, which is celebrated as May Day by the labourers and working-class every year, but due to the current Corona epidemic and the lockdown, there is an unprecedented crisis of..




IndiaTimes - Published





Coronavirus: Priyanka Gandhi raises issue of faulty kits supplied to UP medical colleges

"Faulty PPEs were supplied to many medical colleges of Uttar Pradesh. It was good that this was detected early and the same were returned and no one could play with the safety of our warrior doctors...




IndiaTimes - Published





Some earning profits in sale of Covid-19 test kits to govt, PM must intervene: Rahul Gandhi

"When the entire country is fighting against the Covid-19 disaster, some people are still profiteering. One detests and feels ashamed of such a corrupt mindset. We demand from the prime minister strict..




IndiaTimes - Published





Focus should be on correct information, right treatment to stop coronavirus spread: Priyanka Gandhi

"The situation in Agra city is bad and the number of coronavirus patients is going up everyday. The mayor of Agra says that if the right arrangements are not made, the matter can go out of hand,"..




IndiaTimes - Published





Priyanka Gandhi calls for transparency over coronavirus tests being conducted in UP

"Many people are expressing concerns over testing in UP. Transparency is a big thing in the fight against coronavirus. The entire society and the government can together defeat this epidemic. In this..




IndiaTimes - Published





Netizens create Hindi word for 'social distancing' & it will blow your mind!

Do you know the Hindi word for social distancing?




DNA - Published





Stay where you are, don't panic and rush to your villages, PM Modi urges people

Prime Minister Narendra Modi on Saturday evening urged people not to leave cities of their workplace in panic and rush to their villages. In a series of tweets in Hindi, PM Modi warned that travelling..




IndiaTimes - Published





London-based woman declares herself 'CM candidate' for Bihar Assembly polls

Pushpam Priya Choudhary, the daughter of former Janata Dal United MLC Vinod Chaudhary has declared herself as the "chief ministerial candidate" for the Assembly elections in Bihar. Priya, who belongs..




IndiaTimes - Published





BJP doing 'poaching politics' in Madhya Pradesh, says Adhir Ranjan Chowdhury

Taking to Twitter, another Congress leader Digvijaya Singh had earlier stated (roughly translated from Hindi): "The BJP has started the process of bringing the MPs of BSP, Congress, Samajwadi to Delhi...




IndiaTimes - Published





'Namaste Trump': US president faces difficulty with Hindi words like 'Vedas', 'chaiwala'

US President Donald Trump experienced difficulties in the pronunciation of Hindi words such as the "Vedas", "Sholay" and "chaiwala" during his speech at the "Namaste Trump" event here on Monday.




IndiaTimes - Published





Trump stumbles on Indian names, Hindi word in cricket stadium speech

U.S. President Donald Trump on Monday managed to mangle his pronunciation of several Indian names and a Hindi word on an otherwise successful first day of his state visit to India.




Reuters - Published





In Agra, a bit of awe but little admiration for President Trump

Those TOI spoke to – professors, shopkeepers, factory owners – do not follow Trump on social media. Their views on the 73-year-old businessman-turned-politician have been largely shaped by Hindi..




IndiaTimes - Published





ENBA Awards: Zee News bags major honours, DNA 'Best Current Affairs Programme' in Hindi category

Viewers' favourite prime-time news show DNA - Daily News and Analysis bagged two awards at ENBA2019.




DNA - Published





Hindi connects large part of India together: Adityanath

Uttar Pradesh chief minister Yogi Adityanath on Saturday said Hindi has connected large parts of the country together and has become a big medium of employment. "Mahatma Gandhi, the Father of the..




IndiaTimes - Published





Biju Janata Dal opposes AIIMS Bhubaneswar's Hindi diktat, to lodge formal complaint with Centre

After the All India Institute of Medical Science (AIIMS), Bhubaneswar issued a directive mandating the use of Hindi language in official communication, the Biju Janata Dal (BJD) has criticised the move..




DNA - Published





PM Narendra Modi wins applause for speech in Kannada, Telugu, Marathi, Hindi




IndiaTimes - Published





Raising voice in democracy not a crime: Priyanka Gandhi

In a tweet in Hindi, Priyanka Gandhi said, "Raising voice in a democracy is not a crime. And, it is my duty to stand with those, with whom crime has been committed," she said ahead of her visit to the..




IndiaTimes - Published





Ravidas Jayanti: Mayawati slams Congress, BJP leaders for visiting temples for vested interests

"Congress, BJP and other parties did not give any respect or honour to Sant Guru Ravidas during their tenure. But, after being out of power, they are indulging in various theatrics to realise their..




IndiaTimes - Published





National narrative becoming Hindi-speaking: Shashi Tharoor

Senior Congress leader Shashi Tharoor on Saturday said the south and northeast of India will become "irrelevant" in comparison to the north, as the national narrative is increasingly becoming a..




IndiaTimes - Published