Hindi
Indo-Aryan language spoken in India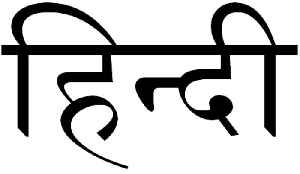 Hindi, or Modern Standard Hindi is a standardised and Sanskritised register of the Hindustani language. Hindi, written in the Devanagari script, is one of the official languages of India, along with the English language. It is one of the 22 scheduled languages of the Republic of India. However, it is not the national language of India because no language was given such a status in the Indian constitution.


I&B ministry directs TV channels to display credits, titles of serials in Hindi, regional languages
In a bid to promote Indian languages, the Information and Broadcasting Ministry has asked all satellite TV channels to display the casting, credits and titles of Hindi and regional language serials in..
DNA - Published
No. of students learning Hindi in TN rising as CBSE schools mushroom
IndiaTimes - Published
India's Jet Airways runs out of cash, shuts down
Jet Airways, once India's largest private airline, is over a billion dollars in debt and has not paid its pilots and employees in weeks. It has also decided to pull its planes from the skies. Jayson..
Credit: Reuters Studio Duration: 01:26Published
Tracing history: South has always resisted Hindi
The love for Tamil extended to and integrated with the polity of the state so well that no national party has ever gained dominance in the state's politics.
DNA - Published
Left tongue-tied
The recent National Education Policy draft said Hindi must be taught in non-Hindi speaking states. While parts of the nation oppose the 'imposition', language experts say it will uphold the values of a..
DNA - Published
The curious case of knowing Hindi: Maharashtra on love-hate cusp
A reason for the blunted anti-Hindi resentment is Maharashtra's geographical, cultural, and physical proximity with northern states, and the ability of the locals to adapt to the language.
DNA - Published
Hindi sign boards smeared with black ink in Trichy
Barely a week after social media and political outrage in Tamil Nadu over the alleged attempt of the newly sworn-in BJP Government to impose Hindi on non-Hindi speaking states via the draft three..
DNA - Published
You Might Like