Hindi
Indo-Aryan language spoken in India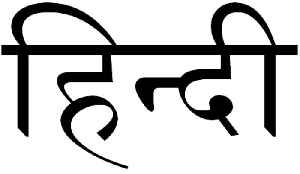 Hindi, or Modern Standard Hindi is a standardised and Sanskritised register of the Hindustani language. Hindi, written in the Devanagari script, is one of the official languages of India, along with the English language. It is one of the 22 scheduled languages of the Republic of India. However, it is not the national language of India because no language was given such a status in the Indian constitution.


'Tamil' demand yields, postal exam annulled
Tamil parties demanded to know why questions in the examination to select postmen and assistants in rural areas were only in Hindi and English, and not in Tamil.
DNA - Published
Shabana Azmi 'new leader' of 'tukde tukde', 'award wapasi' gang, says Giriraj Singh
Sharing a video of renowned actor saying, "If we criticise the government we are branded as anti-nationals", the BJP leader tweeted in Hindi, "Shabana Azmi is a new leader of 'tukde-tukde' gang and..
DNA - Published
Floods in South Asia claim over 100 lives
Floods have forced more than four million people from their homes across India, Nepal and Bangladesh and killed more than 100 people as torrential rains in the initial days of monsoons wreaked havoc...
Credit: Reuters Studio Duration: 01:23Published
Fans burn posters as India fail to reach cricket World Cup final
Anger boils over in India in the aftermath of loss to underdogs New Zealand in cricket World Cup
Credit: Reuters - Sports Duration: 00:26Published
Search this site and the web:
You Might Like