Babur
Badshah of the Mughal Empire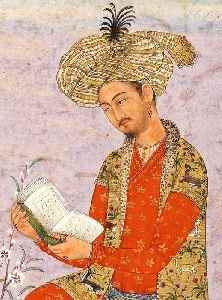 Babur, born Zahīr ud-Dīn Muhammad, was the founder and first Emperor of the Mughal dynasty in South Asia. He was a direct descendant of Emperor Timur (Tamerlane) from what is now Uzbekistan.


Babri Masjid demolition was violation of law, says SC
A violent mob on December 6, 1992 demolished Babri mosque, asserting that there existed an ancient temple dedicated to Lord Ram, which was demolished by a military commander of Mughal Emperor Babur...
IndiaTimes - Published
Ayodhya case: Need to correct historical wrong committed by Babur, Hindu party tells SC
A 5-judge Constitution bench, headed by Chief Justice Ranjan Gogoi, was told by former Attorney General and senior advocate K Parasaran, appearing for a Hindu party, that there were several mosques in..
IndiaTimes - Published
Solution to Ayodhya tougher than marathon hearing
Those favouring a Ram temple at the site claim that Babur's commander Mir Baqui built the Babri Masjid in 1528 over the fort which Lord Ram built.
IndiaTimes - Published
Ayodhya Dispute: 'Supreme Court cannot judge Babur's sin', says Muslim side counsel
Muslim side counsel said while replying to Hindu side's contention that Babri wasn't mosque under law
DNA - Published
Was Babur a sinner? SC isn't about to decide
The Supreme Court on Monday said it would not venture to determine whether Mughal emperor Babur sinned in the 16th century by ordering construction of Babri Masjid allegedly at a site believed by..
IndiaTimes - Published
After 500 yrs, examining Babur's dedication of mosque 'little problematic': SC in Ayodhya case
IndiaTimes - Published
Babur neither visited Ayodhya nor constructed mosque by demolishing temple: Hindu body tells SC
Mughal emperor Babur neither visited Ayodhya nor ordered demolition of the temple to construct a mosque in 1528 at the disputed Ram Janmbhoomi-Babri masjid site, a Hindu body claimed before the Supreme..
IndiaTimes - Published