Emmy Awards
American television production award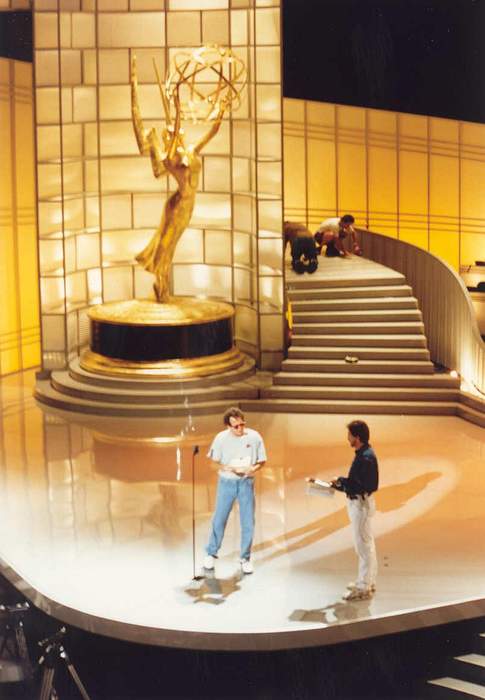 An Emmy Award, or simply Emmy, is a trophy presented at one of the numerous annual American events or competitions that each recognize achievements in a particular sector of the television industry. The Emmy is considered one of the four major entertainment awards in the United States, the others being the Grammy, the Oscar, and the Tony. The two events that receive the most media coverage are the Primetime Emmy Awards and the Daytime Emmy Awards, which recognize outstanding work in American primetime and daytime entertainment programming, respectively. Other notable Emmy events include those honoring national sports programming, national news and documentary shows, and technological and engineering achievements in television, including the Primetime Engineering Emmy Awards. Regional Emmy Awards are also presented throughout the country at various times through the year, recognizing excellence in local and statewide television. In addition, the International Emmy Awards honor excellence in TV programming produced and initially aired outside the United States.


You Might Like
Pat Sajak Says He Hopes Alex Trebek Wins Posthumous Emmy
Pat Sajak says he doesn't mind losing another Emmy to the late, great Alex Trebek -- not only because Alex deserves it, but also ... Pat's learned to lower his expectations. We got the legendary "Wheel..
TMZ.com - Published
Arrested Development actress Jessica Walter dies aged 80
Jessica Walter, the Emmy Award-winning actress known for playing Lucille Bluth in Arrested Development, has died at her home in New York.
Sky News - Published
Also reported by •TMZ.com
Cynthia Nixon -- Good Genes or Good Docs?!
Cynthia Nixon's good looks were made for the screen! Here is a 31-year-old version of the 'Sex and the City' star rockin' this updo at a screening of the show in New York City back in 1998 (left)...
TMZ.com - Published
Bryan Cranston Lists Cool, Eco-Friendly Beach Home for $5 Mil
"Breaking Bad" star Bryan Cranston's moving on to new turf, and leaving behind a beachfront property he turned into a home with a net-zero carbon footprint. The Emmy-winning, Oscar-nominated actor has..
TMZ.com - Published
Celebrity Scramble -- Guess Who!
Hidden within this eye-catching photo is a multitalented star who has won several Emmy awards for hosting. This famous fella celebrated his 64th birthday earlier this month, and is currently the host..
TMZ.com - Published
Ben Crump Praises Regina King for Using Emmys Platform for Breonna Taylor
Regina King pulled a real-life hero move by wearing a Breonna Taylor shirt while accepting her Emmy for playing a superhero ... so says Breonna's family attorney, Ben Crump. The civil rights lawyer was..
TMZ.com - Published
Emmy Winners Regina King, 'Succession' Creator Make Powerful Statements
Even though it was the Emmys, television wasn't the most important thing on the minds of some of the winners Sunday night ... and they made that very clear. Regina King -- who won for Outstanding Lead..
TMZ.com - Published
Jennifer Aniston, Jimmy Kimmel's Emmys Fire Gag Perfect 2020 Metaphor
Turns out Jennifer Aniston is a boss with a fire extinguisher, lucky for Jimmy Kimmel ... as their dumpster fire bit at the Emmys, inadvertently, turned into a recreation of 2020. The fire gag went..
TMZ.com - Published
Eddie Murphy Wins Emmy For 'SNL' 40 Years After First Nomination
Eddie Murphy made it clear Saturday night ... some things are just worth waiting for. Eddie scored his first Emmy ever -- yep, hard to believe, but true. This time around he was nominated for..
TMZ.com - Published
Emmys Going Full 2020 With Trophy Presenters In Hazmat Suits
The Emmys are going full 2020 ... presenters will be wearing complete hazmat suits to hand out awards as safely as possible during a deadly pandemic. Ya gotta see the getup for the presenters who will..
TMZ.com - Published