World Trade Organization
Intergovernmental trade organization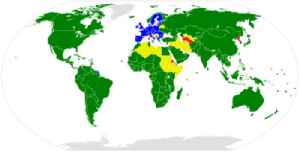 The World Trade Organization (WTO) is an intergovernmental organization that is concerned with the regulation of international trade between nations. The WTO officially commenced on 1 January 1995 under the Marrakesh Agreement, signed by 123 nations on 15 April 1994, replacing the General Agreement on Tariffs and Trade (GATT), which commenced in 1948. It is the largest international economic organization in the world.


Unilateral protectionist policies hinder economic globalisation: SCO leaders
The leaders of the eight-member grouping stressed that the unilateral protectionist actions in violation of WTO rules and regulations undermined the multilateral trade system and threaten the world..
DNA - Published
UK PM candidate Raab: I am the Brexiteer you can rely on
Dominic Raab, one of the candidates vying to replace Prime Minister Theresa May, said the United Kingdom should leave on Oct. 31 even if that meant reverting to World Trade Organization terms.
Reuters - Published
China Says U.S. Policies Are Causing Existential Damage to the WTO
According to Reuters, China said that U.S. policies are threatening the existence of the World Trade Organization, setting out a string of grievances in a WTO "reform proposal." China referred to the..
Credit: Wochit News Duration: 00:33Published
Trump deal with Mexico a win for 'hostage-taking': former WTO chief
The migration deal imposed on Mexico this week by U.S. President Donald Trump under the threat of punitive tariffs was a victory for "hostage-taking" over international rules, a former head of the..
Reuters - Published
Search this site and the web:
You Might Like