Priti Patel
UK Home Secretary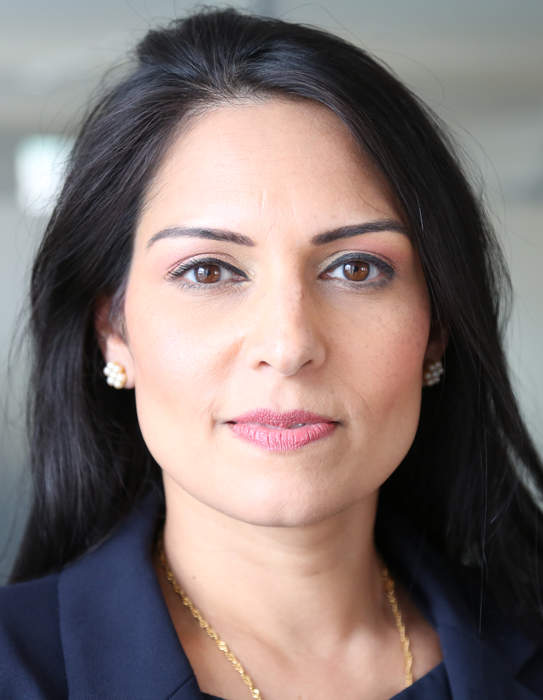 Priti Sushil Patel is a British politician who has served as Home Secretary since 2019. A member of the Conservative Party, she was Secretary of State for International Development from 2016 to 2017. Patel has been the Member of Parliament (MP) for Witham since 2010. She is ideologically on the right wing of the Conservative Party; she considers herself to be a Thatcherite.


Memorial held for Sgt Matt Ratana

A memorial service and procession has taken place for police sergeant Matt Ratana who was shot dead inside a police custody facility in London last September. It was attended by Ratana's widow,..
Credit: ODN Duration: 02:14
Published
You Might Like



Priti Patel orders review of laws surrounding crossbow ownership

Priti Patel has ordered a review of the laws surrounding crossbow ownership.




Sky News - Published





Union loses court challenge over PM's decision to back Patel over bullying claims

The FDA union has lost a High Court challenge over Boris Johnson's decision to back Priti Patel following accusations that she bullied staff.




Sky News - Published





'Dreadful shock but not a surprise': Priti Patel says 'no quick fix' to stopping migrant crossings

The home secretary has said it was a "dreadful shock which was not a surprise" after 27 people died as they tried to cross the Channel last night.




Sky News - Published





Priti Patel's fast-track visa scheme for scientists has attracted zero applicants

A fast-track visa scheme launched by the home secretary Priti Patel in May to entice Nobel laureates and similarly prestigious prize-winners to the UK has resulted in no applications in six months, it..




Sky News - Published





'Her incompetence on this issue is dangerous': Home sec's handling of migrant crisis attacked by Labour

Labour has accused Priti Patel of "comprehensively failing" on the issue of migrant crossings in the Channel after a record number of people arrived on British shores in small boats last week.




Sky News - Published





UK plans to declare whole of Hamas a terrorist organisation

The UK government plans to declare the entirety of Hamas as a terrorist organisation, in a move led by Home Secretary Priti Patel.




Sky News - Published




Patel blames rise in migrant crossings on EU having 'no border protections whatsoever'

Priti Patel has said the "problem" of illegal migration is down to the EU's open borders.




Sky News - Published





Liverpool bomber exploited UK's 'dysfunctional' asylum system, Priti Patel says

Priti Patel has said the suspected Liverpool terror attacker was able to exploit Britain's "dysfunctional" asylum system to remain in the country.




Sky News - Published





Priti Patel threatened with legal action over 'police abuse of women' after Sarah Everard murder

Women's groups are threatening to take the home secretary to court if she does not take "immediate steps" to tackle "police-perpetrated abuse of women".




Sky News - Published





MPs told the threat level against them now 'substantial' after Sir David Amess killing

MPs now face a "substantial" threat level - meaning an attack is "likely" - following the killing of Sir David Amess, Home Secretary Priti Patel has said.




Sky News - Published





Calls for police update following cases of women reporting being spiked with needle on nights out

Home Secretary Priti Patel has called for an update from police following a number of cases where women have been reported being injected with a needle in nightclubs.




Sky News - Published





'Right and proper' that MPs are accessible to the public, says Patel

Priti Patel says it is '"right and proper" that MPs are accessible to members of the public following Sir David Amess' killing - and stressed that MPs' safety and an open democracy "can absolutely be..




Sky News - Published





New 888 phone service to protect women walking home 'backed by home secretary'

A phone service to help protect women as they walk home is reportedly being backed by Home Secretary Priti Patel.




Sky News - Published





Priti Patel launches inquiry into police 'failings' following the murder of Sarah Everard

Priti Patel has announced an independent inquiry into the "failings" by the police following the murder of Sarah Everard by a serving officer.




Sky News - Published





Tougher punishments against motorway protests to be introduced by Priti Patel this week

Tougher punishments are set to be introduced by the government to deal with climate change activists, who have blocked motorways and caused disruption in recent weeks.




Sky News - Published





Tackling violence against women 'my priority', says Patel - but she's told to do more than 'sticking plaster'

Home Secretary Priti Patel has vowed that tackling violence against women and girls is "my priority" as she announced a further £25m will be allocated to local projects aimed at making public spaces..




Sky News - Published





Migrants cross Channel for fourth consecutive day as Priti Patel meets with Border Force in Dover

Migrants have been seen crossing the Channel to the UK for the fourth day in a row, as warm weather and calm seas provided comparatively safe conditions to make the journey.




Sky News - Published





Ministers meet business people 'by accident', says cabinet colleague amid claims Patel broke rules

A cabinet minister has suggested senior politicians can meet top business people "by accident" amid claims about Home Secretary Priti Patel's dealings with a billionaire Conservative donor.




Sky News - Published





Priti Patel backed by health secretary amid fresh claims she broke rules

A cabinet colleague has rallied to the defence of the home secretary as she faced fresh claims of breaking ministerial rules over a meeting with a billionaire Tory donor and British Airways.




Sky News - Published





Dame Cressida Dick will continue to lead the Metropolitan Police until at least 2024

Dame Cressida Dick will continue to lead the Metropolitan Police Service until 2024, Home Secretary Priti Patel has confirmed.




Sky News - Published





What is the law on migrant crossings and what is Priti Patel trying to change?

Home Secretary Priti Patel has said she wants the UK Border Force to be able to turn away migrant boats and send them back to France.




Sky News - Published





Priti Patel planning to send UK-bound migrant boats in the Channel back to France - reports

Home Secretary Priti Patel has reportedly defied French officials by instructing the Border Force to turn away migrant boats from British waters.




Sky News - Published





Priti Patel visits Greece for discussions on tackling illegal migration

Priti Patel has met with Greek ministers to discuss the challenges posed by illegal migration.




Sky News - Published





Pressure mounts on home secretary as police pay freeze branded 'insult' by chief constable

Pressure is mounting on Home Secretary Priti Patel to rethink a controversial police pay freeze after a chief constable branded it "wholly unacceptable" and an "insult".




Sky News - Published





Police Federation no longer has confidence in home secretary, calling pay freeze 'final straw'

The Police Federation of England and Wales says it no longer has confidence in Home Secretary Priti Patel and has branded a pay freeze for officers "the final straw".




Sky News - Published





Priti Patel defends giving France £54m to tackle migrant Channel crossings

Home Secretary Priti Patel has defended giving France more money to tackle illegal border crossings after record numbers tried to cross the Channel this week.




Sky News - Published





Criticism of Priti Patel over taking the knee remarks 'unusual' and 'odd', says fellow minister

Criticism of Home Secretary Priti Patel over efforts to fight racism are "unusual" and "odd", one of her fellow cabinet ministers has told Sky News.




Sky News - Published





PM and Patel accused of 'stoking' actions of 'vocal minority' after racist abuse of England players

Boris Johnson and Priti Patel have been accused of "stoking" the actions of a "vocal minority" after England football players were racially abused following their Euro 2020 final defeat.




Sky News - Published





'You don't get to stoke the fire, then pretend to be disgusted': England star hits out at Priti Patel

England footballer Tyrone Mings has hit out at Home Secretary Priti Patel after three players were subject to racist abuse in the wake of the Three Lions' loss to Italy in the final of Euro 2020.




Sky News - Published





'It starts at the top': PM's burka comments highlighted amid condemnation of football racism

Boris Johnson and Priti Patel have been branded "total hypocrites" over their condemnation of racist abuse of England players - as critics highlighted ministers' equivocation over whether football fans..




Sky News - Published





Priti Patel signs deal to remove Albanian criminals from UK more quickly

Criminals and unsuccessful asylum seekers from Albania will face a quicker return to their home country under a new deal secured by Priti Patel.




Sky News - Published





Priti Patel pushes on with tough new border rules, despite international law breach warning

Priti Patel has said a new immigration bill will "break the business model" of people trafficking gangs facilitating illegal crossings into the UK.




Sky News - Published





Tyrone Mings: England want to 'educate and inform' says defender on taking the knee

Tyrone Mings says the England team want to "educate and inform" in response to criticism from Home Secretary Priti Patel for taking the knee.




BBC Sport - Published





England footballer Tyrone Mings hits back at Priti Patel after taking the knee comment

England footballer Tyrone Mings has hit back at Priti Patel's "refusal to defend" players taking the knee before Euro 2020 matches.




Sky News - Published





Priti Patel faces calls to resign as court rules barracks housing for asylum seekers unlawful

Priti Patel is facing calls to resign after a High Court ruled that the Home Office's decision to house asylum seekers in army barracks was unlawful.




Sky News - Published





Priti Patel considers scrapping visa discount for European workers

Home Secretary Priti Patel is considering scrapping a concession on UK visa fees for citizens of 26 European countries.




Sky News - Published





Priti Patel condemns 'absolutely disgraceful' violence at Swansea vigil

Home Secretary Priti Patel has condemned the "disgraceful" scenes in Swansea after dramatic footage captured a vigil descending into violence.




Sky News - Published





Priti Patel accused of 'ignorance' after report into private detective's murder delayed

The family of a private detective killed with an axe in a pub car park have accused the home secretary of "ignorance" and "unwarranted interference" after the publication of a report into his death was..




Sky News - Published





Unite leadership candidate suspended from Labour after saying Priti Patel 'should be deported'

A leadership candidate for one of Labour's biggest union backers has been suspended from the party after he suggested Priti Patel should be "deported", Sky News understands.




Sky News - Published





Jaishankar meets UK minister Priti Patel to sign Migration and Mobility partnership

External affairs minister S Jaishankar met British home secretary Priti Patel in London on Tuesday to sign a new Migration and Mobility Partnership Agreement, which he said would strengthen the "living..




IndiaTimes - Published





'All options on the table': Patel doesn't rule out sending asylum seekers abroad to be processed

Home Secretary Priti Patel has told Sky News she is considering "all options" for overhauling the UK's asylum system - including sending people abroad while their claims are processed.




Sky News - Published





Patel urged to reject 'groundless speculation' Gibraltar will be used to process asylum seekers

Gibraltar's chief minister has urged Home Secretary Priti Patel to reject "groundless speculation" that his territory could be used to process people seeking asylum in the UK.




Sky News - Published





Labour to vote against Priti Patel's crime legislation 'mess', sparking row over women's safety

Labour has revealed it will vote against the government's flagship crime legislation, branding it a "mess" that could lead to tougher penalties for damaging a statue than attacking a woman.




Sky News - Published





Black Lives Matter protests 'dreadful', says Priti Patel

Home Secretary Priti Patel has branded the Black Lives Matter demonstrations "dreadful" and opposed taking the knee as an anti-racism protest.




Sky News - Published





New £800 fine for people who break lockdown rules by attending house parties

A new £800 fine for those who attend house parties with more than 15 people present has been announced by Home Secretary Priti Patel.




Sky News - Published





PM accused of 'overruling' Priti Patel's call to shut UK's borders

Boris Johnson has been accused of "overruling" Home Secretary Priti Patel - after she claimed she argued for the shutting of the UK's borders at the start of the COVID-19 pandemic.




Sky News - Published





150,000 arrest records accidentally wiped from police database

Home Secretary Priti Patel must "take responsibility" for the wiping of 150,000 arrest records from police databases, the Labour Party says.




Sky News - Published





Number 10 contradicts Priti Patel after she says people in England must exercise alone

Downing Street has contradicted Home Secretary Priti Patel after she claimed people in England should only exercise alone during the current national lockdown.




Sky News - Published





Britain's interior minister says violent protestors should face justice

A minority of protesters who were violent during the weekend's "Black Lives Matter" protests in Britain undermined the cause and should face justice, interior minister Priti Patel said on Monday.




Reuters - Published





British Airways does not attend meeting with Britain's interior minister Priti Patel

British Airways and its parent company IAG did not attend a meeting on Thursday with Britain's interior minister Priti Patel, with the meeting meant to discuss the UK's new quarantine plans.




Reuters - Published