Latur
City in Maharashtra, India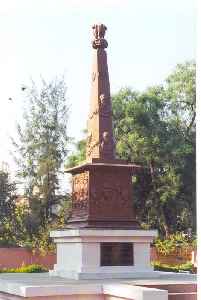 Latur is a city in Maharashtra State — wherein it is the third biggest city of Marathwada Region in India. It is the administrative headquarters of Latur district and Latur Taluka. The city is a tourist hub surrounded by many historical monuments, including Udgir Fort and Kharosa Caves. The people in Latur are called Laturkar. The most spoken language in Latur is Marathi. The city's quality of education attracts students from nearby villages.


You Might Like
Maharashtra: Former CM Shivajirao Patil Nilangekar dead
Former Maharashtra chief minister Shivajirao Patil Nilangekar died here on Wednesday after a brief illness, family sources said. Nilangekar, senior Congress leaders from Latur in Marathwada region, was..
IndiaTimes - Published
Maharashtra: MNS workers vandalise agriculture department's office in Latur
The video of the incident has gone viral.
DNA - Published
No COVID-19 cases in 61 districts for 14 days, states asked to stop rapid testing for 2 days
Latur, Osmanabad, Hingoli and Washim from Maharashtra have been added to the list while Bhiwani in Haryana has been taken off.
DNA - Published
Modi government is forcing farmers to commit suicides in Marathwada, says Shiv Sena
Within a span of around one month,12 farmers died in Nanded district, 4 in Hingoli, 3 in Dharashiv, 11 in Parbhani, 9 in Sambhaji Nagar, 7 in Latur, 6 in Jalna. Altogether, at least 746 farmers..
DNA - Published
Why are more and more Indians voting for nobody?
NOTA emerged as the runner-up in two seats in Maharashtra — Latur (rural) and Palus-Kadegaon — and in six Haryana seats were either more than or close to the victory margin of the winning..
IndiaTimes - Published
TRS to take plunge into Maharashtra poll, may announce after Pitru Paksha
TRS is seriously exploring an option to contest in some of the districts including Nanded, Latur, Aurangabad and Solapur to enter into the state.
DNA - Published
Deluge over, now Maharashtra braces for aftermath
State government counts on Mumbai Civic Chief Praveen Pardeshi's Latur earthquake experience to deal with flood mitigation and rehabilitation efforts
DNA - Published
Mumbai: Resident doctors call off strike till August 31
As a solution to their problems, the state government's DMER agreed to credit pending stipend of Akola, Latur, and Ambejogai resident doctors this week.
DNA - Published
Maharashtra: Latur farmers want India Meteorological Department to be labelled '420'
Storm On Horizon? Wrong forecasts land weather agency under cloud
DNA - Published
Mumbai doctors cure 3-yr-old Latur girl with rare syndrome
Earlier, her parents who are farm labourer in Latur visited various private hospitals. Her syndrome was misdiagnosed to be epilepsy by a local doctor and she was treated for epilepsy for a few months.
DNA - Published
DNA EXCLUSIVE: Mere 4.91% of Kharif sowing down in Maharashtra
Sowing figures at other regions are not impressive either - Nashik is at 9%, Kolhapur at 19%, Aurangabad at 8%, Latur at 2%, Amravati at 5% and Nagpur at 3%.
DNA - Published
Maharashtra SSC result 2019: 16 students from Latur get 100%
SSC results buck previous trends and set new ones; Konkan secures highest success ratio among nine regions within Maharashtra
DNA - Published