Shopian district
District in Jammu and Kashmir, India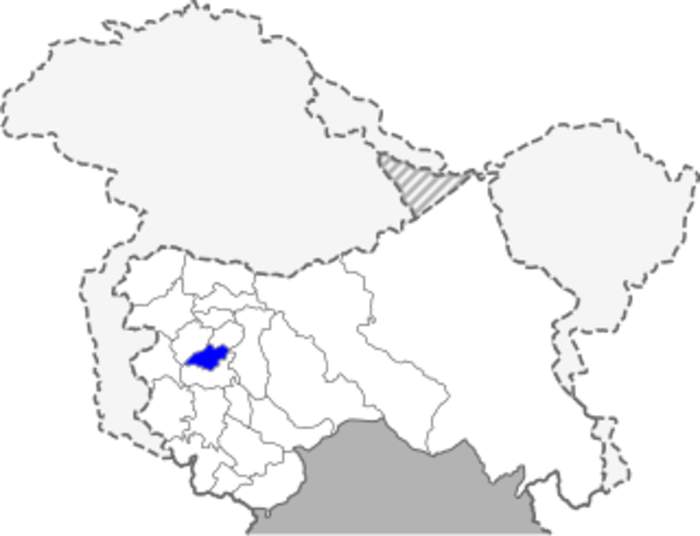 Shopian or Shupiyan, known as Shupyan in kashmiri, is a hill district with its administrative division in Shopian, located in the Indian union territory of Jammu and Kashmir, since it is situated on the historical road commonly known as Mughal Road, most of its area is occupied by forests. Shopian district comes under the Pir Panjal Range which makes it very cold in winter. After partition of India, it was a tehsil of Pulwama district. In March, 2007, the district status was granted by the Government of India. The economy of the district depends on agriculture, particularly apple growing. Shopian is 22 km (14 mi) from Aglar which connects it with Pulwama district and is one of the border towns of the district.


3 LeT terrorists killed during encounter in Shopian

Three terrorists belonging to LeT (Lashkar-e-Taiba) were killed after an encounter broke out between them and security forces in Shopian district of Jammu and Kashmir on February 18. Incriminating..
Credit: ANI Duration: 01:10
Published
You Might Like



J&K: Security forces eliminate three terrorists in Shopian district

Incriminating materials including arms and ammunition has been recovered from the terrorists.




DNA - Published




Have no system of cash rewards for killing terrorists: Army

The Army on Monday said it has no scheme of rewarding personnel with Rs 10 lakh for killing a terrorist, as was mentioned in media reports on the Amshipora "fake encounter" case. The reports had..




IndiaTimes - Published





Two terrorists eliminated in Jammu and Kashmir's Shopian district

One AK rifle and one pistol were recovered from the spot after the two terrorists were gunned down by the security forces in the Melhora area.




DNA - Published





Bodies of three men killed in Shopian encounter to be exhumed, given to family

In a major development, the DNA samples of three people killed in an alleged fake encounter with the Army in the Shopian district of Jammu and Kashmir in July has matched with that of their families.




DNA - Published





Shopian encounter: DNA samples of parents matched with three slain persons, disciplinary proceedings underway

The police collected six DNA samples from the parents of three deceased men in Amshipora, Shopian on July 18.




DNA - Published





J&K: Dead body of JeM terrorist recovered from Budgam four days after encounter

Identified as Aqib Lone from Aglar of Shopian, the Jaish-e-Mohammad terrorist had received a bullet injury during an encounter by security forces on September 7.




DNA - Published





Four terrorists killed in encounter in J&K

Four terrorists were killed in an encounter with security forces in Shopian district of Jammu and Kashmir on Friday. Security forces launched a cordon and search operation in Kiloora area of Shopian..




IndiaTimes - Published




J-K: 4 terrorists killed in encounter with security forces in Shopian's Killora

The police also said that one terrorist had surrendered and two AKs and three pistols were recovered by security personnel.




DNA - Published

Also reported by •IndiaTimes


Terrorists open fire on security forces in J&K's Shopian

"The ultras opened fire on security personnel in the Covid-19 containment deployment at Sangloo bridge in Shopian district this morning," a police official said. He said there was no report of any..




IndiaTimes - Published

Also reported by •DNA


Territorial Army jawan goes missing in J&K, his burnt vehicle found

A Territorial Army jawan has gone missing and his vehicle was found burnt in Kulgam district of J&K. The officials suspect that he might have been kidnapped by militants. A vehicle registered in the..




IndiaTimes - Published





J&K: Three terrorists gunned down in Shopian, operation underway

At least three terrorists were killed after an encounter broke out between security forces and terrorists at Amshipora area in Jammu and Kashmir's Shopian.




DNA - Published





Security forces gun down eight terrorists in two separate encounters in Kashmir

At least eight terrorists were killed by security forces in two separate operations in Awantipora and Shopian districts of Jammu and Kashmir.




DNA - Published





Second encounter in 24 hours in south Kashmir, terrorists trapped in Shopian's Munand

Jammu and Kashmir police, along with 44 RR and CRPF launched a cordon and search operation on a tip-off about the presence of terrorists in the area.




DNA - Published





Lashkar terrorist nabbed in J&K's Shopian, arms and ammunition recovered

He reportedly joined terrorist ranks recently and was to become active in terrorism.




DNA - Published





5 terrorists killed in J&K's Shopian encounter belonged to terror outfits: Police




IndiaTimes - Published





Encounter breaks out in J&K's Shopian




IndiaTimes - Published





J&K: Five terrorists gunned down by security forces at Sugoo Hendhama in Shopian

A total of 14 terrorists have been killed in the last four days in the Shopian district.




DNA - Published





Encounter breaks out between security forces and militants in J-K's Shopian




IndiaTimes - Published




J&K: Encounter between terrorists, security forces underway at Pinjora in Shopian

Kashmir Zone Police confirmed the development




DNA - Published





J&K: Four terrorists gunned down in encounter at Shopian's Pinjora; three security officials injured

Kashmir Zone Police confirmed the development




DNA - Published





Encounter underway in Jammu & Kashmir's Shopian

Security forces launched a cordon and search operation in Reban area of Shopian in South Kashmir this morning after receiving specific information about the presence of militants in the area, a police..




IndiaTimes - Published




Two terrorists killed in overnight operation in J&K's Shopian district




IndiaTimes - Published




Encounter underway in J&K's Shopian, one terrorist gunned down

Two to three terrorists are suspected to be trapped in the area.




DNA - Published




Three Hizbul Mujahideen terrorists killed in encounter in J&K's Shopian

Three Hizbul Mujahideen terrorists, including a police deserter and a top-ranking commander, were killed in an encounter with security forces in Shopian district of Jammu and Kashmir on Monday, police..




IndiaTimes - Published




Three Hizbul Mujahideen terrorists shot down by security forces in south Kashmir's Shopian

The encounter was triggered after a cordon and search operation was launched by a joint team of the Indian Army's 55 Rashtriya Rifles and Special Group of Jammu and Kashmir police on Monday morning.




DNA - Published





J&K bars non-local truckers

The killing of non-local labourers and fruit traders has prompted the J&K administration to stop the entry of 'outsider trucks' into Shopian district on Sunday, temporarily halting apple..




IndiaTimes - Published





Terrorists hurl petrol bomb at school in Shopian

Suspected militants on Friday evening hurled petrol bomb at a school building in South Kashmir's Shopian district. Police said militants hurled petrol bomb at a school building in Kundalan village in..




IndiaTimes - Published





Militants trying to damage infrastructure in Kashmir: DGP

Militants are trying to damage infrastructure facilities like water and electricity supplies in the Kashmir Valley, J&K Director General of Police Dilbagh Singh said. He was replying to questions on..




IndiaTimes - Published





J&K: Non-local transporters fear for life after two truck drivers from Rajasthan shot dead in Shopian

In South Kashmir, according to truck drivers, around 100 trucks have left without loading apples after the fresh targeting of truck drivers.




DNA - Published





Apple traders moved to J&K 'safe houses'

Concerned at the killing of three non-Kashmiris, the J&K administration on Thursday started herding the floating population of migrant labourers, truckers and fruit traders visiting south Kashmir into..




IndiaTimes - Published





Apple truck driver shot dead by terrorists in south Kashmir's Shopian, orchard owner beaten up

The incident came on a day postpaid cellular services resumed in Kashmir after a 72-day restriction.




DNA - Published





Terrorists kill truck driver, assault orchard owner in Kashmir: Police

Two terrorists, including a suspected Pakistani national, shot dead the driver of a Rajasthan truck and assaulted an orchard owner in Shopian district of J&K on Monday, police said. The deceased has..




IndiaTimes - Published





NSA Ajit Doval tours sensitive downtown Srinagar, talks to locals, security personnel

National Security Adviser Ajit Doval on Friday visited downtown Srinagar and spent over two hours in the area interacting with troops and local people. Doval, who is in J&K to review the situation..




IndiaTimes - Published





NSA Doval interacts with Kashmiris over lunch, takes stock of situation

NSA Ajit Doval on Wednesday visited Shopian and met with some local people as part of his visit for an assessment on the situation in Jammu and Kashmir in the wake of stripping the state of its special..




IndiaTimes - Published





J&K: Two JeM terrorists killed by security forces in Sopore encounter

Earlier in the day, a terrorist was gunned down by security forces during an exchange of fire in Shopian's Pandoshan village.




DNA - Published




JeM's bomb expert Munna Lahori killed in Shopian encounter

Lahori, a top Jaish commander in south Kashmir, was killed along with his local associate after a night-long operation based on J&K police input at Shopian town, the spokesperson said.




DNA - Published




Pak JeM terrorist Munna Lahori, an IED expert, killed with associate in Shopian encounter

Munna Lahori, a Pakistani national, was also responsible for a series of civilian killings in Kashmir, a police official said.




DNA - Published





Jammu and Kashmir: 2 terrorists including Pakistani IED expert killed in Shopian encounter

Security forces acted based on inputs received.




DNA - Published





Jammu & Kashmir: Encounter breaks out between terrorists and armed forces in Shopian

No reports of casualties so far. Further details are awaited.




DNA - Published





J&K: 4 terrorists shot dead by armed forces in Shopian

Arms and ammunition have been recovered by the forces.




DNA - Published