Narottam Mishra
Indian politician (born 1960)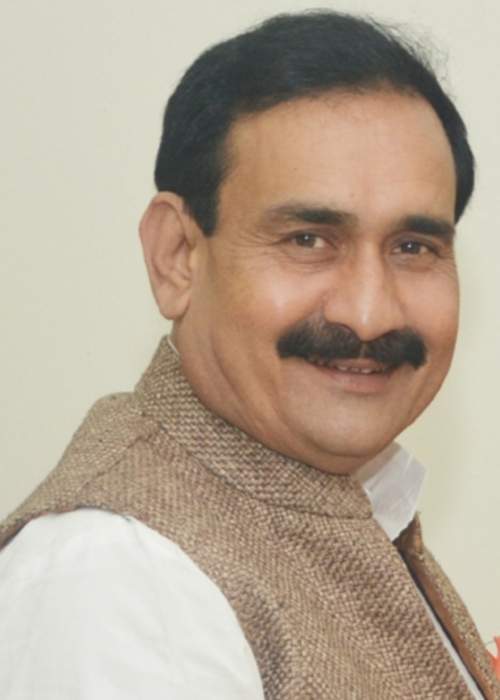 Dr. Narottam Mishra is an Indian politician who was the Cabinet Minister for Home Affairs, Law and Legislative Affairs, Prisons, and Parliamentary Affairs in Government of Madhya Pradesh.


You Might Like
Tankha hurt by Digvijaya's clubhouse chat on Kashmir quit Congress legal cell, says Narottam Mishra
IndiaTimes - Published
Narottam Mishra rubbishes social media speculations, says Shivraj Singh was, is and will remain CM
"BJP is totally united and organised under the leadership of Shivraj Singh Chouhan and VD Sharma. Honorable Shivraj Singh Ji was the chief minister, Shivraj Singh Ji is the chief minister and Shivraj..
IndiaTimes - Published
Kamal Nath searching Rahul's alternative, says Narottam Mishra over invite to 'Didi'
IndiaTimes - Published
Lockdown in Madhya Pradesh? Home Minister Narottam Mishra makes this BIG announcement as COVID-19 cases surge
Madhya Pradesh Home Minister Narottam Mishra said that around 300-400 coronavirus cases are being reported in Indore and Bhopal daily.
DNA - Published
23 cases in 23 days under MP's new love jihad law
Madhya Pradesh averaged one case a day under the Freedom of Religion Ordinance 2020 — commonly called the 'love-jihad' law — in the first month of its inception. "Twenty-three cases were..
IndiaTimes - Published
MP government will bring law against 'Love Jihad': State home minister Narottam Mishra
The minister added that under the law, the kin of the person who has been converted will have to file a complaint for action.
DNA - Published
Cong's recitation of Hanuman Chalisa a 'drama', party holds different views on Ram temple issue, alleges Narottam Mishra
IndiaTimes - Published
Congress betrayed OBCs, involves in political hypocrisy, alleges minister Narottam Mishra
IndiaTimes - Published
MP govt formation: BJP to hold meet to choose leader
BJP leaders said three-time chief minister Shivraj Singh Chouhan was the frontrunner though names of former state minister Narottam Mishra, who played a key role in dislodging the Nath government, and..
IndiaTimes - Published
Did not move no-confidence motion in Assembly, says BJP chief whip Narottam Mishra
IndiaTimes - Published
Congress government trying to malign Narottam Mishra's image alleges Uma Bharti
BJP national vice-president Uma Bharti on Sunday came forward to bat for a former cabinet minister, Narottam Mishra amid reports of latter's alleged involvement in multi-crore e-tendering scam. Bharti..
IndiaTimes - Published
I'll quit politics if found guilty in e-tender scam, says Narottam Mishra
IndiaTimes - Published