Joko Widodo
President of Indonesia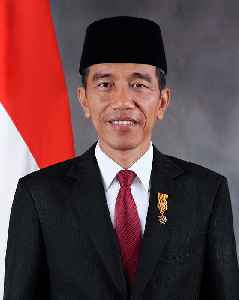 Joko Widodo, also known as Jokowi, is an Indonesian politician who is the seventh president of Indonesia. Elected in July 2014 as the first Indonesian president to not come from an elite political or military background, he was previously the Mayor of Surakarta from 2005 to 2012, and the Governor of Jakarta from 2012 to 2014.


Experts warn Jakarta could be submerged by 2050; Indonesia to make Borneo its capital, says Joko Widodo
Environmental experts warn that one third of Jakarta, Indonesia could be submerged by 2050 if current rates continue. Decades of uncontrolled and excessive depletion of groundwater reserves, rising..
Firstpost - Published
Indonesia president formally proposes relocating capital to Borneo
Indonesian President Joko Widodo on Friday formally proposed to parliament a plan to move the country's capital from Jakarta, on the crowded island of Java, to Kalimantan on the island of Borneo.
Reuters - Published
Indonesian man walks backwards for 435 miles to save the forests
An Indonesian man has embarked on a task of walking backwards for more than 435 miles. He hopes to raise awareness for the devastation left by deforestation in his journey to Jakarta, and get a..
Credit: Reuters Studio Duration: 00:47Published
Indonesia: Court rejects opposition challenge to poll results
Constitutional Court upholds President Joko Widodo's win in April's election after claim brought by Prabowo Subianto.
Credit: Al Jazeera STUDIO Duration: 02:15Published
Indonesian president will soon announce new cabinet for second term: media
Indonesia's President Joko Widodo said he will soon announce a second term 34-minister cabinet, media reported on Wednesday.
Reuters - Published
Search this site and the web:
You Might Like