Vir Chakra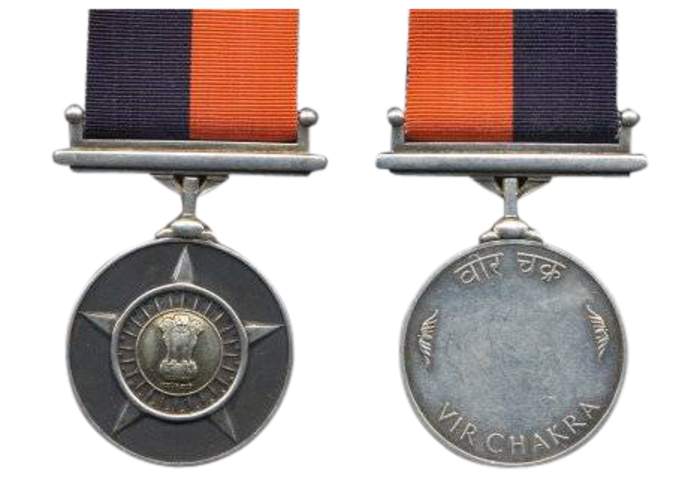 Vir Chakra is an Indian gallantry award presented for acts of gallantry in the presence of the enemy on the battlefield. It replaced the British Distinguished Service Cross (DSC), Military Cross (MC) and Distinguished Flying Cross (DFC). Award of the decoration carries with it the right to use Vr.C. as a postnominal abbreviation (note the care to distinguish this abbreviation from that for the Victoria Cross. It is third in precedence in the war time gallantry awards and comes after the Param Vir Chakra and Maha Vir Chakra.


You Might Like
One Maha Vir Chakra, five Vir Chakras for the 'Gallants of Galwan'
IndiaTimes - Published
Gallantry awards for Galwan heroes: Col Babu awarded second-highest military honour Mahavir Chakra, 5 others Vir Chakra
IndiaTimes - Published
Abhinandan Varthaman shot down Pakistan F-16, confirms Vir Chakra citation
The audacious pre-dawn air strikes on the Jaish-e-Mohammed facility at Balakot on February 26 last year and the subsequent skirmish between Indian and Pakistani fighters garnered a dozen medals for the..
IndiaTimes - Published
Gunslinger's gone: Abhinandan Varthaman's evolving style
Earlier in August, he was also conferred with the Vir Chakra on the 73rd Independence Day.
DNA - Published
Pleasure to fly with Abhinandan: IAF chief after doing MiG-21 sortie together
Vir Chakra awardee Varthaman who shot down a Pakistani F-16 fighter jet post-Balakot operations had resumed flying operations on August 23.
DNA - Published
Vir Chakra for Abhinandan Varthaman, Vayu Sena medals for Balakot bombers
Wing Commander Varthaman, who downed a Pakistan jet during an aerial combat in February and was held captive for three days, has been conferred the Vir Chakra, India's third-highest war time gallantry..
DNA - Published
Wing Commander Abhinandan Varthaman to get Vir Chakra today
IAF hero to be conferred the honour on 73rd I-Day
DNA - Published
Also reported by •IndiaTimes
President approves 132 gallantry awards; Vir Chakra for Wing Commander Abhinandan
Six Navy personnel have been awarded gallantry awards including one Shaurya Chakra for Marine Commando Amit Singh Rana for his role in two operations in Jammu and Kashmir in which eight terrorists were..
DNA - Published
Kargil war hero, Veer Chakra awardee working as senior traffic constable promoted to Assistant Sub Inspector
Amarinder had promoted the Vir Chakra awardee from his earlier rank of Senior Constable, in which capacity he was managing traffic in Sangrur district till July 26.
DNA - Published