Reddit
Social news aggregation, web content rating, livestreaming, and discussion platform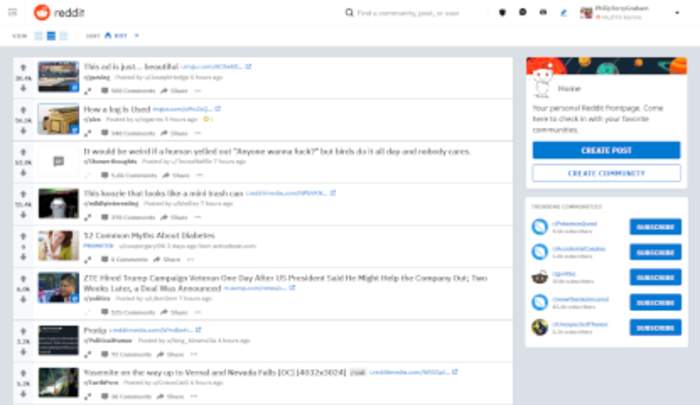 Reddit is a social news aggregation, web content rating, and discussion website, recently including livestream content through Reddit Public Access Network.


Robinhood, hedge fund chiefs face irate questions at hearing

The head of trading app Robinhood and Wall Street hedge fund managers on Thursday fielded a barrage of questions in the U.S. Congress about their role in the GameStop trading frenzy, at times being cut..
Credit: Reuters - Politics Duration: 02:51
Published
'I am not a cat' -investor, known on YouTube as Roaring Kitty

Keith Gill, a Reddit user and YouTube streamer known as Roaring Kitty who promoted his investment in GameStop, gave testimony in a Congressional hearing on Thursday.
Credit: Reuters Studio Duration: 02:10
Published
'We don't answer to hedge funds' -Robinhood CEO

Robinhood CEO Vlad  Tenev on Thursday defended the online brokerage app's actions during the recent Reddit rally in shares of GameStop, saying: "Robinhood Securities put the restrictions in place in..
Credit: Reuters Studio Duration: 01:46
Published
You Might Like
Elon Musk and Snoop Dogg send Dogecoin surging
Following weeks of frenzied stock market memes and investments - spurred by social media site Reddit and billionaire Elon Musk - a new token is surging: the joke cryptocurrency Dogecoin.
Sky News - Published
Silver shines as Reddit traders pile in - but LSE boss warns over damage to markets
Silver has become the latest target of a small-time trading frenzy that last week targeted US retailer Gamestop - as the boss of the London Stock Exchange group admitted that the trend was a worry.
Sky News - Published
Wall Street's Charging Bull Covered in a Tarp, Fear of Attacks?
Reddit users messed with the bull, now it gets ... the tarp. That's how the saying goes, right? We kid, but in all seriousness ... check out what Wall Street's Charging Bull looks like right now in..
TMZ.com - Published
GameStop shares fall 44% after trading apps block Reddit-fuelled surge
Shares in US retailer GameStop have fallen 44% to lose some of the extraordinary gains fuelled by Reddit users - only to recover again in after-hours trading.
Sky News - Published
Jordan Belfort Advises WallStreetBets Investors to Back Good Companies
Jordan Belfort's all for the little guys getting rich, and taking on Wall Street's establishment -- but he warns they're going about it the wrong way, and might get burned. Let's face it, the "Wolf of..
TMZ.com - Published
Reddit forum's role in Gamestop shares frenzy faces regulatory probe
US regulators are to review extraordinary rallies in the shares of struggling gaming retailer Gamestop, part-driven by users of a forum on Reddit, as concerns grow over a surge in retail investor..
Sky News - Published
GameStop Stock Price Soars Thanks to Reddit Traders, Hedge Funds Hurting
GameStop's wild ride on the stock market is still going strong, as one of the crazier Wall St. stories continues to stun hedge fund managers ... to the delight of Reddit investors. The video game..
TMZ.com - Published
Twitter, internet group oppose U.S. rules requiring visitors to disclose social media info
Twitter Inc, Reddit and a group representing major internet firms backed two documentary film groups that have challenged the Trump Administration's 2019 rules requiring nearly all U.S. visitors to..
Reuters - Published
Leak of classified papers ahead of UK election 'tied to' Russian operation: Reddit
The leak and distribution of classified British-U.S. trade documents online is tied to a previous Russian disinformation campaign, Reddit said on Friday, fuelling fears that Moscow is seeking to..
Reuters - Published
Distribution of leaked UK-U.S. documents 'tied to' Russian operation: Reddit
Internet discussion site Reddit said on Friday the leak and distribution of classified UK-U.S. trade documents during Britain's election campaign was tied to a previous Russian information operation.
Reuters - Published
Super Bowl LIII: Why Aren't Spongebob Fans Happy?
by Adam Yardley - The NFL Super Bowl half-time show is always something of a spectacle in and of itself. Usually subject to an immense amount of mystery and intrigue leading up to the big event,..
One News Page Staff - Published