Jharkhand
State in eastern India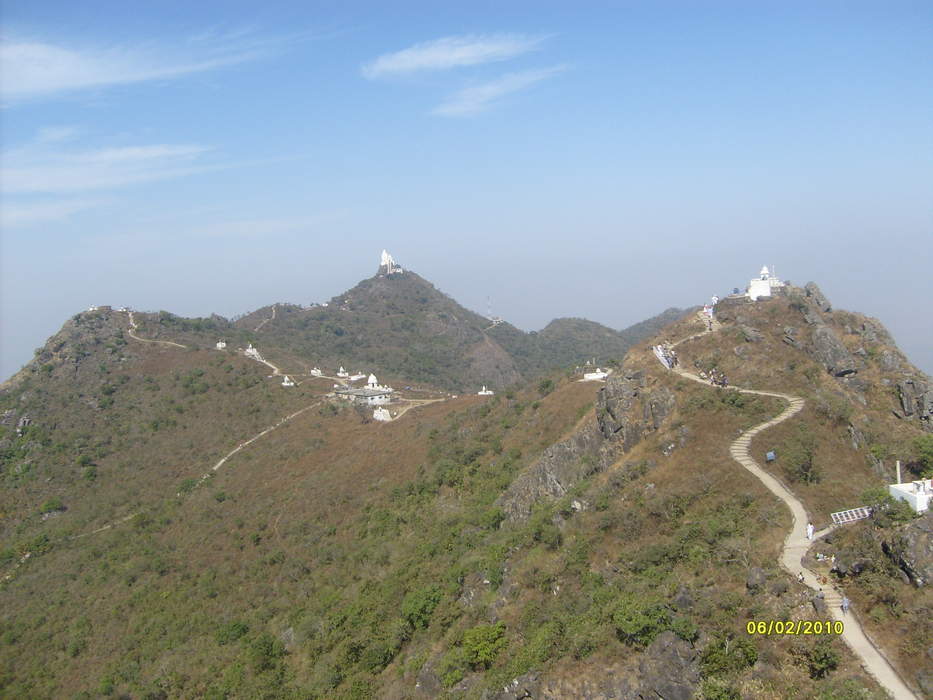 Jharkhand is a state in eastern India. The state shares its border with the states of West Bengal to the east, Chhattisgarh to the west, Uttar Pradesh to the northwest, Bihar to the north and Odisha to the south. It has an area of 79,716 km2 (30,779 sq mi). It is the 15th largest state by area, and the 14th largest by population. Hindi is the official language of the state. The city of Ranchi is its capital and Dumka its sub-capital. The state is known for its waterfalls, hills and holy places; Baidyanath Dham, Parasnath, Dewri and Rajrappa are major religious sites. The state was formed in 2000, from the territory that had previously been part of Bihar.


Stock to buy for long term investment | Oneindia News

Tata Steel Limited is an Indian multinational steel company with headquarters in Mumbai, Maharashtra. It is based in Jamshedpur, Jharkhand. It belongs to the Tata Group. Tata Steel, formerly known as..
Credit: Oneindia Duration: 04:33
Published
You Might Like



Three die of 'toxic gas' while cleaning well in Jharkhand's Giridih

Three people died and one developed critical breathing problems after inhaling toxic gas in Barvabad, in Jharkhand's Giridih district, on Tuesday afternoon while they were cleaning a well in a house




IndiaTimes - Published





After Maharashtra, it will be Jharkhand, Rajasthan's turn, TMC will also meet same fate, says BJP's Suvendu Adhikari

Moving against rebel Shiv Sena MLAs, Maharashtra CM Uddhav Thackeray on Monday took away portfolios of nine ministers who have jumped ship.




DNA - Published





Jharkhand: 19-year-old arrested for hammering girlfriend and her brother to death

Jharkhand: The accused also allegedly stabbed the girl's mother and after the knife broke, he hit her with the hammer, police said.




DNA - Published





Jharkhand bypoll 2022: Congress's Shilpi Neha Tirkey wins Mandar seat by 23,517 votes

A total of 14 candidates were in the electoral fray in the by-election for the Mandar assembly constituency which is reserved for the ST category.




DNA - Published





Bypoll results 2022: Check seat-wise winners, vote margins, party performance

BJP bagged 3 of the 4 Assembly seats in Tripura and both the Lok Sabha seats in UP, while Congress won an Assembly seat each in Jharkhand and Tripura.




DNA - Published





Heavy rain predicted in parts of Bengal and Bihar, Delhi to expect rains in 3-4 days

IMD predicted heavy rainfall in Bihar between June 23-26, Jharkhand between June 24-25 and Odisha and Chhattisgarh between June 22 to June 26.




DNA - Published





Yashwant Sinha's 'thin' chance hinges on JMM's support

In the race to the Rashtrapati Bhawan, the opposition bloc's presidential nominee Yashwant Sinha will face his first hurdle when he visits Jharkhand on June 24 to seek support from UPA ally Jharkhand..




IndiaTimes - Published





Draupadi Murmu vs Yashwant Sinha: Fight between former teacher and ex-IAS officer, both have strong Jharkhand link

Presidential elections 2022: Who is Draupadi Murmu? Draupadi Murmu was born in Odisha in 1958 in a Santhal tribal family.




DNA - Published





Bharat Bandh on June 20: Who called shutdown and why? How are police preparing in Noida, Faridabad, Kerala, Jharkhand?

Bharat Bandh, Agnipath scheme: The Jharkhand police have bolstered security across the state and are alert over the possible Bharat Bandh.




DNA - Published





Bharat Bandh over Agnipath scheme? Kerala bolsters security, Jharkhand orders schools to remain shut

Bharat Bandh, Agnipath: Anil Kant, the state's police chief, said the police personnel must prevent violence as well as forced closure of businesses.




DNA - Published





Security increased across Jharkhand, 5,000 personnel deployed




IndiaTimes - Published





Operational successes for CRPF in Bihar, Jharkhand as it moves into Naxal boroughs




IndiaTimes - Published





Jamshedpur: Man dies after being hit on head by boat in amusement park

In a freak accident, a 30-year-old man died after being hit on the head with a boat at an amusement park. The incident took place in Jharkhand's East Singhbhum district. The victim has been identified..




DNA - Published





Jharkhand: BJP leader detained for making 'objectionable' Facebook post in support of Nupur Sharma

The district has been on alert after Sharma's inflammatory comments on Prophet Mohammad triggered widespread violence in Ranchi,




DNA - Published





Nupur Sharma row: Over 400 arrested in multiple states over Friday protests, situation tense in West Bengal, Jharkhand

Protests erupted in 14 states across India on Friday over the remarks made by former BJP leader Nupur Sharma during a TV news debate weeks ago.




DNA - Published





Monsoon to hit Gujarat, Maharashtra, Telangana, Andhra, Bengal, Sikkim, Odisha, Jharkhand, Bihar in next 4 days

Heatwave conditions are expected to continue till Monday in isolated areas of Punjab, Haryana, Delhi, Uttar Pradesh, Himachal Pradesh and Uttarakhand




DNA - Published





Section 144 imposed in several areas of Ranchi after protests

A day after violent protests killed two people and injured many in Jharkhand's Ranchi over Prophet Muhammad remarks row, section 144 was imposed in several areas of the capital city on Saturday. Heavy..




IndiaTimes - Published





Jharkhand: Two dead as protests in Ranchi turn violent, curfew imposed

After protesting against the statement made by Nupur Sharma, people hit the streets after observing the Friday prayers in a mosque.




DNA - Published





Nupur Sharma row: Protests break out in Jharkhand's Ranchi, policemen injured while controlling mob

In the midst of the controversy surrounding Nupur Sharma, protests broke out in several parts of the country including Jharkhand's capital, Ranchi.




DNA - Published





Rajya Sabha polls underway for 16 seats in four states, parties keep watchful eye

Elections to 57 Rajya Sabha seats were announced recently. All 41 candidates in Uttar Pradesh, Tamil Nadu, Bihar, Andhra Pradesh, Madhya Pradesh, Odisha, Chhattisgarh, Punjab, Telangana, Jharkhand and..




IndiaTimes - Published





Gumla, Jharkhand: 2 men rape minor on pretext of 'lift'; villagers burn them alive with motorcycle

The police have booked a murder case against around half-a-dozen assailants.




DNA - Published





Heatwave likely in Punjab, Uttarakhand, Haryana and Delhi till Thursday, check your city's weather

IMD predicted heatwave conditions in Odisha, UP, Madhya Pradesh, Jammu division, Himachal Pradesh, Vidarbha and north Jharkhand for the next two days.




DNA - Published





Congress candidate files nomination for Mandar bypoll in Jharkhand




IndiaTimes - Published





Jharkhand CM Hemant Soren directs Anti-Corruption Bureau probe into irregular assets of Raghubar Das's ministers

Present Jharkhand CM Hemant Soren has ordered an investigation of five ministers of former Chief Minister Raghubar Das's cabinet in the case.




DNA - Published





Govt looking at building night landing facilities for choppers in Naxal-hit Jharkhand




IndiaTimes - Published





JMM names Mahua Maji as candidate for Rajya Sabha polls in Jharkhand




IndiaTimes - Published




Nirmala, Piyush on BJP's Rajya Sabha list; Naqvi, RCP's fate uncertain

Bihar CM and JD(U) chief Nitish Kumar has denied Union steel minister RCP Singh another term in the Rajya Sabha, while the fate of minority affairs minister Mukhtar Abaas Naqvi also looked uncertain..




IndiaTimes - Published





CBI raids residences of ex-Jharkhand minister Bandhu Tirkey in connection with 34th National Games scam

Earlier in April, the Jharkhand High Court had directed the CBI to investigate the matter.




DNA - Published





Weather update: More rains for J-K, Himachal, Uttarakhand, Punjab, Haryana, UP; check your states' weather today

According to IMD, there is a possibility of strong winds in Bihar, Jharkhand, Odisha and Bengal during the next three days with rains in some areas.




DNA - Published





ED undertakes more raids in MGNREGA money scam case involving IAS Pooja Singhal

IAS Pooja Singhal, the Mining Secretary in Jharkhand, was dismissed from her post soon after her arrest in connection to the case earlier this month.




DNA - Published





Deporting illegal aliens, Supreme Court need not step in, says Jharkhand

The Jharkhand government has told the Supreme Court that the Centre and states are taking necessary steps for identification and deportation of illegal immigrants, and opposed a PIL seeking the..




IndiaTimes - Published





Jharkhand boy apprehended after CM Soren tweets video of him kicking schoolgirl over 'love affair'

Viral video: The police found out during a probe that the boy was a Class 9 student and lived in the state's Dumka district.




DNA - Published





Opposition ruled-states should reduce the VAT on petroleum products: Jharkhand BJP chief Deepak Prakash

Taking a jibe at the Jharkhand government, Deepak Prakash pointed out that 'the state was doing politics over the matter.'




DNA - Published





Jharkhand: 62 booked for raising 'Pakistan Zindabad' slogans at panchayat poll victory rally

Pro-Pakistan slogans in Hazaribad: This is the second such incident in the four-phase elections.




DNA - Published





Child labour in Jharkhand mines to representing India in Durban: The incredible story of Badku Marandi

Badku Marandi is among four people to represent India in the 5th Global Conference on the Elimination of Child Labour.




DNA - Published





Jharkhand IAS officer suspension: ED presents sealed report on shell companies, other information before high court




IndiaTimes - Published





Maoists set ablaze 10 vehicles in Jharkhand's Latehar




IndiaTimes - Published





After arrest in money-laundering case, IAS Pooja Singhal suspended by Jharkhand government

Jharkhand Mining Secretary Pooja Singhal was sent to Birsa Munda Central Jail, Hotwar, on Wednesday after ED took her on remand for five days.




DNA - Published





ED arrests Jharkhand mining secretary Pooja Singhal in alleged money-laundering case




IndiaTimes - Published




WHO Covid toll report flawed and unacceptable, say states

Health ministers of several states, including Jharkhand, Maharashtra, Tamil Nadu, Delhi and Punjab where non-BJP parties are in office, have unanimously slammed the World Health Organisation for its..




IndiaTimes - Published





In 7 charts: India's fertility rate drops to 2.0, according to latest National Family Health Survey

India's Total Fertility Rate (TFR) has declined from 2.2 to 2.0 as per the fifth round of the National Family Health Survey (NFHS-5). There are now only five states that have a TFR above the..




IndiaTimes - Published





IMD alert: These states to witness rains, cyclonic storm over the weekend

Isolated to scattered light/moderate rainfall is very likely in Bihar, Jharkhand, West Bengal, Sikkim and Odisha during next 5 days with thunderstorm.




DNA - Published





Jharkhand cops file FIR against MLA under OSA, govt refutes claim




IndiaTimes - Published





Jharkhand CM Hemant Soren's legal team will reply to EC notice




IndiaTimes - Published





Jharkhand CM Hemant Soren gets Election Commission notice over mining lease

The Election Commission has issued a notice to Jharkhand CM Hemant Soren asking him to explain why disqualification proceedings should not be initiated against him over grant of a mining lease in his..




IndiaTimes - Published





Mining lease case: Election Commission sends notice to Jharkhand chief minister Hemant Soren




IndiaTimes - Published





Jharkhand bahus cast out of rural polls




IndiaTimes - Published





Heatwave in India: Extreme heat sweeps across country, condition is about to get worse; key points

The heatwave that has been pummeling the country for weeks is expected to intensify over the weekend. In some hard-hit areas, it may be weeks before the region's annual monsoon sweeps in to provide..




IndiaTimes - Published





Weather update: Heatwave conditions in UP, Rajasthan, MP, Bihar, Jharkhand, Gujarat

IMD has predicted that in the next three days, the temperature in Northwest and Central India may increase by 2 to 4 degrees.




DNA - Published





6 minor boys held for rape of 11-year-old girl in Jharkhand

Khunti police have detained six minor boys for allegedly gang-raping an 11-year-old girl in the district on Tuesday night, reports Sanjay Sahay. Police said the culprits are aged between 10 and 15..




IndiaTimes - Published