Jharkhand
State in Eastern India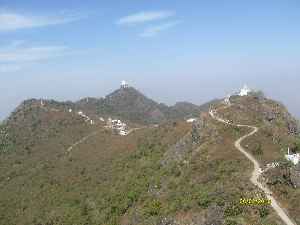 Jharkhand is a state in eastern India, carved out of the southern part of Bihar on 15 November 2000. The state shares its border with the states of Bihar to the north, Uttar Pradesh to the northwest, Chhattisgarh to the west, Odisha to the south and West Bengal to the east. It has an area of 79,710 km2 (30,778 sq mi). It is the 16th largest state by area, and the 14th largest by population. Hindi is official language of the state. The city of Ranchi is its capital and Dumka its sub capital. The state is known for its waterfalls, hills and holy places. Baidyanath Dham, Parasnath and Rajrappa are major religious places.


Jharkhand: Five policemen killed in ambush by Maoists
Jharkhand Chief Minister Raghubar Das condemned the attack, saying "their martyrdom will not go in vain".
DNA - Published
Maoist rebels kill five policemen in eastern India
Maoist rebels killed five policemen in the eastern Indian state of Jharkhand on Friday, a senior police official said, the latest in a series of attacks on security forces.
Reuters - Published
India: Poverty and child malnutrition rife in West Singhbhum
This remote part of eastern India's Jharkhand state where many tribal people live is rich in natural resources. Yet its people are some of the poorest in the country.
Credit: Al Jazeera STUDIO Duration: 02:31Published
Five policemen shot dead by Maoists in Jharkhand
Five police personnel were shot dead by Maoists on Friday while they were patrolling the area, officials said. Additional Director General of Police said the Maoists gheraoed the policemen and shot..
IndiaTimes - Published
CRPF commando injured in Naxal blast dies at AIIMS
A CRPF commando, who was wounded in an IED blast by the Naxals in Jharkhand last month, succumbed to his injuries at the AIIMS here, an official said on Friday. Constable Sunil Kalita, 32, was injured..
IndiaTimes - Published
Amit Shah set to be at BJP helm at least till year end
The decisions endorsed by a meeting of BJP national office-bearers suggest the party may also not opt for a "working president." Shah's continuance is seen as necessary with important state elections..
IndiaTimes - Published
Rahul was, is and will be the boss: Surjewala
The party said the meeting of senior leaders in the afternoon did not discuss the leadership issue as was being speculated. Senior Congress leaders, including AK Antony, Ahmed Patel and Ghulam Nabi..
IndiaTimes - Published
Off to a quick start, Amit Shah holding one meet after another with party leaders
BJP president has already met leaders from Haryana, Jharkhand and Maharashtra.
IndiaTimes - Published
Amit Shah meets core team of states
As Haryana, Jharkhand & Maha will head for state polls this year, BJP chief ensures party continues its good run
DNA - Published
JD(U) will not be part of NDA outside Bihar: K C Tyagi
Party's chief general secretary K C Tyagi said that the decision to not be a part of the BJP-led NDA outside Bihar has been taken in order to expand the presence of the JD(U) and to attain the status..
IndiaTimes - Published
JD(U) to be part of NDA in Bihar, will fly solo in other states
Bihar Chief Minister Nitish Kumar-led party will go solo in the upcoming Assembly elections in Haryana, Jammu and Kashmir, Jharkhand and Delhi, leaders who were part of JD(U)'s National Executive meet..
DNA - Published
Amit Shah meets Haryana, Jharkhand and Maharashtra leaders in view of assembly elections
The meeting is taking place in the BJP head office in the national capital.
DNA - Published
You Might Like