Easter
Major Christian festival celebrating the resurrection of Jesus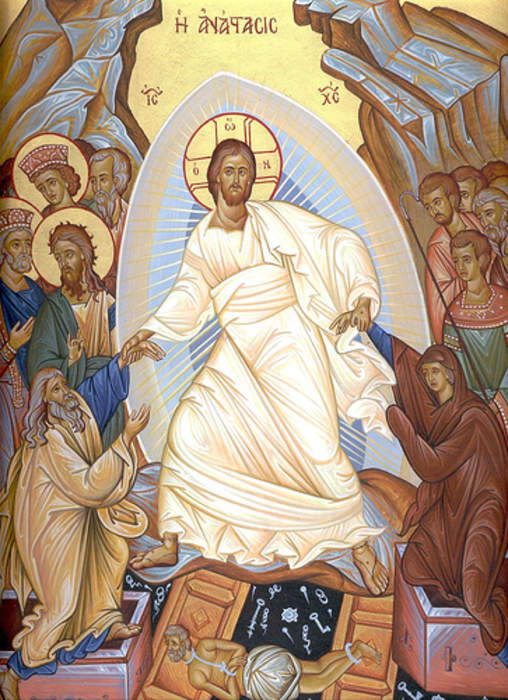 Easter, also called Pascha or Resurrection Sunday, is a festival and holiday commemorating the resurrection of Jesus from the dead, described in the New Testament as having occurred on the third day after his burial following his crucifixion by the Romans at Calvary c. 30 AD. It is the culmination of the Passion of Jesus, preceded by Lent, a 40-day period of fasting, prayer, and penance.


UK Schools to Reopen 'As Fast As Possible', says Johnson

Pressure is growing on the UK government to reopen schools, as MPs called for a 'route map' amid concerns for children's education. "There's nothing I want to do more than reopen schools,..
Credit: ODN Duration: 01:30
Published
You Might Like



Amid stricter lockdown, Greeks roast lamb to celebrate Easter

Greeks celebrated Easter Sunday away from loved ones and their home towns because of a stricter lockdown to curb the spread of the coronavirus but were still able to enjoy spit-roasted lamb, a..




Reuters - Published





A Holy Land Easter season like no other - under the shadow of coronavirus

Orthodox Christians celebrated Easter in Jerusalem on Sunday, bringing to a close a holiday season uniquely devoid of the colourful ceremonies that would normally have echoed around the Old City's..




Reuters - Published





Belarusians flock to churches for Easter, defy stay home calls

Thousands of Belarusians converged on churches across the country on Sunday to celebrate Easter, ignoring calls from health authorities and church leaders to stay at home to prevent the spread of the..




Reuters - Published





Bulgarian Christians celebrate Easter amid coronavirus outbreak

Hundreds of Bulgarian Christians flocked to the Orthodox temples for outdoor services on a surreal Saturday night with the Balkan state one of the few countries where churches remained open over the..




Reuters - Published





Holy Fire lit as Orthodox Easter bells echo over near-empty Jerusalem

The Holy Fire ceremony symbolising Jesus' resurrection was lit in a deserted Jerusalem on Saturday, without the joyful throng of Orthodox Christian pilgrims who normally attend a spectacle that brings..




Reuters - Published





In northern Spain, lamb farming feels chill winds of coronavirus

At this time of year, Miguel Angel Rivilla is usually swamped with work, selling his prized sheep to markets throughout Spain for "lechal" - a cherished dish of roasted, unweaned lamb popular at Easter..




Reuters - Published





Orthodox church forsakes Via Dolorosa procession in Jerusalem

The streets of Jerusalem's Old City were eerily quiet on Friday, after Greek Orthodox church authorities cancelled the traditional Easter procession along the Via Dolorosa amid a nationwide coronavirus..




Reuters - Published





Greeks prepare for muted Easter under extra lockdown measures

Greece is preparing for a muted Orthodox Easter this year after the authorities strictly forbade the traditional spirited celebrations of mass church attendance, firecrackers and large family..




Reuters - Published





French coronavirus toll jumps by record 1,438 deaths

The number of people who died from coronavirus infection in France jumped by 1,438 or 9.1% to 17,167 in the biggest single-day increase as a number of nursing homes reported cumulative tolls following..




Reuters - Published





Australian PM urges schools to re-open so parents can go back to work

Australian Prime Minister Scott Morrison on Wednesday urged schools to reopen after Easter holidays so students did not lose a year of education and parents could work, as health authorities reiterated..




Reuters - Published





Coronavirus not contained in Germany, warns institute as government weighs easing

A lowering in the number of new coronavirus cases in Germany is probably due to less testing over Easter and the outbreak is not yet contained, a top health institute cautioned on Tuesday a day before..




Reuters - Published





Watch church services on TV, order Easter eggs by phone, Kazakh Christians told

Kazakhstan's Orthodox Christians should watch Easter services on television and order eggs and other festive foods by phone as churches remain closed due to the coronavirus outbreak, the country's top..




Reuters - Published





Spain, Austria allow partial return to normal from coronavirus lockdowns

Spain and Austria allowed partial returns to work after the Easter holiday on Tuesday but Britain, France and India extended their lockdowns to try to rein in the coronavirus outbreak, the most serious..




Reuters - Published





Coronavirus not yet contained in Germany: Robert Koch institute

A lower number of new coronavirus cases in Germany in recent days is likely due to less testing over Easter and the outbreak is not yet contained, the head of the Robert Koch health institute said on..




Reuters - Published





Portuguese priest celebrates Easter from convertible microcar

Father Nuno Westwood turned the sunroof of a microcar into a pulpit on Sunday to deliver an Easter service on the move through his parish on the outskirts of Lisbon where the coronavirus has confined..




Reuters - Published





Bulgarian churches open for Easter, but only most devout go

Clad in protective masks and gloves, a few dozen pious Orthodox Christians prayed for health on Sunday at the Bulgarian capital Sofia's expansive Saint Nedelya Cathedral, in one of the few nations..




Reuters - Published





Moscow restricts Easter week church service as coronavirus cases mount

Russia on Sunday reported 2,186 new coronavirus cases, the largest daily increase since the start of the outbreak, as authorities announced more measures to contain the spread of the virus, including..




Reuters - Published





'Life will prevail' says Holy Land archbishop on Easter Sunday

With Jerusalem under lockdown over coronavirus, Easter Sunday was marked at the traditional site of Jesus' death and resurrection by just a handful of Christian clerics.




Reuters - Published





Pastor calls for bravery against coronavirus from atop Swiss cathedral tower

A pastor called on the residents of Zurich to be brave during the coronavirus outbreak on Sunday – as he gave an Easter blessing from high atop one of the towers at the city's landmark Grossmuenster..




Reuters - Published





Australians, New Zealanders observe Easter online and in backyards

With the coronavirus capsizing Easter traditions, Australians and New Zealanders spent Sunday attending church services virtually, setting up camps in backyards and where the law and weather allowed..




Reuters - Published





May this Easter give us added strength to successfully overcome Covid-19: PM Modi




IndiaTimes - Published





Easter isn't cancelled: UK's Queen Elizabeth says coronavirus will not overcome

Britain's Queen Elizabeth said on Saturday that coronavirus "would not overcome us" as she delivered her second rallying message to the nation in a week.




Reuters - Published





Let's work together to advance common good of entire humanity: Prez Kovind

In his message on the eve of Easter, he hoped that this festival instil in us the sense of unity and reinforce our commitment to the well-being and prosperity of our nation and a shared society. "In..




IndiaTimes - Published





PM Johnson up and walking in COVID-19 recovery as UK deaths near 9,000

Prime Minister Boris Johnson was back on his feet in his recovery from COVID-19 on Friday, while his fellow Britons were told to resist the temptation of going out in the spring sunshine over Easter as..




Reuters - Published





Spain sees slowing coronavirus toll, holds virtual Easter parades

The coronavirus death toll curve in Spain flattened further on Friday as the government prepared to start easing one of the world's strictest lockdowns and virtual Easter celebrations were held instead..




Reuters - Published





PM Johnson out of intensive care as he continues COVID-19 recovery

Prime Minister Boris Johnson was resting in hospital on Friday, recovering from COVID-19, while his fellow Britons were told to resist the temptation of spring sunshine over Easter as the coronavirus..




Reuters - Published





Notre-Dame service a message of hope for France in coronavirus lockdown

Nearly a year after fire devastated Notre-Dame cathedral in Paris, the city's Archbishop held a small ceremony there to mark Good Friday, praying that Easter's message of rebirth might bring comfort to..




Reuters - Published





Philippine penitents perform Easter rites despite coronavirus

Some Catholic penitents flagellated themselves and prayed outside closed churches in the Philippines to commemorate the death of Jesus on Good Friday, despite strict government orders for people to..




Reuters - Published





PM Johnson recovering from COVID-19 as Britons told to shun outdoors

Prime Minister Boris Johnson was resting in hospital on Friday as he recovered from COVID-19 while Britons were told to avoid the temptation of spring sunshine during the Easter break with the..




Reuters - Published





Helicopters, fines in Australia's Easter travel crackdown against coronavirus

Australia will deploy helicopters, set up police checkpoints and hand out hefty fines to deter people from breaking an Easter travel ban, officials warned on Friday, in their toughest crackdown against..




Reuters - Published





Irish priest spreads coronavirus Easter cheer from vintage 'popemobile'

An Irish priest refusing to let the coronavirus lockdown keep him from his parishioners came up with an innovative way to spread his Holy Thursday blessing - aboard a vintage 'popemobile.'




Reuters - Published





Chilean authorities scold elite escaping city by helicopter for Easter amid coronavirus outbreak

Chileans have a "moral duty" to stay home for the Easter holiday to stave of the spread of the coronavirus, Interior Minister Gonzalo Blumel said on Thursday, after reports surfaced of wealthy Santiago..




Reuters - Published





UK urges citizens to stay at home over Easter, police ready to get tough

Britain urged its citizens to stay at home over the coming Easter holidays, amid fears that the pull of wanting to see family and friends over the Christian holy day could undermine efforts to stop the..




Reuters - Published





Italian tenor Bocelli to offer Easter 'prayer' in empty Milan cathedral

Italian tenor Andrea Bocelli will sing to a Milan cathedral bare of worshippers on Easter Sunday, hoping to bring together people isolated during the coronavirus lockdown in a livestreamed broadcast he..




Reuters - Published





German coronavirus curve gives reason for cautious hope: Merkel

Strict social distancing measures have helped Germany to slightly slow the spread of the novel coronavirus, Chancellor Angela Merkel said on Thursday, giving cautious hope some of the restrictions..




Reuters - Published





250-year-old U.S. Easter tradition's horns silenced by coronavirus pandemic

Every Easter Sunday for almost 250 years, residents of Winston-Salem, North Carolina, have been awakened by small groups of musicians playing the hymn "Sleepers, Wake," before the Home Moravian..




Reuters - Published





Bulgarian churches to remain open on Palm Sunday, Easter

Prime Minister Boyko Borissov said on Thursday that Bulgaria's Orthodox churches and temples will be open for traditional Palm Sunday and Easter services despite the coronavirus outbreak, saying many..




Reuters - Published





Stay home, eat chocolate: Belgian chefs celebrate Easter despite coronavirus

Determined chocolatiers and chefs in Belgium have kept producing their Easter delicacies despite the coronavirus lockdown, with specialist chocolate shops remaining open and also doing deliveries.




Reuters - Published





Poland to ease some restrictions after Easter: deputy minister

To support its battered economy Poland, will ease some restrictions aimed at fighting the coronavirus after Easter, Deputy Health Minister Waldemar Kraska said on Thursday.




Reuters - Published





Germany: Gradual return to normality possible if infection trend continues

German Health Minister Jens Spahn told newspaper Handelsblatt that the coronavirus infection numbers in Germany were showing a "positive trend" and if that continued, it would be possible to talk about..




Reuters - Published





New Zealand PM cautiously optimistic about coronavirus, urges Easter 'staycation'

New Zealand's prime minister, Jacinda Ardern, said on Wednesday she was cautiously optimistic about slowing the spread of the novel coronavirus as authorities reported the lowest number of new daily..




Reuters - Published





Swiss urge public to stick to anti-virus measures over Easter

Switzerland's president called on the public to stick with emergency measures designed to halt the spread of the new coronavirus, saying on Tuesday the country remains "very far from normal" ahead of..




Reuters - Published





Austria eyes Easter 'resurrection', easing coronavirus lockdown at shops

Austria is preparing for a "resurrection" the day after Easter by reopening some shops in an initial loosening of its coronavirus lockdown, Chancellor Sebastian Kurz said on Monday, the first European..




Reuters - Published





On an empty Via Dolorosa before Easter, praying for the world's sick

Brown-robed Franciscans stride through a shuttered and deserted Jerusalem to the Church of the Holy Sepulchre, the global focus of the most important festival in the Christian calendar - but in a city..




Reuters - Published





Guatemala bans internal travel for Easter to curb coronavirus spread

Guatemalan President Alejandro Giammattei has banned travel between the different departments of the Central American country before and during Easter to curb the spread of the novel coronavirus.




Reuters - Published





Spain to ease economic restrictions, won't give up on 'coronabonds': PM

Prime Minister Pedro Sanchez said on Saturday Spain would ease the economic restrictions imposed under Spain's state of emergency after the Easter holidays, even as the overall lockdown would be..




Reuters - Published





Australia closes internal borders to capitalise on fall in new coronavirus cases

Australian officials closed internal borders on Friday and warned people to stay home over the upcoming Easter holiday as the country seeks to capitalise on a further fall in the rate of new..




Reuters - Published





Portugal tightens Easter travel restrictions due to coronavirus

Portugal's government tightened restrictions on movement to stop the spread of the coronavirus during the normally busy Easter holiday period, closing all airports to commercial flights and banning..




Reuters - Published





Merkel tells Germans to stay home until after Easter to beat virus

Germany will extend social distancing measures introduced last month to slow the spread of the coronavirus to April 19 and the government will re-evaluate the situation after the Easter holiday,..




Reuters - Published





Holy Land custodian urges Israel to let clerics celebrate Easter in Holy Sepulchre

Easter celebrations should be permitted inside the Church of the Holy Sepulchre in Jerusalem, even if only by a small number of clerics abiding by anti-coronavirus guidelines, a senior clergyman said..




Reuters - Published