West Champaran district
District of Bihar in India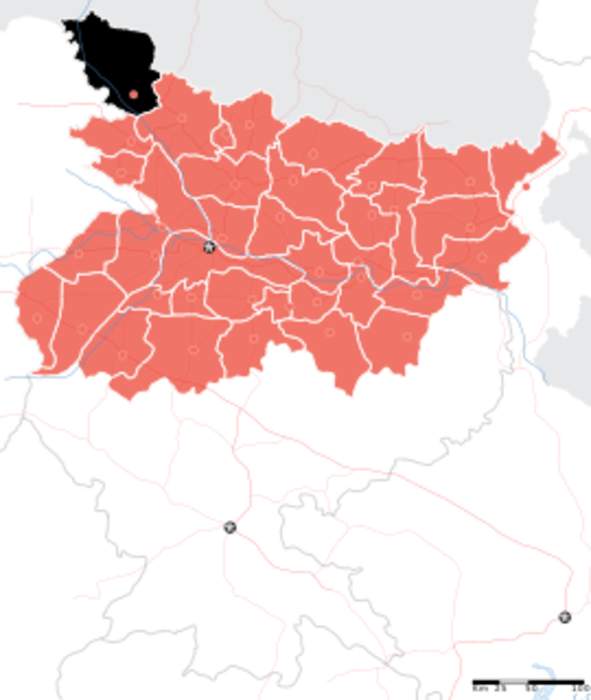 West Champaran is an administrative district in the state of Bihar in India, located just 60 km (37 mi) west of Birgunj. It is the largest district in Bihar with an area of 5,228 km²(2,019sq mi). It is a part of Tirhut Division. The district headquarters are located in Bettiah. The district is known for its open border with Nepal. One of the major location in West Champaran is Kumar Bagh for SAIL Special Processing Unit and Bhitiharwa where Mahatma Gandhi started Satyagrah Aandolan.


You Might Like
Nitish joined hands with Congress, RJD for his PM ambitions; BJP's doors forever closed for him: Amit Shah
Union home minister Amit Shah on Saturday lashed out at Bihar chief minister Nitish Kumar, by whom the BJP was dumped last year, and declared him a persona non grata "forever" to the NDA. Shah, who..
IndiaTimes - Published
West Champaran: In Bollywood-style murder, man killed after disconnecting electricity, tongue cut-off
Bihar, West Champaran: The police said it appears to be a case of property dispute.
DNA - Published
Prashant Kishor to embark on 3,500-km 'padyatra' in Bihar from Sunday
Political strategist Prashant Kishor will embark on a 3,500 km 'padyatra' in Bihar from West Champaran district on Mahatma Gandhi's birth anniversary on Sunday as part of his 'Jan Suraj' campaign.
IndiaTimes - Published
Bihar shocker: Minor girl drugged, gang raped by 3 inside bus in Champaran
In a shocking incident emerging from Bihar, a minor girl was gang-raped by three people after she was slipped a pill through a cold drink.
DNA - Published
Hooch tragedy: 16 dead in Bihar's West Champaran, probe underway
Out of the sixteen, eight died on Friday (July 16) who hailed from Deurawa, Jogiya, and Bagahi villages in Bihar
DNA - Published
Bihar chief secretary Arun Kumar Singh succumbs to COVID-19
A native of Bihar's West Champaran district, Arun Kumar Singh was scheduled to retire this year on August 31.
DNA - Published