Raipur
Metropolis in Chhattisgarh, India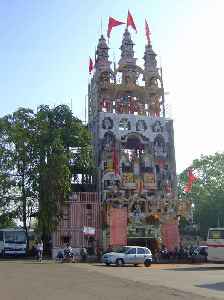 Raipur is the capital city of the Indian state of Chhattisgarh. It is also the largest city of the state. It was formerly a part of Madhya Pradesh before the state of Chhattisgarh was formed on 1 November 2000. It has a widely diverse population from all over the country. On industrial prospects, it has seen an exponential growth over the years. With a strong presence of international brands and prominent global automobile companies, Raipur has emerged as a major business hub in the central India. It is ranked 7th in Ease of Living Index 2018 by Union Ministry of Housing and Urban Affairs (MoHUA)


Raipur: Family hands out free home-made cloth bags to cut plastic usage
"Plastic causes pollution. It is harmful to human beings as well as animals like cows who end up eating them," he added.
DNA - Published
Chhattisgarh CM Baghel announces hike in quota for SCs, OBCs; total reservation in state now 72%
Baghel made the announcement at an Independence Day function in Raipur.
DNA - Published
Chhattisgarh: Locals form 15-km long human chain, organise tricolour flag rally in Raipur
A large number of school students, Central Reserve Police Force (CRPF) personnel, police personnel, Non-governmental organizations (NGOs) and locals participated in the rally with great enthusiasm and..
IndiaTimes - Published
Doctors, medical students across country stage protest against NMC Bill
Terming the bill unconstitutional, several doctors and medical students extended their support and demonstrated protests across the country against the bill. While doctors of King George's Medical..
IndiaTimes - Published
Air cheer: PM10 level dipping in Delhi
Analysis of data for 50 metropolitan cities for 2016, 2017 and 2018 showed a declining trend in Delhi, Varanasi, Ranchi, Raipur, Vijayawada and Bengaluru, among others, whereas the level of PM10 rose..
IndiaTimes - Published
Government to conduct survey of tribals displaced from Chhattisgarh
As per CGNet Swara Foundation (an NGO based in Raipur), when the Naxal violence escalated around 2004-05, about 16,000 tribals (5000 families) were uprooted from Chhattisgarh. Around 3000 families..
IndiaTimes - Published
You Might Like