Raipur
Metropolis in Chhattisgarh, India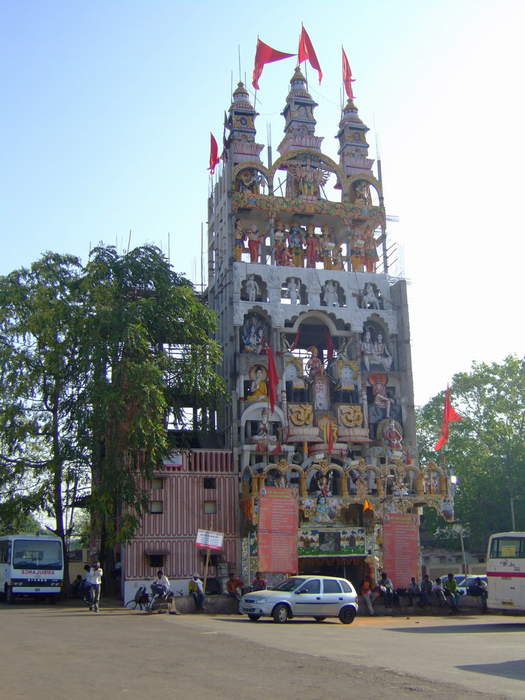 Raipur is the capital city of the Indian state of Chhattisgarh. Raipur is also the administrative headquarters of Raipur district and Raipur division, and the largest city of the state. It was a part of Madhya Pradesh before the state of Chhattisgarh was formed on 1 November 2000. It has exponential industrial growth, and has become a major business hub in central India. Raipur is ranked 7th in Ease of Living Index 2019 by Union Ministry of Housing and Urban Affairs (MoHUA).


Raipur to be declared containment zone from April 9

As second wave of coronavirus gripped country, the entire district of Raipur will be declared containment zone from April 9th. "Keeping in mind the COVID-19 situation, Raipur district will be declared..
Credit: ANI Duration: 01:50
Published
Chhattisgarh Naxal attack: HM Shah meets injured security personnel

Home Minister Amit Shah met injured jawans in Naxal attack at Ramkrishna Care hospital in Chhattisgarh's Raipur on April 05. He also met CRPF personnel at CRPF camp in Bijapur. In a horrific incident,..
Credit: ANI Duration: 01:28
Published
Bijapur Naxal attack: Martyrdom of jawans won't go in vain, says Chhattisgarh CM

Condemning the naxal attack on security forces in Bijapur, Chhattisgarh Chief Minister Bhupesh Baghel assured that the martyrdom of security personnel will not go in vain. Chhattisgarh CM, who is in..
Credit: ANI Duration: 01:37
Published
Jawans injured during Sukma encounter airlifted to Raipur hospital

Three jawans of District Reserve Guard, who got injured during the encounter with Naxals in Junaguda village in Sukma district, have been airlifted to a hospital in Raipur. The encounter took place..
Credit: ANI Duration: 01:36
Published
Sanitation workers on round to spread COVID-19 awareness in Raipur

As COVID cases are on rise, sanitation workers of Raipur Municipal Corporation held a door to door campaign to spread awareness regarding COVID-19 vaccine. "We are encouraging people aged above 45..
Credit: ANI Duration: 01:28
Published
Sachin Tendulkar's dedication towards cricket unparalleled: India Legends physio | OneIndia News

In an exclusive interview with OneIndia, Saif Hasan Naqvi - who was the physio of the India Legends team during the World Road Safety Series 2020-21 in Raipur - talked about former India cricketer..
Credit: Oneindia Duration: 06:36
Published
Road Safety World Series: Sachin Tendulkar-led India Legends gear up for semis

The ongoing Road Safety World Series 2020-21 is being held at Shaheed Veer Narayan International Cricket Stadium in Raipur. Ahead of the final league match of the T20 tournament between West Indies..
Credit: Oneindia Duration: 03:47
Published
Nearly 900 kg ganja worth Rs 70 lakh seized in Odisha's Malkangiri

During an anti-narcotics drive in Odisha's Malkangiri, the police seized ganja weighing around 880 kilograms worth over Rs 70 lakh from a Bolero in Maithili on Friday night of March 12, and arrested..
Credit: ANI Duration: 01:10
Published
Sachin Tendulkar screams in pain after Covid test, watch the viral video | Oneindia News

Sachin Tendulkar pranking a medical staff during a Covid-19 test has gone viral on social media. Sachin Tendulkar is currently in Raipur for the Road Safety World Series representing Indian Legends..
Credit: Oneindia Duration: 01:00
Published
CRPF, locals bond during social event in Raipur

Ahead of CRPF's 82nd anniversary, a social event was organised by Chhattisgarh Wing of CRPF in Raipur's Budha Talab Garden. Event had exhibitions for the general public including display of arms and..
Credit: ANI Duration: 02:06
Published
Rs 7.9 cr fake notes seized, 3 held in Odisha's Koraput

Police seized counterfeit currency notes with face value of Rs 7.9 crore in Sunki Village of Odisha's Koraput district. Cops arrested three persons in this connection. All the notes were of the Rs 500..
Credit: ANI Duration: 02:45
Published
You Might Like



Chhattisgarh: Complete lockdown in Raipur from April 9 to April 19 - Check guidelines

On Tuesday, the state recorded 9,921 new COVID-19 cases, the highest single-day spike since the outbreak of infection in March last year.




DNA - Published





Resilience and passion have turned entrepreneurs like Darshan Sankhala into extraordinary success stories

Sankhala who hails from Raipur, Chhattisgarh always believed in his dreams and wanted people to do the same.




DNA - Published





Regular flights to Bastar from Raipur, Hyderabad starts, easing penetration into Red zones

The journey to Raipur by road is completed in 6 hours and the journey to Hyderabad is completed in about 12 hours.




DNA - Published





Raipur tweeted most about animals, Bhubaneswar on good deeds: Twitter




IndiaTimes - Published





Chhattisgarh: Seven dead, many injured after bus collides with truck in Raipur

The bus and the truck collided as it was making its way through th Ceheri Khedi in Raipur.




DNA - Published





Chhattisgarh: Death toll rises to 8 in Raipur bus-truck collision accident

The bus and the truck collided as it was making its way through th Ceheri Khedi in Raipur.




DNA - Published





Former Chhattisgarh chief minister Ajit Jogi passes away

Former Chhattisgarh chief minister Ajit Jogi passed away on Friday at the age of 74. Ajit Jogi was admitted to a hospital in Raipur on May 9 after he suffered a cardiac and respiratory arrest. A..




IndiaTimes - Published





Chhattisgarh: 68-year-old COVID-19 patient has no travel history

A 68-year-old man who tested positive for Covid-19 in Raipur, Chhattisgarh has no travel history beyond the city, health officials said on Friday. He was one of the five people who tested positive on..




IndiaTimes - Published





Raipur takes over all private hospitals, then does U-turn




IndiaTimes - Published





Raipur in SC, makes UPA-era NIA Act a Centre-state conflict

The Congress government in Chhattisgarh on Wednesday made the National Investigation Agency (NIA) Act, enacted by Parliament in 2008 during the Congress-led UPA government to investigate terror and..




IndiaTimes - Published





Venkaiah Naidu's Odisha visit cancelled due to inclement weather

Naidu had arrived at Raipur in Chhattisgarh from Delhi on Thursday. He was scheduled to take a chopper from Raipur to Bolangir on Friday morning to inaugurate a new LPG bottling plant of BPCL, the..




IndiaTimes - Published





5 ITBP jawans killed, 3 hurt in firing among themselves

Five personnel of the Indo-Tibetan Border Police (ITBP) were killed and three others injured in an exchange of fire among themselves in Chhattisgarh's Narayanpur district on Wednesday, police said. The..




IndiaTimes - Published





Raipur: Family hands out free home-made cloth bags to cut plastic usage

"Plastic causes pollution. It is harmful to human beings as well as animals like cows who end up eating them," he added.




DNA - Published





Chhattisgarh CM Baghel announces hike in quota for SCs, OBCs; total reservation in state now 72%

Baghel made the announcement at an Independence Day function in Raipur.




DNA - Published





Chhattisgarh: Locals form 15-km long human chain, organise tricolour flag rally in Raipur

A large number of school students, Central Reserve Police Force (CRPF) personnel, police personnel, Non-governmental organizations (NGOs) and locals participated in the rally with great enthusiasm and..




IndiaTimes - Published





Doctors, medical students across country stage protest against NMC Bill

Terming the bill unconstitutional, several doctors and medical students extended their support and demonstrated protests across the country against the bill. While doctors of King George's Medical..




IndiaTimes - Published





Air cheer: PM10 level dipping in Delhi

Analysis of data for 50 metropolitan cities for 2016, 2017 and 2018 showed a declining trend in Delhi, Varanasi, Ranchi, Raipur, Vijayawada and Bengaluru, among others, whereas the level of PM10 rose..




IndiaTimes - Published