Buddhism
World religion founded by the Buddha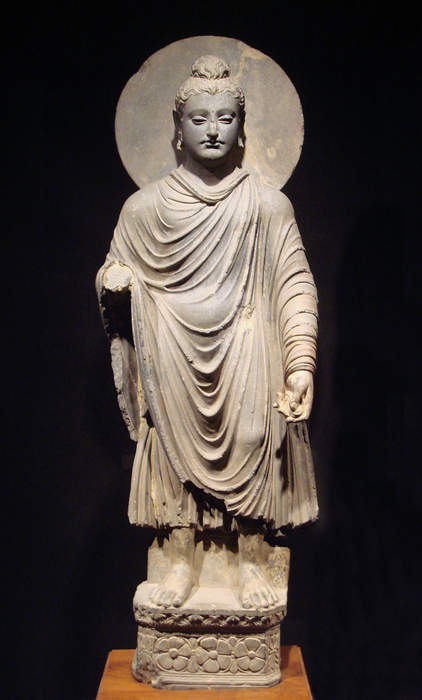 Buddhism is the world's fourth-largest religion with over 520 million followers, or over 7% of the global population, known as Buddhists.


Myanmar fugitive monk hands himself in to police

Hardline Buddhist nationalist monk Ashin Wirathu handed himself over to police in Myanmar's commercial capital of Yangon on Monday after more than a year on the run. Libby Hogan reports.
Credit: Reuters Studio Duration: 01:06
Published
China preaches the material over spiritual in Tibet

Tibet is one of China's most politically sensitive and deeply religious areas. Now it's become the focus of Beijing's poverty relief efforts, in a move tied to social control and a push away from..
Credit: Reuters - Politics Duration: 03:49
Published
You Might Like



India announces $15 million grant for Sri Lanka to strengthening Buddhist ties

In a major push to strengthen Buddhist cultural link between India and Sri Lanka, New Delhi has announced $15 million grant to Colombo. The development is the key outcome of Indian Prime Minister Modi..




DNA - Published





India dismisses controversy over Jaishankar's remarks on Buddha

India on Sunday dismissed the controversy over the birthplace of Gautam Buddha, saying S Jaishankar's remarks on him was about "our shared Buddhist heritage" and there's "no doubt" that the founder..




IndiaTimes - Published





India says Buddha was born in Lumbini 'which is in Nepal'

The Ministry of External Affairs said, "EAM's remarks yesterday at the CII event referred to our shared Buddhist heritage. There is no doubt that Gautam Buddha was born in Lumbini, which is in Nepal".




DNA - Published





Govt looks to attract tourists by pitching India as land of Buddha

As more states open up to tourists with a string of safeguards in place, the tourism ministry is lending a helping hand with its "Dekho Apna Desh" campaign and pitching India as the land of Buddha...




IndiaTimes - Published





Modi leverages soft power of Buddhism to woo allies




IndiaTimes - Published





'Great news,' says PM Modi as Cabinet approves 'International' status to Kushinagar Airport

The decision to declare Kushinagar, a popular Buddhist cultural site, was taken at a Cabinet meeting chaired by Prime Minister Narendra Modi.




DNA - Published





India protests destruction of Buddhist sites in PoK




IndiaTimes - Published





India condemns defacement of Buddhist heritage in Gilgit-Baltistan




IndiaTimes - Published





India expresses concern over reports of destruction of Buddhist heritage in Gilgit-Baltistan, seeks immediate access

India on Wednesday expressed strong concerns over the reports of vandalism, defacement and destruction of Buddhist archaeological sites in Pakistan occupied Jammu and Kashmir (PoJK) and sought..




DNA - Published





Coronavirus: Ramdas Athawale's 'go corona' chant video goes viral

A video of Union minister Ramdas Athawale, Chinese Consul General in Mumbai Tang Guocai and Buddhist monks chanting 'Go corona, go corona' at a prayer meet has gone viral on social media. The video was..




IndiaTimes - Published





Google marks International Women's Day with a doodle

Google on Sunday dedicated a doodle to mark the International Women's Day. The doodle is an animated video of a multilayered 3D paper mandala animation. The mandala, as we all know, is a circular..




IndiaTimes - Published





On Thai Buddhist holy day, gunman's carnage shatters temple peace

Thai nun Amornrat Putta-ariyawong was washing dishes in preparation to host Buddhist devotees on a holy day when a military Humvee pulled up just inside the temple gates and the driver started shooting..




Reuters - Published





Sri Lankan PM Mahinda Rajapaksa to visit Kashi Vishwanath Temple, Buddhist shrine in Sarnath today

Security has been beefed up in the city ahead of his visit.




DNA - Published





Bottles for blessings: Thai Buddhist temple recycles plastics into robes

At a Buddhist temple south of Bangkok, a monk watches as a machine presses down on thousands of water bottles, before a giant bale of crushed plastic rolls out with a thud.




Reuters - Published





Madhya Pradesh Cabinet urges Centre to repeal CAA, amend NPR rules

Severe protests have erupted in various parts of the country ever since the central government passed the contentious act, which grants Indian citizenship to refugees belonging to the Hindu, Christian,..




DNA - Published





Dalai Lama asks devotees to chant mantra to contain spread of coronavirus

Responding to their concern, the Dalai Lama advised his followers and Buddhist monasteries across China to chant the 'Tara Mantra' as it would be "beneficial for effectively containing the spread of..




IndiaTimes - Published





Citizenship seekers may have to prove faith

Migrants or refugees from Pakistan, Bangladesh and Afghanistan need to prove they belong to one of six minority faiths — Hindu, Sikh, Christian, Jain, Buddhist or Parsi, said a government..




IndiaTimes - Published





Before CAA, string of government orders made it impossible for Muslim migrants to get Indian citizenship

The most significant GO is the October 22, 2018 amendment to the Passport (Entry into India) Rules, 1950 and Foreigners Act, 1946, discriminating against Muslims and atheists for the grant of long-term..




IndiaTimes - Published





In forest monastery, Buddhist abbot faces bushfire with a smile

Buddhist monk Phra Mana helped build his bush monastery with his bare hands three decades ago, but when Australia's worst wildfires in generations threatened to destroy it he stood up to fate with a..




Reuters - Published





Lt Guv Murmu visits ancient Buddhist site, emphasises on preserving heritage




IndiaTimes - Published





How CAA is different from Citizenship Act 1955

The CAA aims to provide Indian citizenship to six minority communities — Hindus, Parsis, Sikhs, Buddhists, Jains and Christians — who arrived in India on or before December 31, 2014 from..




IndiaTimes - Published





Each oppressed Pak refugee will get Indian citizenship: Amit Shah

Union home minister Amit Shah on Sunday said the government "will not rest" until each oppressed Pakistani refugee is given Indian citizenship. "The Hindu, Sikh, Buddhist and Christian refugees from..




IndiaTimes - Published





CAA protests tracker

Several cities across the country are holding protests against the Citizenship Amendment Act which seeks to grant citizenship to refugees from Hindu, Christian, Sikh, Buddhist and Parsi communities..




IndiaTimes - Published





SC dismisses plea challenging Centre's notification according minority status to 5 communities

The Supreme Court on Tuesday dismissed a petition challenging the validity of the Centre's 26-year-old notification according minority status to five communities — Muslims, Christians, Sikhs,..




IndiaTimes - Published





Muslim lawyers' body urges SC to declare citizenship law as 'unconstitutional'

"The Act violates Articles 14, 21 and 25 of the Constitution, as well as the Constitution's basic structure," said the Muslim Advocates Association (MAA) in its plea. The Citizenship (Amendment) Act,..




IndiaTimes - Published





Congress challenges Citizenship Amendment Act in Supreme Court

The Act provides citizenship to Hindu, Sikh, Buddhist, Jain, Parsi and Christian communities who faced religious persecution from Pakistan, Bangladesh, and Afghanistan and arrived in India before..




IndiaTimes - Published





What does India's new citizenship law mean?

A new Indian law that grants citizenship to persecuted Hindus, Sikhs, Buddhists, Jains, Parsis and Christians who fled Muslim-majority Pakistan, Bangladesh and Afghanistan prior to 2015 has led to..




Reuters - Published





West Bengal: After protests in Assam over CAB, BGP urges Centre to exclude Darjeeling Hills, Terai and Dooars from bill

The Bill aims to provide for Indian citizenship to the Hindus, Jains, Christians, Sikhs, Buddhists and Parsis from Bangladesh, Pakistan and Afghanistan after six years of residence in India instead of..




DNA - Published




Explainer: What does passage of India's controversial citizenship bill mean?

India's parliament on Wednesday passed a contentious bill that will allow citizenship for persecuted Hindus, Sikhs, Buddhists, Jains, Parsis and Christians who fled Muslim-majority Pakistan, Bangladesh..




Reuters - Published





Amit Shah moves Citizenship (Amendment) Bill in RS, says Indian Muslims are and will remain Indians

No one will harass members of the community, the minister stressed as he moved the bill that provides Indian citizenship to Hindus, Sikhs, Buddhists, Jains, Parsis, and Christians who illegally..




IndiaTimes - Published





Citizenship (Amendment) Bill, 2019 tabled in Rajya Sabha

The Bill seeks to grant Indian citizenship to refugees from Hindu, Christian, Sikh, Buddhist and Zoroastrian communities fleeing religious persecution from Pakistan, Afghanistan, and Bangladesh who..




IndiaTimes - Published

Also reported by •DNA


Newer refugees can apply for citizenship the day bill turns law

The bill, in its previous avatar, had cut the minimum stay clause from 11 to six years. With another year now shaved off, Hindu, Sikh, Christian, Buddhist, Jain and Parsi refugees who came in as..




IndiaTimes - Published





Pope Francis meeting Thai king, Buddhist patriarch in visit

Pope Francis was set to meet Thailand's supreme Buddhist patriarch, prime minister and king at the start of an official visit on Thursday, before celebrating a mass with tens of thousands of Thai..




Reuters - Published





Blessed by Buddhist monks, Sri Lanka's new president prioritises security

The winner of Sri Lanka's presidential election, Gotabaya Rajapaksa made national security his top priority after being sworn in on Monday at an ancient temple in the north-central city of Anuradhapura..




Reuters - Published





Sri Lanka president-elect Rajapaksa a war hero to some, a polarizing figure for others

For Sri Lanka's majority Sinhalese Buddhists, president-elect Gotabaya Rajapaksa is best-placed to take on the hard challenge of defeating enemies of the state such as those who carried out deadly..




Reuters - Published





Sri Lanka government pledges to hold off signing U.S. pact until after election

Sri Lanka's government said on Wednesday a decision on agreeing a $480 million infrastructure grant from the United States, which has been criticized by some lawyers, Buddhist monks and opposition..




Reuters - Published





Indian tourist detained in Bhutan for desecrating Buddhist 'chorten'




IndiaTimes - Published





BJP takes dig at Mayawati after she says she will covert to Buddhism at appropriate time




IndiaTimes - Published




Special provisions within CAB expected for NE people: Manipur CM

Union home minister Amit Shah had said on October 1 that Parliament will pass the CAB which will grant citizenship to Hindus, Sikhs, Buddhists, Jains, Parsis and Christians from Afghanistan, Bangladesh..




IndiaTimes - Published





Judge shoots himself in court in Thailand

A judge in southern Thailand shot himself in court after delivering a not guilty verdict in the case of five Muslim suspects charged with murder in the predominantly Buddhist country's restive south.




Reuters - Published





Sri Lanka's ruling party nominates deputy leader as presidential candidate

Sri Lanka's ruling party on Thursday nominated its deputy leader, Sajith Premadasa, to run in a presidential election on Nov. 16, a move that appeared intended to win over Buddhist-majority voters.




Reuters - Published




Stop sale of chicken and milk from same outlets: BJP MLA to MP CM

"Milk holds a special place in rituals of Hinduism, Jainism, Sanatan Dharma and Buddhism. Milk, a symbol of purity, is offered to god and also widely consumed in fasts. Keeping the sensibilities of..




DNA - Published





'Ultraman Buddha' art in Thailand prompts police complaint

A group of Buddhist hardliners in Thailand filed a police complaint against a young female artist on Wednesday over paintings that depict images of the Buddha as the 1960s Japanese superhero character..




Reuters - Published





U.S. voices concern over Myanmar army's lawsuit against religious leader

The United States said on Thursday it was deeply concerned about the Myanmar army's filing of a lawsuit against a religious leader who told President Donald Trump the military oppressed Christians in..




Reuters - Published





Myanmar army sues religious leader who told Trump the military 'tortured' Christians

A Myanmar religious leader is facing a legal complaint from an army officer after telling U.S President Donald Trump the military was oppressing and torturing Christians in the Buddhist-majority..




Reuters - Published





Revered Buddhist leaders of Sri Lanka welcome creation of Ladakh as Union Territory

Two of the most revered Buddhist religious leaders of Sri Lanka have welcomed India's move to carve out Buddhist-majority Ladakh as a Union Territory. The Mahanayake Theras of the Malwatte and Asgiriya..




IndiaTimes - Published





India's Ladakh Buddhist enclave jubilant at new status but China angered

The Buddhist enclave of Ladakh cheered India's move to hive it off from Jammu and Kashmir state, a change that could spur tourism and help New Delhi counter China's influence in the contested western..




Reuters - Published





'Ladakh will be the first Indian state with Buddhist majority': Sri Lankan PM Ranil Wickremesinghe

Sri Lankan PM says Ladakh is worth a visit.




DNA - Published





Drought reveals lost temple in Thailand submerged by dam

Thousands are flocking to see a Buddhist temple in central Thailand exposed after drought drove water levels to record lows in a dam reservoir where it had been submerged.




Reuters - Published