Dassault Rafale
Multi-role combat aircraft family by Dassault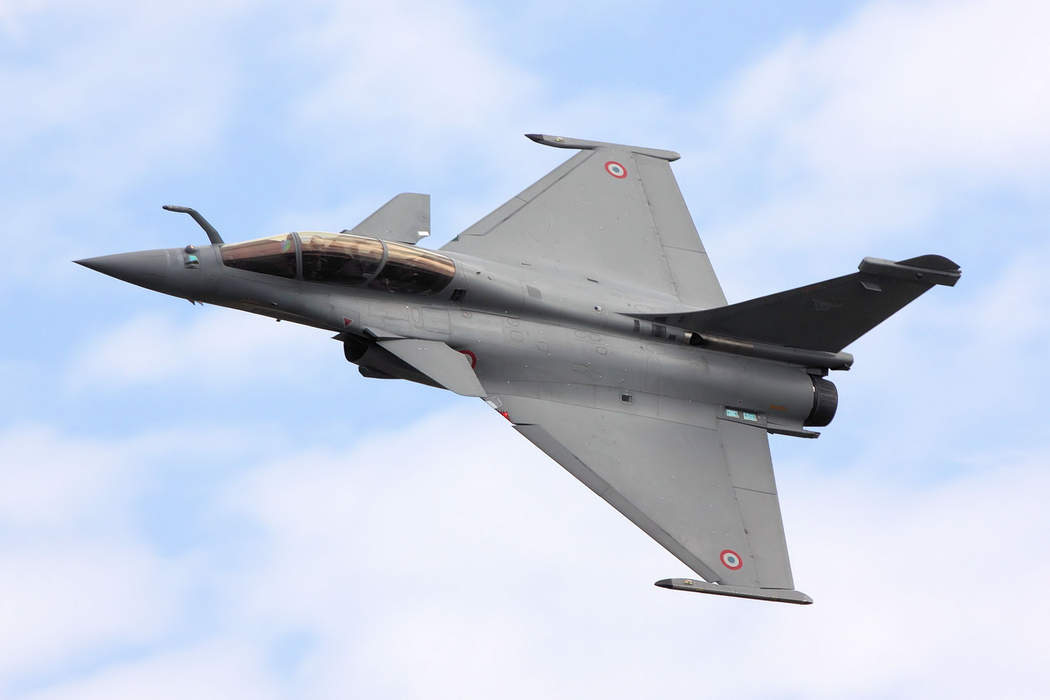 The Dassault Rafale is a French twin-engine, canard delta wing, multirole fighter aircraft designed and built by Dassault Aviation. Equipped with a wide range of weapons, the Rafale is intended to perform air supremacy, interdiction, aerial reconnaissance, ground support, in-depth strike, anti-ship strike and nuclear deterrence missions. The Rafale is referred to as an "omnirole" aircraft by Dassault.


Rafale jets to grace Republic Day event

For the very first time, Rafale fighter jets will participate in the Republic Day parade 2021. IAF spokesperson Wing Commander Indranil Nandi said, "Total 42 aircrafts will participate in Republic Day..
Credit: ANI Duration: 03:15
Published
You Might Like



Newly-inducted Rafale jets to participate in Republic Day parade for first time

In all, 38 IAF aircraft and four planes of the Indian Army will participate in the flypast on January 26.




DNA - Published

Also reported by •IndiaTimes


Indian, French Rafale fighters to take part in joint combat exercise this week

India is going to deploy its new Rafale fighters against French Rafales for a joint exercise called "Desert Knight" at Jodhpur this week, in the first such high-voltage combat manoeuvers for the..




IndiaTimes - Published





Amid border row with China, Indian, French Rafales to carry out SKYROS wargames in Jodhpur




IndiaTimes - Published





3 more Rafale fighters touch down in India

The three jets arrived at the Jamnagar airbase in Gujarat after flying non-stop from France, with mid-air refueling on the way, at 8.14 pm. As per the delivery schedule, three to four jets will reach..




IndiaTimes - Published





Second batch of Rafale aircraft reaches India, says IAF

The second batch of Rafale aircraft arrived in India on Wednesday after flying non-stop from France, the Indian Air Force said. The first batch of five French-origin fighter jet aircraft had arrived in..




IndiaTimes - Published





Spooked by Rafale aircraft, Pakistan rushes to China seeking fighter jets, missiles

Pakistan started discussing the purchase of Chinese J-10 in 2009, but after the talk of joint production of JF17 jet started, it was put on hold.




DNA - Published





IAF to receive three more Rafale combat aircraft on November 4

The Rafale jets will fly directly from Istres in France to Jamnagar and they will be accompanied by French Air Force mid-air refuelling aircraft. A team of experts led by Assistant Chief of Air Staff..




IndiaTimes - Published

Also reported by •DNA


Indian Air Force gets big Rafale boost, 16 fighter jets to land in India by April

Five Rafale jets flew to Ambala airbase via Abu Dhabi on July 29. Three are coming on November 5, three will arrive in January, three in March, and seven more in April, carrying a total of fighter jets..




DNA - Published





Next batch of Rafale fighters to arrive early next month




IndiaTimes - Published





Boost to Indian Air Force's offensive arsenal: 3-4 Rafale fighter jets to join in November

It is to be noted that the first batch of five Rafales had arrived in India on July 28 and were officially inducted on September 10 by the Narendra Modi government.




DNA - Published





3-4 Rafale fighter jets to join Indian Air Force in November first week




IndiaTimes - Published





IAF team in France to make preparations to induct more Rafale jets




IndiaTimes - Published





Rafale leads 'Vijay' formation, IAF's might on full display at 88th Air Force Day celebrations




IndiaTimes - Published





IAF chief Bhadauria does not rule out procurement of more Rafale fighter jets




IndiaTimes - Published





Rafale fighter aircraft to be featured in Air Force Day parade

The newly inducted Rafale fighter aircraft will feature in the Air Force Day parade on October 8, an Indian Air Force (IAF) official said on Saturday.




DNA - Published

Also reported by •IndiaTimes


Cancel Reliance Defence's offset contract for Rafale, demands AITUC

The All India Trade Union Congress on Saturday demanded that the government cancel the defence offset partnership of Reliance Defence in the Rafale jet deal and give it to Hindustan Aeronautics Limited..




IndiaTimes - Published





Dassault, MBDA yet to fulfil offsets obligations under Rs 59,000 crore Rafale fighter deal: CAG




IndiaTimes - Published




Shivangi Singh to be first Rafale woman fighter pilot




IndiaTimes - Published





Woman pilot picked for Rafale, two others set to fly warship choppers

Get ready to soon see a woman tear into the skies in the new omnirole Rafale fighter, which can also deliver nuclear weapons. Don't also be taken aback if you finally spot women on board an Indian..




IndiaTimes - Published





IAF's Rafale fleet to have first woman pilot soon

A woman fighter pilot of the Indian Air Force will soon join the newly-inducted Rafale fighter fleet as one of its crew flying the multi-role aircraft, official sources said on Monday. The woman pilot..




IndiaTimes - Published





Rafale a stern message to those eyeing our sovereignty: Rajnath Singh

France's armed forces minister Florence Parly, said with the induction of Rafale, in military terms, India will acquire a world-class capability that will give New Delhi an incredible sovereignty. In..




IndiaTimes - Published




IAF's air display thrills sky in Ambala on Rafale induction




IndiaTimes - Published





France backs India's candidacy for permanent seat in UNSC

Speaking at the induction ceremony of the first batch of five Rafale fighter aircraft at Ambala airbase, Parly said it is a stellar achievement for India and France and a new chapter is being written..




IndiaTimes - Published





5 Rafale jets inducted, can be deployed at LAC at short notice: Rajnath

Five Rafale combat aircraft made by French company Dassault Aviation can be deployed at a short notice at the Line of Actual Control in Eastern Ladakh, said Defence Minister Rajnath Singh at the Ambala..




IndiaTimes - Published





'France supports India's candidacy for permanent UNSC seat': French minister at Rafale ceremony

French defence minister Florence Parly on Thursday reiterated her country's support to the candidature of India for a permanent seat in United Nations Security Council (UNSC) at the Rafale induction..




DNA - Published





IAF formally inducts Rafale jets: How 'game-changer' jets will boost India's air power

"Induction of Rafale jets could not have happened at a more opportune time considering security scenario today. Rafale being based in Ambala is important as the fleet can rapidly access all areas of..




IndiaTimes - Published





IAF formally inducts Rafale in its fleet at Ambala airbase

The first batch of five aircrafts was formally inducted into the IAF's inventory at an impressive ceremony held at the strategic Ambala airbase. The event was attended by Union defence minister,..




IndiaTimes - Published





IAF formally inducts Rafale jets; Rajnath Singh, French defence minister witness ceremony at Ambala Air Force Station

The first five Indian Air Force Rafale aircraft arrived at Air Force Station, Ambala from France on July 27, 2020. Defence Minister Rajnath Singh and French Defence Minister Florence Parly are the..




DNA - Published





French defence minister arrives in Delhi, to attend Rafale induction ceremony at Ambala

French Defence Minister Florence Parly arrived here in the national capital on an official visit on Thursday morning, ahead of the formal induction of the first five Indian Air Force Rafale jets at..




IndiaTimes - Published

Also reported by •DNA


IAF to formally induct Rafale aircraft today; French defence minister to attend ceremony

The first five Indian Air Force Rafale aircraft arrived at Air Force Station, Ambala from France on July 27 and aircraft will be part of 17 Squadron, the "Golden Arrows".




DNA - Published

Also reported by •IndiaTimes


Rafale to be inducted into IAF on Thursday in presence of Rajnath Singh, French minister




IndiaTimes - Published

Also reported by •DNA


Can France be a worthy ally to India amid border row with China? Here's why Dassault Rafale induction is a key strategy

If it's not just the military standoffs and the skirmishes and conflict, Beijing is set to face another diplomatic hit from India on Thursday when it witnesses the formidable Dassault Rafale fighter..




DNA - Published





Citing threat to Rafale jets from birds in Ambala, IAF writes to Haryana chief secretary

Indian Air Force (IAF) director general (inspection and safety) air marshal Manavendra Singh on August 5, 2020, wrote a letter to the Haryana chief secretary (CS) Keshni Anand Arora, while asking for..




IndiaTimes - Published





Rajnath Singh to induct Rafales on Sept 10, French defence minister also invited for event

Defence minister Rajnath Singh will formally induct the five Rafale fighter aircraft into the Indian Air Force on September 10 at the Ambala air base. Five Rafale fighter aircraft arrived in India from..




IndiaTimes - Published





Cong, BJP in Rafale dogfight as Rahul attacks deal again




IndiaTimes - Published





Rahul Gandhi launches fresh attack on govt over Rafale deal; BJP hits back

Congress leader Rahul Gandhi on Saturday made a fresh attack on the government over the Rafale fighter aircraft deal, prompting Union minister Piyush Goyal to hit back saying he is welcome to fight the..




IndiaTimes - Published





Money was stolen from Indian exchequer: Rahul Gandhi attacks Centre over Rafale deal

Citing a report, the Congress leader said the money was stolen from the Indian exchequer. The Gandhi scion also quoted Mahatma Gandhi in his tweet. "Money was stolen from the Indian exchequer in..




IndiaTimes - Published





CAG drops audit of Rafale offset deal: Source

Eight months after the Comptroller and Auditor General (CAG) submitted its performance audit on defence offset contracts to the government, a top source in the federal auditor has revealed that the..




IndiaTimes - Published





'Media coverage of Rafale shows their level of insecurity': Pak says not threatened by India's military acquisition

The first five Indian Air Force (IAF) Rafale aircraft of the 36 jets arrived at Air Force Station, Ambala on July 29.




DNA - Published





Purpose of Rafale is to hit Pakistani aircraft inside Pakistani air space: Former IAS Chief BS Dhanoa

Dhanoa also said that the Rafales being supplied to the IAF are much more advanced than the ones being used by the French Air Force.




DNA - Published





Rafales will provide India major advantage in Tibet in case of aerial combat: B S Dhanoa

The Rafale aircraft will give India a strategic advantage in case of any aerial combat with China in the mountainous Tibet region as the fleet will be able to use the terrain to its advantage, destroy..




IndiaTimes - Published





'Operation Westend' case highlights need to thoroughly investigate Rafale deal: Congress




IndiaTimes - Published





Chinese experts claim IAF's Rafale jets stand no chance against its J-20

According to former IAF chief BS Dhanoa, Rafale is a game-changer, and the Chinese J-20 doesn't even come close.




DNA - Published