Dassault Rafale
Multi-role combat aircraft family by Dassault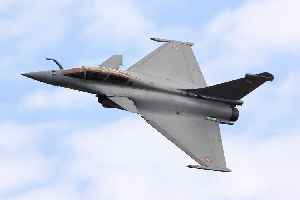 The Dassault Rafale is a French twin-engine, canard delta wing, multirole fighter aircraft designed and built by Dassault Aviation. Equipped with a wide range of weapons, the Rafale is intended to perform air supremacy, interdiction, aerial reconnaissance, ground support, in-depth strike, anti-ship strike and nuclear deterrence missions. The Rafale is referred to as an "omnirole" aircraft by Dassault.


Centre urges SC to dismiss all review petitions in Rafale case
The Centre has filed written submissions in the SC stating that all review petitions seeking investigation into the Rafale deal should be dismissed. The submissions were filed in the apex court on..
IndiaTimes - Published
Rafale didn't fly, NYAY got no public hearing
In the end, it could have been Congress' hammering away at Prime Minister Narendra Modi with allegations of graft in the Rafale deal that led to the undoing of its election campaign.
IndiaTimes - Published
After consecutive Lok Sabha trashing, Congress stares at uncertain future
Some insiders feel the party's negative and highly-personalised attack on Prime Minister Modi in the poll campaign like 'Chowkidar Chor Hai' digs and too much talk about Rafale did not work and harmed..
IndiaTimes - Published
Attempted break-in at IAF's Paris office handling Rafale procurement
The sources said the IAF has briefed the defence ministry about the incident and that the Indian mission in Paris has been in touch with French authorities.
DNA - Published
Also reported by •IndiaTimes
Govt deliberately misled court in Rafale case: Review petitioners to SC
Former Union ministers Yashwant Sinha, Arun Shourie and activist advocate Prashant Bhushan alleged in the Supreme Court on Wednesday that the Centre "wilfully and deliberately" misled the court in..
IndiaTimes - Published
Anil Ambani will kill defamation suit filed over Rafale deal against Congress leader
Congress leaders Ashok Chavan, Abhishek Manu Singhvi, Sanjay Nirupam, Oommen Chandy, Sunil Jakhar, Sandeep Singh Surjewala and Priyanka Chaturvedi, who has since left the party to join the Shiv Sena,..
DNA - Published
You Might Like