Ganesha
Hindu god of new beginnings, success, and wisdom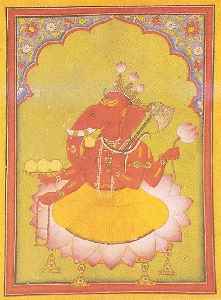 Ganesha, or Ganesh, also known as Ganapati and Vinayaka, is one of the best-known and most worshipped deities in the Hindu pantheon. His image is found throughout India, Nepal, Sri Lanka, Thailand, Bali (Indonesia) and Bangladesh and in countries with large ethnic Indian populations including Fiji, Mauritius and Trinidad and Tobago. Hindu denominations worship him regardless of affiliations. Devotion to Ganesha is widely diffused and extends to Jains and Buddhists.


Muslim musician from Rajkot sings Hindu hymns

Having composed and released 20 albums consisting of bhajans and songs, Sohil Baloch is now set to melt his listeners' heart with his latest bhajan composition dedicated to Lord Shiva. Hailing from..
Credit: ANI Duration: 04:18
Published
Ganpati Visarjan: Uddhav Thackeray, Devendra Fadnavis, others immerse idols

The immersion of Lord Ganesha idols, marking the conclusion of 11-day long Vinayaka Chaturthi festivities, was held here on Tuesday with participants wearing masks and following social distancing norms..
Credit: HT Digital Content Duration: 02:35
Published
Tribute to frontline workers: Lord Ganesha idol dressed as doctor, police in Telangana

An idol of Lord Ganesh, in Hyderabad, has been given looks of Police personnel and doctor, and 'Mushakraj' has been styled after GHMC (Greater Hyderabad Municipal Corporation) staff - as a mark of..
Credit: ANI Duration: 01:17
Published
Vadodara art teacher carves out image of Lord Ganesh on chalk

It seems that Ganpati Bappa is everywhere! An art teacher from Vadodara has carved out the image of Lord Ganesha from a chalk, and did similar portrayals of the revered deity on a matchstick and toy..
Credit: ANI Duration: 03:08
Published
Ganesh Chaturthi: Watch Sanjay Dutt performing aarti with wife Maanayata, kids

Sanjay Dutt celebrated Ganesh Chaturthi with his wife Maanayata and kids Iqra and Shahraan. In a video, Sanjay and his family is seen performing aarti on the occasion. The video was shared by Maanayata..
Credit: HT Digital Content Duration: 01:15
Published
Salman Khan, other celebs gather at Sohail Khan's house for Ganesh visarjan

Actor Salman Khan attended the Ganpati celebrations at Sohail Khan's residence on August 23. Salman's family members had welcomed Lord Ganesha on August 22 as Ganesh Chaturthi began and took part in..
Credit: ANI Duration: 02:23
Published
Lord Ganesha features as doctor in COVID hospital themed pandal

To celebrate the Ganesh Chaturthi festival, a COVID-19 hospital themed Ganesh pandal has been set up in Nagpur. The pandal is made to look like a COVID hospital in which Lord Ganesha is represented as..
Credit: ANI Duration: 01:14
Published
Watch: Salman Khan attends Ganesh Chaturthi celebrations at Sohail's residence

Actor Sohail Khan celebrated Ganesh Chaturthi at his residence in Mumbai. Sohail's family including brother Salman Khan attended celebrations. Arbaaz Khan also visited along with his girlfriend Giorgia..
Credit: HT Digital Content Duration: 02:47
Published
Watch: Salman Khan's family welcomes Ganpati at their house like every year

Nation is celebrating Ganesh Chaturthi festival with much zeal. Devotees are visiting temples and offering prayers to Lord Ganesha. Priests are perform 'arti' and 'hawan' of Bappa, donning face masks..
Credit: HT Digital Content Duration: 01:49
Published
Ganesh Chaturthi: PM Modi, Bollywood celebs, other politicians extend wishes

Nation celebrates Ganesh Chaturthi festival with fervour. Prime Minister Narendra Modi and Union Home Minister Amit Shah extended greetings to people on the occasion. Union Ministers Rajnath Singh and..
Credit: HT Digital Content Duration: 05:13
Published
Ganesh Chaturthi: Indore woman makes coronavirus-themed Ganpati idol

A woman from Indore made a unique Ganpati idol ahead of Ganesh Chaturthi. Nidhi Sharma made a coronavirus-themed Ganpati idol using chocolate to pay tribute to COVID warriors as well as to spread..
Credit: ANI Duration: 02:24
Published
Khairatabad Ganesha Association sets up 9-feet tall Dhanvantari Ganesh idol in Hyderabad

Khairatabad Ganesha Association made a 9-feet tall Ganesha idol in Hyderabad ahead of Ganesh Chaturthi. The idol is in Dhanvantari avatar of Lord Vishnu, Dhanvantari means doctor of Gods. Khairatabad..
Credit: ANI Duration: 02:04
Published
Ganesh Chaturthi: COVID-19 diminishes demand for large-sized Ganesha idols in Haryana

The demand for Ganesha idols dropped due to COVID-19 ahead of Ganesh Chaturthi in Haryana. Many of the idol makers claimed that they are not receiving any demand for large-sized Ganesha idols. An idol..
Credit: ANI Duration: 01:32
Published
Artist creates eco-friendly, dissolvable Ganesha idols in Punjab

As Ganesh Chaturthi is approaching, an artist from Jodhpur is making eco-friendly Ganesha idols in Punjab's Mohali. Organic colours have been used in the making of idols. Keeping in view the..
Credit: ANI Duration: 02:35
Published
Miniature artist makes COVID theme Ganesha in Coimbatore

Coimbatore based miniature artist designed Ganesha idol on COVID warrior theme ahead of Ganesha Chaturthi celebration. These Ganesh idols are made by artist Raja. Every year, he uses to design..
Credit: ANI Duration: 01:28
Published
Watch: Policeman, two others jump into well to rescue elderly woman

In a daring rescue operation, a policeman and two others jumped into a well to rescue an elderly woman who had accidentally fallen into it. Locals alerted the police as soon as they saw the woman fall...
Credit: HT Digital Content Duration: 01:47
Published
COVID-themed Ganesha idols grab attention in Bengaluru

Ahead of Ganesh Chaturthi, artists are sculpting unique idols. In Bengaluru, lord Ganesha's idol can be seen in an avatar of a doctor. In another set of idols, Ganesha's mice can be seen battling..
Credit: ANI Duration: 01:42
Published
You Might Like



Ganesh Chathurthi: Guess which Muslim-majority country has Lord Ganesha on its currency note?

The image of Lord Ganesha, the revered remover of obstacles, the patron of arts and sciences, and the deva of intellect and wisdom, is found beyond India and even... Hinduism




DNA - Published





Madras HC permits individuals to install and immerse Ganesha idols in Tamil Nadu

The High Court has permitted only individuals and their families to install Ganesha idols and immerse them in nearby water bodies. Immersion in large public spaces such as Marina beach remains..




DNA - Published




BJP leader questions AIADMK government's 'manliness' over disallowing Ganesh Chaturthi celebrations

The Tamil Nadu government has prohibited erecting Ganesha idols, celebrations in public, carrying them around the city in processions and also immersing them in water bodies due to COVID-19.




DNA - Published





Ganesh Chaturthi: Indore woman makes coronavirus-themed eco-friendly idol using chocolate

A woman in Indore has made Lord Ganesha idol using chocolate on the theme of coronavirus and is planning to immerse it in milk.




DNA - Published





DDMA bars public procession on Ganesh Chaturthi, Muharram in view of COVID-19

In view of the COVID-19 outbreak, the Delhi Disaster Management Authority (DDMA) has issued instructions to the District Magistrates (DMs) ahead of Ganesh Chaturthi and Muharram. While no idol of Lord..




DNA - Published





Why do we need to import even Ganeshas from China: FM




IndiaTimes - Published





ISKCON registers complaint against comedian Surleen Kaur for derogatory remarks against Hindu faith

The comedian had linked ISKCON with pornography and also made a remark on Lord Ganesha, following which she received a heavy backlash on social media.




DNA - Published





Ganesha's goodbye: Celebrated astrologer Bejan Daruwalla dies




IndiaTimes - Published





West Bengal customs recovers six smuggled antiques worth Rs.11.07 crores

The smallest idol found is of Parvati with Ganesh and Kartikeya carved in black stone




DNA - Published





Heavy rush at Sabarimala temple

Thousands offered prayers after the chief priest A K Sudheer Namboothiri opened the sanctum sanctorum of the temple at 3 a.m and performed special poojas including 'Neyyabhishekam' and 'Maha Ganapathi..




IndiaTimes - Published





Government imposes ban on tricolour import

It isn't just Chinese LED lights and Ganesh and Lakshmi idols that are hurting Indian manufacturers, even the Indian tricolour shipped from across the border have hit Indian players, and also violated..




IndiaTimes - Published





Man rewarded Rs 50,000 for saving lives in Bhopal boat tragedy

Nitin Batham have saved 8 people from drowning in the Chhota Talab near the Khatalpur ghat, Bhopal, where 11 people died when a boat capsized during Ganesh immersion.




DNA - Published





40 drown across India during Ganpati idol immersion

At least 40 people drowned across Maharashtra, MP, Delhi and UP in the last 24 hours in incidents related to immersion of Ganpati idols. The biggest tragedy occurred in Bhopal when 11 people drowned..




IndiaTimes - Published





Ganpati Visarjan 2019: Shubh Muhurat, importance & rituals to bid adieu to Lord Ganesha

Thousands of devotees will immerse idols of the elephant-headed deity at various designated spots with zest and zeal.




DNA - Published





Anant Chaturdashi 2019: Significance, subh muhurat & puja rituals

It is believed that Lord Ganesha is departed on Anant Chaturdashi, only to be welcomed again.




DNA - Published





Green goodbye for Bapunagar Vinayak this Anant Chaturdashi

Kitchen Solution to Visarjan: Devotees to immerse PoP idol of Ganesha in baking soda solution




DNA - Published





Mumbai: Students develop compost kits for a 'waste-free' Vinayaka fete

The students created DIY composing kits that help to convert all degradable waste to fertilizers which is cost-effective




DNA - Published





PM Modi urges people not to immerse plastic in sea during Ganpati immersion

Prime Minister Narendra Modi on Saturday urged people to avoid throwing plastic and other waste materials into the seawater while immersing the idols of the Lord Ganesha. After laying the foundation..




IndiaTimes - Published





Avoid water pollution during immersion of Ganesh idols: PM Modi




IndiaTimes - Published





PM Modi takes darshan of Lord Ganesh in Mumbai suburb

Modi, who is one a one-day visit to Maharashtra, took darshan of Lord Ganesh at the Lokmanya Seva Sangh (LSS) as part of the ongoing Ganesh festival. The PM went straight to the suburb after landing at..




IndiaTimes - Published





Ganesha idol placed in Chandrayaan 2 replica in Hyderabad

The replica of the spacecraft at its launch pad was raised here earlier this month by Future Foundation Society, a non-governmental organisation.




DNA - Published





Man builds Chandrayaan-2 themed Ganpati pandal in Mumbai

Sharing his experience of building the pandal, Deepak Makwana told ANI, "From last 10 years, I have been making pandals on a different theme and this year ISRO (Indian Space Research Organisation)..




DNA - Published





Watch: 8 arrested for drunken revelry at Ganesh Puja pandal in Surat

The video from the dry state showed a group of men dancing and singing to loud Bollywood music in front of a Ganpati idol even as they consumed beer.




DNA - Published





Rs 500-cr Ganesh-shaped diamond is a big draw in Surat

Unlike most idols, this tiny one isn't immersed as the value of the precious stone is pegged at Rs 500 crore.




DNA - Published





Ganesh Chaturthi 2019: Best messages, quotes,WhatsApp, SMS to send your loved ones

Ganesha is the Lord of Bliss and defeater of obstacles




DNA - Published





Bappa More-ya! Builders add shine to home buying

Overseas trip to gold, lots on offer for Ganpati fest




DNA - Published





Mumbai: Umbrella body urges Ganpati mandals to go tobacco-free

The campaign against tobacco will be raised by the mandals in the city.




DNA - Published





Mumbai: Khetwadi residents welcome 32-ft life-size Ganesha idol

While last year, the 8th Lane Mandal at Khetwadi had installed a replica of Baji Rao from the movie Bajirao Mastani, this year they preferred to Lord Hanuman theme.




DNA - Published





Hyderabad: At 61-feet, tallest Ganapati idol ready for devotees on Ganesh Chaturthi

Singari Sudershan Mudiraj, chairman and founder of Ganesh Utsava Committee said that that Lord Ganesh is being depicted in his Dwadashi Aditya Maha Ganapati avatar.




DNA - Published





Mumbai: Bomb squad meet Ganpati mandals over security measures

In a bid to ensure safety during the 14 day-long Ganesh festival Bomb Detection and Disposal Squad (BDDS) of the Mumbai police has been conducting meetings with Ganesh pandals and trust members across..




DNA - Published





Mumbai: Corporates give Ganpati an eco-friendly push

The Ganpati festival gets greener as more people sign up for getting an eco-friendly idol.




DNA - Published





Mangaluru man makes Ganesha idols that grow into plants

Embedded with seeds from vegetable, fruits and trees, the idols unlike the traditional ones are easily dissolvable in water. "It is made by crushing old newspapers and books into pulp which is used in..




DNA - Published





Mumbai's 'richest' Ganpati insured for Rs 266.65 crore

The mandal has even taken care of its devotees as every visitor will have total coverage of Rs 20 crore.




DNA - Published





Ganpati 'boards' a train to Jammu and Kashmir for soldiers

Lord on LoC: Ghatkopar woman takes 6-ft idol, Bordercha Raja, to Poonch




DNA - Published





Turbid water: AMC to repair treatment plant

AMC has also arranged for make-shift water pits for Ganesh visarjan so that idols are not immersed in Sabarmati river




DNA - Published





Navi Mumbai: Airoli man popularises paper and clay Ganesh idols

SAVING ENVIRONMENT: Eco-Friendly ganesh idols are light weight and easily recyclable




DNA - Published





Karnataka: Five students die of electric shock in Koppal

The deceased students have been identified as Mallikarjun, Basavaraj, Devaraj, Ganesh and Kumar




DNA - Published