Reliance Industries
Indian multinational conglomerate company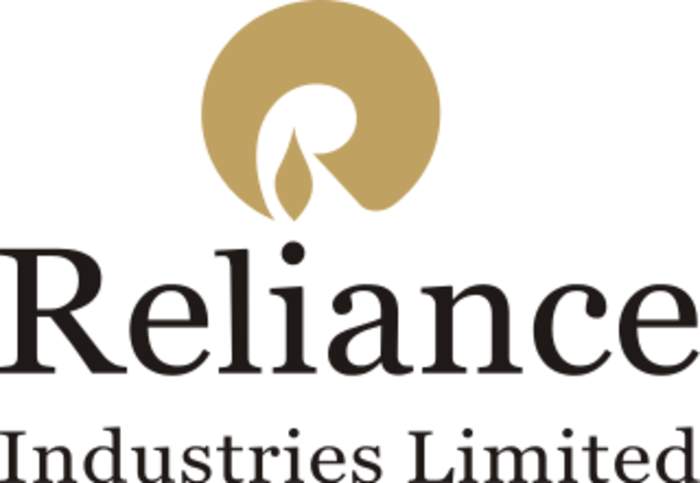 Reliance Industries Limited (RIL) is an Indian multinational conglomerate company headquartered in Mumbai, India. Reliance owns businesses across India engaged in energy, petrochemicals, textiles, natural resources, retail, and telecommunications. Reliance is one of the most profitable companies in India, the largest publicly traded company in India by market capitalisation, and the largest company in India as measured by revenue after recently surpassing the government-controlled Indian Oil Corporation. On 10 September 2020, Reliance Industries became the first Indian company to cross $200 billion in market capitalisation.


Reliance sends 30 tons of liquid oxygen to Indore

Amid shortage of oxygen to treat COVID-19 patients in Madhya Pradesh, Reliance Industries Ltd sent oxygen from its refineries to the state on April 17. Tanker carrying 30 tonnes liquid Oxygen arrived..
Credit: ANI Duration: 01:20
Published
Watch: Sachin Vaze's brother reacts to NIA custody extension | Ambani bomb scare

Suspended police officer Sachin Vaze's brother commented on the high-profile case which has gripped the attention of the nation. Sudharm said that he has full faith in the National Investigation Agency..
Credit: HT Digital Content Duration: 01:46
Published
Equity indices trade higher, autos in focus

Equity benchmark indices traded higher during early hours on Friday on the back of favourable global cues amid progress in the distribution of Covid-19 vaccines. At 10:15 am, the BSE S-P Sensex was up..
Credit: ANI Duration: 01:21
Published
Explained | Why bomb was put outside Ambani house by Sachin Vaze, as per NIA

Weeks after a bomb and a threat letter were found outside 'Antilia', the house of India's richest person Mukesh Ambani, the country's premier anti-terror agency, National Investigation Agency, claims..
Credit: HT Digital Content Duration: 08:56
Published
Nita Ambani to be a visiting professor at the Banaras Hindu University?| Oneindia News

A proposal to appoint Reliance Industries Executive Director Nita Ambani as a visiting professor at the prestigious Banaras Hindu University has led to protests at the campus. Around 40 students of the..
Credit: Oneindia Duration: 01:09
Published
Mukesh Ambani threat case: Owner of bomb-laden car found dead; BJP's NIA demand

In a fresh twist to the Mukesh Ambani threat case, the owner of the car found abandoned outside the businessman's house was found dead. On February 25, a Scorpio laden with 2.5 kg explosives and a..
Credit: HT Digital Content Duration: 02:32
Published
Ambani bomb sacre: Fresh twist emerges, who is really behind the threat? | Oneindia News

A fresh twist in the Ambani explosives case as Mansukh Hiren, the man whose Scorpio was found abandoned outside Mukesh Ambani's home Antilia has been found dead. Naupada Police recovered Hiren's body..
Credit: Oneindia Duration: 01:15
Published
Security heightened after explosives found near Ambani's house

Mumbai Police deployed its personnel outside business tycoon Mukesh Ambani's house after explosive materials were found near his residence on Thursday. A car carrying unassembled explosive materials..
Credit: ANI Duration: 01:43
Published
Car with explosive materials found near Mukesh Ambani's house in Mumbai

A car carrying unassembled explosive materials was found abandoned at Carmichael Road in South Mumbai on Thursday evening, near the house of Reliance Industries chairman Mukesh Ambani. Bomb squad and..
Credit: ANI Duration: 01:18
Published
Closing bell: Sensex cracks by 1,145 points, PSU banks and IT worst hit

Bears were on rampage at the bourses with frontline benchmark indices collapsing on Monday as traders resorted to heavy selling in auto, IT and public sector bank stocks. Market experts said the rise..
Credit: ANI Duration: 01:20
Published
You Might Like



Reliance Industries Limited refutes reports of Nita Ambani joining BHU as faculty




IndiaTimes - Published





Man defrauds India's richest man Mukesh Ambani's RIL, ED launches probe

The investigation is being conducted under the Prevention of Money Laundering Act (PMLA) based on FIR filed by the CBI.




DNA - Published





RIL moves HC, says no plan to get into contract farming




IndiaTimes - Published





Reliance Jio to move Punjab & Haryana HC, seeks urgent intervention to stop vandalism

Reliance Industries Limited (RIL), through its subsidiary Reliance Jio Infocomm Limited, in a petition mentioned to be filed in Punjab and Haryana High Court today, has sought urgent intervention of..




IndiaTimes - Published





Reliance to build 'largest zoo in world' in Gujarat

A pet project of Anant Ambani, RIL chairman Mukesh Ambani's youngest son, the zoo will be built on about 280 acres of land close to the company's refinery project at Moti Khavdi near Jamnagar, the..




IndiaTimes - Published





Reliance says TPG and L Catterton to invest $847 million in Jio Platforms

Indian oil-to-telecoms conglomerate Reliance Industries raised a total of 64.4 billion Indian rupees ($847 million) from the sale of two stakes in its digital unit Jio Platforms, the group said on..




Reuters India - Published




Reliance says TPG to invest $598 million in digital unit

Indian oil-to-telecoms conglomerate Reliance Industries said on Saturday that global investment firm TPG will buy a 0.93% stake in its digital unit Jio Platforms for 45.46 billion rupees ($598..




Reuters India - Published




Sensex, Nifty end higher as Reliance gains, bargain hunters chip in

Indian shares recovered from a sharp early drop to end higher on Friday, helped by gains in heavy-weight Reliance Industries, with investors seeking bargains as the indexes registered their first..




Reuters India - Published





Exclusive: Netflix in talks to source Indian content from Reliance affiliate Viacom18 - sources

U.S. video streaming company Netflix is in talks with Viacom18, part of the Indian conglomerate Reliance Industries' media unit Network18, about a multi-year partnership to source content, three..




Reuters India - Published




Sensex, Nifty end higher as easing curbs outweigh COVID-19 surge

Indian shares ended higher on Wednesday, led by gains in Reliance Industries and financials, as optimism around reopening of the economy and buoyant global risk sentiment trumped concerns over a surge..




Reuters India - Published





Indian stocks fall 1% as banks, Reliance drag

Indian shares closed lower on Tuesday, ending a 13% surge over the last nine sessions, as banks and heavyweight Reliance Industries weighed, with a broader rally on hopes of a quicker global economic..




Reuters India - Published





Indian shares rise led by financials, Reliance Industries

Indian shares rose on Monday, lifted by gains in financials and a surge in Reliance Industries after its digital unit received multiple investments over the last three days, while upbeat U.S. jobs data..




Reuters India - Published





Reliance says Abu Dhabi Investment Authority invests $752 million in digital unit Jio Platforms

Indian oil-to-telecoms giant Reliance Industries said on Sunday that the Abu Dhabi Investment Authority (ADIA) will buy 1.16% of its digital unit Jio Platforms for 56.83 billion rupees ($752 million).




Reuters India - Published





Indian shares edge up as financials gain; Reliance hits record high

Indian shares edged higher on Friday, helped by gains in financial stocks and a surge in conglomerate Reliance Industries after Abu Dhabi state fund Mubadala invested in its digital unit.




Reuters India - Published





Abu Dhabi-based Mubadala to invest over Rs 9000 crore in Jio Platforms

RIL subsidiary Jio Platforms is a next-generation technology platform focused on providing affordable, high quality digial services across India.




DNA - Published





Indian shares edge higher, led by Reliance, financials

Indian shares edged higher on Friday, helped by gains in financial stocks and a surge in conglomerate Reliance Industries after Abu Dhabi state fund Mubadala invested in its digital unit.




Reuters India - Published





Reliance Industries closes $7 billion rights issue, India's largest ever

India's oil-to-telecoms giant Reliance Industries on Wednesday closed a $7 billion rights issue, India's largest ever, luring buyers in with a rare deferred payment offer.




Reuters India - Published





Reliance launches JioMart online grocery service, challenging Amazon, Flipkart

Reliance Industries Ltd has launched an online grocery service, JioMart, the head of its grocery retail business said, in a move aimed at rivalling Amazon.com's local unit and Walmart Inc's Flipkart in..




Reuters India - Published





Factbox: Fundraising spree for Reliance's Jio Platforms values it at $65 billion

Reliance Industries has raised $10 billion in just a month through five stake sales in digital unit Jio Platforms, whose valuation has surged to $65 billion.




Reuters India - Published





KKR to invest $1.5 billion in Reliance Industries' digital unit, its biggest deal in Asia

KKR & Co Inc will invest $1.5 billion in Reliance Industries' Jio Platforms, its biggest investment in Asia to date and bringing the amount of new funds raised by the Indian digital company this month..




Reuters India - Published




Sensex, Nifty end higher on Bharti Airtel boost; banks fall

Indian shares ended higher on Tuesday after three days of losses, spurred by a surge in Bharti Airtel and optimism around a potential coronavirus vaccine, but a late slide in banking stocks and..




Reuters India - Published





Nifty, Sensex fall as economic package fails to impress; Reliance rises

Indian shares slipped on Monday as investors were unimpressed by the government's economic relief measures and coronavirus cases continued to rise steadily, while a boost in Reliance Industries and..




Reuters India - Published





Reliance in $870 million General Atlantic deal as Jio Platforms funding tops $8 billion

Reliance Industries on Sunday announced U.S. fund General Atlantic will invest 65.98 billion rupees ($870 million) in Jio Platforms, a fourth deal that takes investment in its digital unit to over $8..




Reuters India - Published





India launches contact-tracing app for JioPhones in virus battle

India's technology ministry said on Thursday it had rolled out a version of its Bluetooth contact-tracking app for 5 million JioPhones, the cheap internet-enabled devices sold by Reliance Industries'..




Reuters India - Published





Sensex, Nifty trim losses on stimulus hopes; Reliance tumbles

Indian stocks pared sharp early losses to end slightly lower on Tuesday on fresh hopes of economic stimulus to aid businesses battered by the coronavirus, even as a plunge in heavyweight Reliance..




Reuters India - Published




Sensex, Nifty surge as lockdowns ease; Reliance, automakers gain

Indian shares bounced on Monday, tracking a surge in Asian peers, as phased easing of coronavirus lockdowns at home and elsewhere spurred hopes of an economic recovery.




Reuters India - Published




Sensex, Nifty rise on Reliance boost, but end week sharply lower

Gains in Reliance Industries boosted Indian shares on Friday, but they ended the week sharply lower as coronavirus cases continued to spiral and markets awaited an economic stimulus.




Reuters India - Published





Indian shares follow Asian peers higher, Reliance jumps on new deal

Indian shares jumped on Friday, tracking a surge in Asian equities, as Reliance Industries gained on yet another stake sale, while investors also awaited economic stimulus for small businesses battered..




Reuters India - Published





India to roll out COVID-19 app for Reliance's JioPhone in bid to widen use

India will within days roll out a version of its coronavirus contact-tracing application that can run on mobile carrier Reliance Jio's cheap phones, as it looks to increase the reach of the system, a..




Reuters India - Published





Reliance to sell $750 million stake in unit to Silver Lake, on track to cut debt

India's Reliance Industries Ltd said on Monday private equity firm Silver Lake will invest nearly $750 million in its digital arm, days after securing a $5.7 billion investment from Facebook Inc ,..




Reuters India - Published




Covid-19 lockdown: Priyanka Gandhi urges telecom companies to provide free services to migrant labourers

Congress leader Priyanka Gandhi Vadra called upon telecom companies to make their services free for a month to enable the poor migrant labourers reach out to their near and dear ones. In separate..




IndiaTimes - Published





Jagan gives RS ticket to RIL group president Nathwani




IndiaTimes - Published





In blow for Andhra, RIL scraps 15,000cr project over land row

"Despite protests by farmers, they served notices.Local police also threatened to book cases against farmers for obstructing officials from discharging their duties.




IndiaTimes - Published