Tamil Nadu
State in Southern India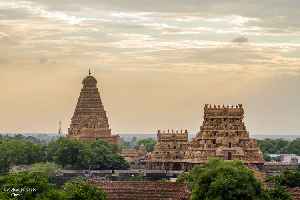 Tamil Nadu is one of the 29 states of India. Its capital and largest city is Chennai. Tamil Nadu lies in the southernmost part of the Indian subcontinent and is bordered by the union territory of Puducherry and the South Indian states of Kerala, Karnataka, and Andhra Pradesh. It is bounded by the Eastern Ghats on the north, by the Nilgiri Mountains, the Meghamalai Hills, and Kerala on the west, by the Bay of Bengal in the east, by the Gulf of Mannar and the Palk Strait on the southeast, and by the Indian Ocean on the south. The state shares a maritime border with the nation of Sri Lanka.


Rahul Gandhi likely to contest from Wayanad in Kerala
The Wayanad seat has a strong presence of Muslim and Christian voters and the decision to field Rahul comes after party units in Tamil Nadu and Karnataka also sought his candidature. The move, said..
IndiaTimes - Published
Tamil Nadu: AIADMK MLA R Kanagaraj dies of heart attack
Ruling AIADMK MLA R Kanagaraj died of a massive heart attack at his residence in Coimbatore Thursday, party sources said.
DNA - Published
79 expenditure observers appointed for LS elections in Tamil Nadu
IndiaTimes - Published
2019 Lok Sabha elections: EC appoints special expenditure observers for Maharashtra and Tamil Nadu
Apprehending use of excess money power in the run-up to Lok Sabha election in Maharashtra and Tamil Nadu, the Election Commission has appointed two former IRS officers as special expenditure observers..
IndiaTimes - Published
Tamil Nadu rivals one voice on Rajiv killers, NEET
IndiaTimes - Published
DMK assures to halt Methane, Neutrino projects in Tamil Nadu in its Lok Sabha polls manifesto
Efforts to get back Katchatheevu to India from Sri Lanka, caste-based census, casteless model villages named after leaders 'Periyar-Jyotirao Phule,' were among the assurances.
DNA - Published
Pollachi case: Madras HC seeks TN govt's response to plea for court-monitored probe
A bench comprising Chief Justice Vijaya Kamlesh Tahilramani and Justice M Duraiswamy gave the direction when the petition by an advocate came up for hearing.
DNA - Published
All in the family, as Tamil Nadu parties announce candidates for 2019 Lok Sabha elections, bye-elections
The family connections were on show on candidate lists across party lines.
DNA - Published
AIADMK vs DMK direct fight in 8 seats in Tamil Nadu for Lok Sabha elections 2019
AIADMK and DMK are contesting in 20 seats each, and have allotted the remaining seats to their allies.
DNA - Published
Lok Sabha Election 2019: DMK names Kanimozhi, former ministers Maran, T R Baalu among candidates
DMK Sunday announced former union ministers Dayanidhi Maran, A Raja and T R Baalu and its Rajya Sabha member Kanimozhi among its candidates for the 20 Lok Sabha constituencies it is contesting in Tamil..
DNA - Published
Lok Sabha Elections 2019: AIADMK announces 20 candidates in Tamil Nadu
The AIADMK on Sunday announced the names of 20 candidates that will contest the upcoming Lok Sabha polls.
DNA - Published
Poll code violation: Tamil Nadu orders inquiry on Rahul's interaction with students
IndiaTimes - Published
You Might Like