Tamil Nadu
State in southern India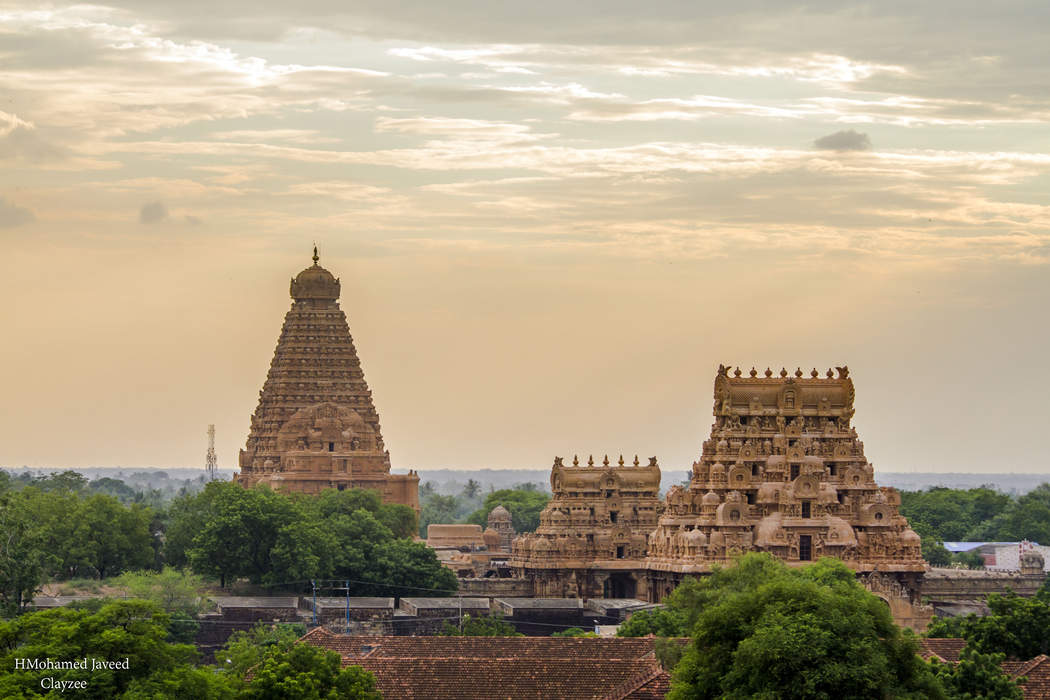 Tamil Nadu is a Federal state in southern India. Its capital and largest city is Chennai. Tamil Nadu lies in the southernmost part of the Indian subcontinent and is bordered by the union territory of Puducherry and the South Indian states of Kerala, Karnataka, and Andhra Pradesh. It is bounded by the Eastern Ghats on the north, by the Nilgiri Mountains, the Meghamalai Hills, and Kerala on the west, by the Bay of Bengal in the east, by the Gulf of Mannar and the Palk Strait on the southeast, and by the Indian Ocean on the south. The state shares a maritime border with the nation of Sri Lanka. Its official language is Tamil, which is one of the longest-surviving classical languages in the world.


Indian Embassy in Afghanistan alerts its nationals amid violence by the Taliban | Oneindia News

In a security advisory issued today, the Indian Embassy in Afghanistan asked its nationals to exercise caution and avoid all non-essential movement; The police in Tamil Nadu's Madurai have taken a..
Credit: Oneindia Duration: 02:54
Published
Tamil Nadu minister on survey carried on shoulders by fishermen | Oneindia News

On a visit to inspect complaints of seashore erosion by fishermen, Tamil Nadu Fisheries Minister Anitha R Radhakrishnan landed in controversy on Thursday. A video showing Radhakrishnan being carried by..
Credit: Oneindia Duration: 02:00
Published
Water wars reignited: Tamil Nadu, Karnataka and the Mekedatu project problem | Oneindia News

Water wars between Tamil Nadu and Karnataka have been reignited. In the latest development, Tamil Nadu Chief Minister MK Stalin on Sunday urged his Karnataka counterpart BS Yediyurappa to not pursue..
Credit: Oneindia Duration: 02:17
Published
Tamil Nadu: NGO report claims Covid-19 deaths likely eight times more, Govt denies| Oneindia News

An NGO in Tamil Nadu has published a report claiming that the number of Covid-19 related deaths in the state is likely to be eight times higher than the government data. However, the state government..
Credit: Oneindia Duration: 02:58
Published
MK Stalin meets PM Modi | Did Stalin get special welcome? | What was discussed? | Oneindia News

Tamil Nadu CM MK Stalin made his first visit to Delhi today after his recent victory in the Assembly election. He is also meeting the PM in the national capital. Twitter was abuzz that PM Modi is..
Credit: Oneindia Duration: 02:05
Published
Tamil Nadu: Man burns camphor and worships liquor bottles after shops open| Oneindia News

Man celebrating Tamil Nadu government opening liquor shops (TASMAC) after nearly a month by burning camphor and doing puja to bottles of liquor. The video shows the man expressing his joy over getting..
Credit: Oneindia Duration: 02:04
Published
Mamata Banerjee marries Socialism in Tamil Nadu: Confused? Watch this | Oneindia News

Mamata has wedded socialism in Tamil Nadu. No it is not the Mamata you think. Not the West Bengal CM, but a namesake of Mamata Banerjee in fact married a man named Socialism at Salem in Tamil Nadu on..
Credit: Oneindia Duration: 02:05
Published
No 'cure therapy' for LGBTQIA+ | Madras HC upholds diversity | Oneindia News

Tamil Nadu seems all set to be the first state in India to ban cure therapy for the LGBTIQA people. The Madras High Court on Monday issued guidelines that prohibit attempts to medically cure those..
Credit: Oneindia Duration: 01:22
Published
MK Stalin 'not welcome' in Coimbatore, Twitter floods with #GoBackStalin | Oneindia News

Since the DMK leader and Tamil Nadu CM, MK Stalin's visit in Coimbatore, Tiruppur and Erode districts, the hashtag #GoBackStalin has topped the Indian rankings on Twitter. As of today afternoon, more..
Credit: Oneindia Duration: 01:28
Published
You Might Like



Not O2 shortage, but inadequate pressure led to deaths, says Tamil Nadu




IndiaTimes - Published





Tamil Nadu fishermen want Centre to drop Fisheries Draft Bill, stage protests




IndiaTimes - Published





Amid sky-high fuel prices, Tamil Nadu man creates e-cycle that goes up to 50 km in one unit of electricity

The 33-year-old spend just Rs 20,000 to make it and hopes to soon obtain a patent for the device.




DNA - Published





RAW NTR- NGO based on the ideals of NT Rama Rao is feeding the poor amid the pandemic

They started the 365 Days Food Donation Program across Telugu states (Andhra Pradesh & Telangana) and also few areas in Karnataka and Tamil Nadu.




DNA - Published





Lockdown in Tamil Nadu extended till July 31 - Know what's allowed, what's not

The new set of relaxations announced by the Tamil Nadu government would come into effect from 19 July, Monday.




DNA - Published





Union Jal Shakti minister told us Karnataka can't build Mekedatu dam: Duraimurugan

Duraimurugan was speaking to reporters in Tamil Nadu House, after leading a delegation of Tamil Nadu legislature parties to convey to Shekhawat the opposition of the state against Mekedatu dam.




IndiaTimes - Published





Tamil Nadu lockdown extended till July 31 with further relaxations




IndiaTimes - Published

Also reported by •DNA


Focus on 'Test-Track-Treat-Vaccinate': PM Modi's advice to states to stop third wave

Interacting with CMs of Tamil Nadu, Andhra, Karnataka, Odisha, Maharashtra & Kerala, PM asked them to focus on 'Test-Track-Treat-Vaccinate' approach.




DNA - Published





Mekedatu issue: Tamil Nadu BJP will stand by state govt, Annamalai says

"We are very clear about our stand on the Mekedatu issue, and we do not want to do politics over it," he said in Trichy en route to Chennai where he will assume office on Friday.




IndiaTimes - Published





Karnataka's Mekedatu dam project: Tamil Nadu all-party delegation to leave for Delhi




IndiaTimes - Published





Don't wait for 3rd wave, try to avert it, says PM Narendra Modi

In his interaction, the PM spoke of the need to detect early signals of growing number of cases in some districts and take strict action at the micro level by creating containment zones to avoid..




IndiaTimes - Published





No harm in Tamil Nadu govt forming a committee to study NEET exam impact, says Madras HC

A 9-member committee led by Retd Justice AK Rajan was formed to study the impact of NEET exam on medical aspirants.




DNA - Published





Covid: People treating third wave warning like weather update, not taking it seriously, says govt

The Union health ministry expressed concern over the gross violation of Covid-19 norms and said that people are treating third wave warning like a "weather update". The remarks come amid recent..




IndiaTimes - Published





NEET: Madras high court dismisses PIL challenging validity of Tamil Nadu's panel

The constitution of the committee is in no stretch of imagination can be seen as contrary to the orders of the Supreme Court or the powers of the Union government, the first bench of Chief Justice..




IndiaTimes - Published





BJP is not for bifurcating Tamil Nadu and creating Kongu Nadu: Party spokesperson

The party's aim to create a prosperous Tamil Nadu and a strong Bharat, spokesperson of BJP's TN unit A N S Prasad said on Monday.




IndiaTimes - Published





Tamil Nadu lockdown: Commercial activities permitted till 9 pm, theaters, schools, bars, pools to remain shut

In terms of major relaxations, all shops, commercial activities that were permitted till 8 pm will be permitted to function till 9 pm.




DNA - Published





Make Tamil compulsory for local students in Kendriya Vidyalayas in TN: DMK MP Tiruchi Siva

According to Siva, he had already raised in the Rajya Sabha the issue of Tamil not being offered as a language in Kendriya Vidyalayas for even desiring students. The then Union education minister..




IndiaTimes - Published





Tamil Nadu's NEET panel is a slight against Supreme Court's privilege, Centre informs Madras HC




IndiaTimes - Published





Tamil Nadu minister carried by fisherman in knee-deep water to keep white shoes, dhoti clean

The minister was in the region following complaints of boats getting damaged as they entered the water body, owing to erosion.




DNA - Published





With 4 more deaths, Covid toll in Delhi hits 25,000

With four more deaths in the past 24 hours, the toll due to Covid-19 in Delhi crossed the 25,000 mark on Tuesday. The total fatalities in the city now stands at 25,001— the fourth highest in the..




IndiaTimes - Published





Tamil Nadu CM Stalin urges Union govt to withdraw proposed amendment to Cinematograph Act




IndiaTimes - Published





Stalin aiming to piggyback on FM Thiagarajan's economic expertise for larger role?

Tamil Nadu chief minister MK Stalin is banking on MIT-educated former US-based banker PTR Thiagarajan to play a major role in future in national politics and to steady the ship of the state.




IndiaTimes - Published





Tamil Nadu lockdown extended till July 12, theatres, bars, pools, schools, colleges to remain shut

Tamil Nadu is currently witnessing above 4,000 daily COVID-19 cases and has over 36,000 active cases.




DNA - Published





Monsoon session of parliament to commence on July 19

This will be the first session of parliament since the results of assembly polls in Assam, West Bengal, Tamil Nadu, Kerala and Puducherry.




DNA - Published





Covid-19 roundup: Pregnant women in India now eligible for vaccination, Tamil Nadu extends lockdown and more




IndiaTimes - Published





Tamil Nadu lockdown news: Will CM MK Stalin impose strict measures in state again? Know here

The state health department has also asked district administrations to immediately focus on the areas that are contributing to the new cases.




DNA - Published





Madras high court dismisses plea seeking Centre to educate Tamil Nadu people to respect India

The court observed that the prayer sought for was thoroughly misconceived.




IndiaTimes - Published





Tamil Nadu finance minister cites CoWIN to blow the federal bugle

He pointed out that the details of the vaccinated citizens are available only with the Centre and not with the states, as it should be. This posed a hurdle to the states while preparing to face the..




IndiaTimes - Published





Tamil Nadu cannot form panel to go into impact of NEET without leave of SC: Madras high court




IndiaTimes - Published





Tamil Nadu lockdown: Textile and jewellery showrooms to reopen in 23 districts from today

The said establishments can operate from 9 am to 7 pm with 50 per cent customers and cannot run air conditioners in their shops.




DNA - Published





As Tamil Nadu reports first death from COVID-19 Delta Plus variant, Centre issues advisory to contain spread

The Tamil Nadu government on Friday while extending the lockdown till July 5, has also relaxed several restrictions effective from June 28.




DNA - Published





Tamil Nadu lockdown: Restrictions extended for 7 more days, relaxations announced in Chennai

Only takeaway services will be allowed in the restaurants. Theatres and play centres will not be allowed.




DNA - Published





Covid-19 roundup: Tamil Nadu extends lockdown, Maharashtra tightens curbs as Delta+ cases rise and more




IndiaTimes - Published





More relaxations in Tamil Nadu from Monday; malls, temples, stores to open in Chennai

Based on caseload, the government has grouped the districts into hotspots, moderate and low incidence districts.




DNA - Published





Tamil Nadu Electricity Minister trolled for saying 'squirrels caused power outages'

There have been reports of increased power cuts across the state since the new DMK regime came to power.




DNA - Published





Dispatched 1000 tons medical oxygen to 23 districts of Tamil Nadu, says Sterlite

This plant has been operational since May this year, under special permission from the Tamil Nadu government.




DNA - Published





Tamil Nadu to form economic advisory council to CM with Esther Duflo, Raghuram Rajan and others as members




IndiaTimes - Published





Covid-19 roundup: Tamil Nadu, Uttarakhand and Haryana announce further relaxations and more




IndiaTimes - Published




Tamil Nadu lockdown: Govt announces more relaxations; travel curbs lifted in Chennai

In the four districts of Chennai region, people are permitted to travel in taxis and autos without e-registration.




IndiaTimes - Published





Tamil Nadu political parties slam Karnataka CM's Mekedatu remark




IndiaTimes - Published





India records 60,753 new COVID-19 cases, active caseload lowest in 74 days

Maharashtra leads the states with the highest number of infections. It is followed by Karnataka, Kerala, Tamil Nadu, and Andhra Pradesh.




DNA - Published





DMK chief MK Stalin meets Sonia, Rahul

Tamil Nadu Chief Minister and DMK president MK Stalin Friday met Congress chief Sonia Gandhi at her residence, where Rahul Gandhi was also present. This is the first meeting between Stalin and Sonia..




IndiaTimes - Published





5 states recorded over 1 lakh Covid-19 cases in first 2 weeks of June

Even as the second wave of Covid-19 pandemic wanes in India, five states still reported more than one lakh cases over the last 14 days (June 1-14) with Tamil Nadu on top with 2.43 lakh cases, followed..




IndiaTimes - Published





Self-styled Godman Siva Shankar Baba arrested in Delhi by Tamil Nadu CB-CID

Right after the case against him was transferred from the Chennai Police to the CB-CID, he was missing.




DNA - Published





Covid-19: States came to each other's rescue at the peak of oxygen crisis

The politics over oxygen supply might have raged fiercely but at an operational level, states rallied for one another as the country faced its biggest crisis of medical oxygen. Maharashtra sent oxygen..




IndiaTimes - Published





Tamil Nadu announces more relaxations in 27 districts from Monday - Know what's allowed

Barring 11 districts, 7 in western and 4 in Cauvery delta regions, the fresh relaxations would be applicable in the rest of 27 districts of Tamil Nadu




DNA - Published





Lockdown in Tamil Nadu extended till June 21 with some relaxations - Check details here

Tamil Nadu Lockdown: Taxis with three passengers, other than the driver, and autorickshaws with two passengers can ply with e-pass.




DNA - Published





Tamil Nadu lockdown extended with more relaxations; Tasmac liquor shops to open in 27 districts

The Tamil Nadu government on Friday announced its decision to extend the total lockdown by another week, till 6am on June 21.




IndiaTimes - Published





India's COVID-19 caseload at less than 1 lakh for 4th straight day with 91,702 new cases

India recorded less than one lakh new COVID-19 cases for the fourth straight day. Tamil Nadu remains the highest contributor with 16,813 cases.




DNA - Published





Not one inch of forest to be encroached upon, says Madras HC on alleged encroachment by private resort

The said property is situated in the Naduvattom town, in the ecologically sensitive Nilgiris district of Tamil Nadu.




DNA - Published