Asaduddin Owaisi
Indian politician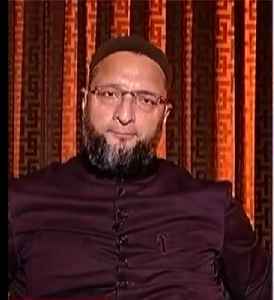 Asaduddin Owaisi is an Indian politician, who is the President of the All India Majlis-e-Ittehadul Muslimeen. He is a three-time Member of Parliament (MP), representing the Hyderabad constituency in Lok Sabha, the lower house of the Indian Parliament.


Why hasn't govt brought law on mob lynching despite SC order: Owaisi asks Amit Shah
"I would like to ask the Home Minister, why a law on mob lynching is not being made," asked AIMIM chief Asaduddin Owaisi in Lok Sabha on Friday.
DNA - Published
Owaisi interrupts BJP MP, Shah hits back
IndiaTimes - Published
He is just a Home Minister, not God: Asaduddin Owaisi accuses Amit Shah of threatening them
Speaking to reporters outside Parliament on Monday, Owaisi said, "Whoever doesn't support their (BJP) decisions, they call them anti-nationals. Have they opened shop of nationals and anti-nationals?"
DNA - Published
Sunne ki bhi aadat daliye Owaisi sahab, iss tarah se nahi chalega: Amit Shah slams AIMIM chief over NIA amendment bill
Pointing out at Asaduddin Owaisi, Amit Shah said opposition members should have the patience to listen to others point of view.
DNA - Published
Amit Shah, Asaduddin Owaisi spar over NIA amendment bill
The verbal duel between home minister Amit Shah and AIMIM's Asaduddin Owaisi started during a discussion on the National Investigation Agency (Amendment) Bill. Shah had said that opposition should not..
IndiaTimes - Published
End of Congress plan if Ambedkar accepts Owaisi's seat demand
If Ambedkar accepts the AIMIM's Mumbai: The All India Majlis-e-Ittehadul Muslimeen (AIMIM) has told Prakash Ambedkar.
IndiaTimes - Published
You Might Like