South China Sea
Marginal sea of the Western Pacific Ocean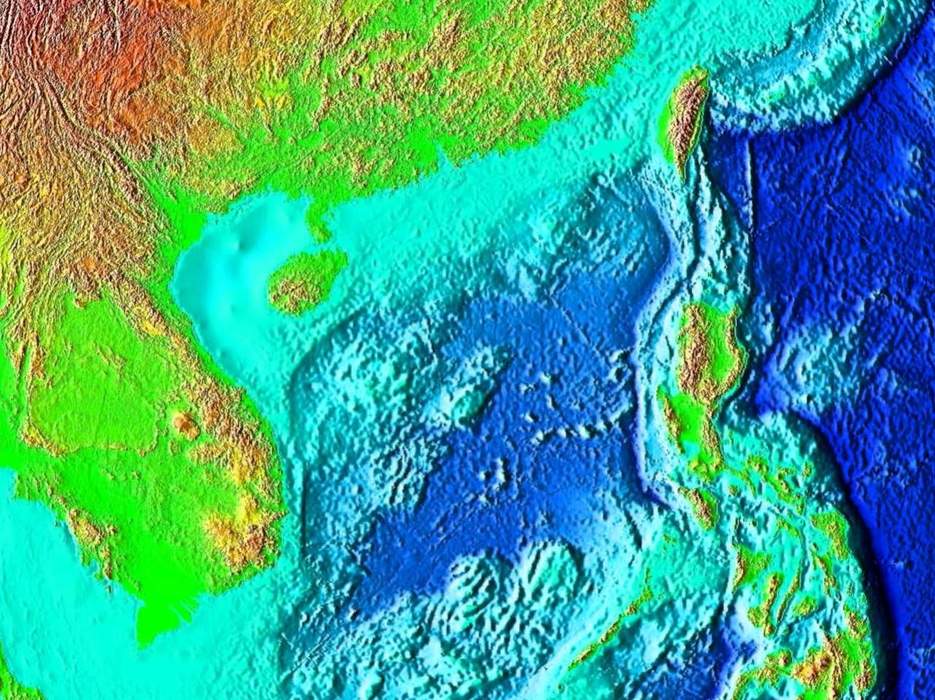 The South China Sea is a marginal sea of the Western Pacific Ocean. It is bounded in the north by the shores of South China, in the west by the Indochinese Peninsula, in the east by the islands of Taiwan and northwestern Philippines, and in the south by Borneo, eastern Sumatra and the Bangka Belitung Islands, encompassing an area of around 3,500,000 km2 (1,400,000 sq mi). It communicates with the East China Sea via the Taiwan Strait, the Philippine Sea via the Luzon Strait, the Sulu Sea via the straits around Palawan, the Strait of Malacca via the Strait of Singapore, and the Java Sea via the Karimata and Bangka Strait. The Gulf of Thailand and the Gulf of Tonkin are also part of the South China Sea. The shallow waters south of the Riau Islands are also known as the Natuna Sea.


Philippine activists mark anniversary of S China Sea legal victory

They say they will continue to defend the country's territorial waters in the South China Sea, especially since claiming their own president has failed to do so.
Credit: Al Jazeera STUDIO Duration: 02:25
Published
The Filipino fishermen facing off with China

Filipino fisherman Randy Megu has often braved the storms that spring up in the South China Sea, but these days he has a greater fear: seeing a Chinese maritime enforcement vessel on the horizon...
Credit: Reuters - Politics Duration: 02:48
Published
You Might Like



In Chinese minister presence, Rajnath backs free, open SCS

India stands for a free, open and inclusive Indo-Pacific and supports freedom of navigation in the South China Sea, said defence minister Rajnath Singh at a multilateral forum being attended by his..




IndiaTimes - Published





Defence Minister Rajnath Singh extends support to freedom of navigation in South China Sea

Rajnath Singh has extended freedom of navigation in the South China Sea at the ASEAN Defence Ministers' Meeting Plus (ADMM-Plus).




DNA - Published





China denies sending 'swarming and threatening' boats to disputed waters

The Philippines has complained of a "swarming and threatening presence" of Chinese boats in disputed waters in the South China Sea.




Sky News - Published




EAM Jaishankar pitches for connectivity from Arabian Sea to South China Sea

India is working on a number of connectivity projects to connect North-East with East Asia like the India-Myanmar-Thailand Trilateral Highway.




DNA - Published





Indian naval ship conducts 'passage exercise' with Vietnamese Navy in South China Sea




IndiaTimes - Published





India, Vietnam navy teams to undertake Passage Exercise in South China Sea

India and Vietnam have increased high-level engagement including defence engagement.




DNA - Published





In message to China, Modi bats for fair code in South China Sea




IndiaTimes - Published





Beijing takes its South China Sea strategy to the Himalayas




IndiaTimes - Published





East Asia Summit: India stresses on respecting territorial integrity

In an oblique message to China, India on Saturday expressed concern over "actions and incidents" that "erode" trust in the South China Sea, and underlined the importance of adhering to..




IndiaTimes - Published





Modi and Asean call for adherence to international law in SCS

Amid efforts to finalise a code of conduct for the contested South China Sea (SCS) waters, where several Asean nations remain embroiled in maritime boundary disputes with China, India joined Asean on..




IndiaTimes - Published





PM Modi to co-chair virtual India-ASEAN summit today, Indo-Pacific key focus of discussion

The summit also comes amid Chinese aggression in the disputed South China Sea and in eastern Ladakh.




DNA - Published





For 1st time in 3 years, 2+2 talks specifically mention South China Sea




IndiaTimes - Published





Galwan clash aftermath: Indian Navy deployed frontline warship in South China Sea

Acting swiftly after the Galwan valley clash on June 15 in Eastern Ladakh, the Indian Navy sailed out its frontline warship for deployment in the South China Sea much to the displeasure of the Chinese..




DNA - Published

Also reported by •IndiaTimes


South China Sea: As China deploys bomber, Vietnam briefs India about deteriorating situation




IndiaTimes - Published





Australia, China envoys to India spar over South China Sea

On Thursday, the Australian envoy in a readout of his meeting with foreign minister S Jaishankar said about the situation on the LAC, "Australia opposes any attempts to unilaterally alter the status..




IndiaTimes - Published





Australian high commissioner criticises Chinese Ambassador to India for objecting to comments on South China Sea




IndiaTimes - Published





US lawmakers pass legislation urging China to de-escalate situation with India along LAC

The US House of Representatives has passed a bipartisan legislation, urging China to peacefully de-escalate the situation with India along the Line of Actual Control. The legislation on Tuesday came a..




IndiaTimes - Published





In signal to China, Navy holds drill off Andaman and Nicobar Islands

The Indian Navy is conducting a major exercise off the Andaman and Nicobar archipelago, in a clear display of strategic intent against China amid the ongoing military confrontation along the border in..




IndiaTimes - Published





South China Sea part of global commons: India

Responding to questions on the security situation in South China Sea (SCS), the government on Thursday said its position had been clear and consistent that SCS was a part of global commons and India..




IndiaTimes - Published





South China Sea part of global commons, firmly stand for freedom of navigation: India




IndiaTimes - Published





US military to stand with India in conflict with China, indicates White House official

The US military "will continue to stand strong" in relationship to a conflict between India and China or anywhere else, a top White House official has said, after the Navy deployed two aircraft..




IndiaTimes - Published





36th ASEAN virtual summit focuses on coronavirus fund, South China Sea feud

The summit was supposed to be held on June 27-28




DNA - Published





Philippine officials visit disputed South China Sea island

The Philippines' defence minister and military officials have made a trip to a disputed South China Sea island just a few miles from a base built by China, a visit that could draw criticism from..




Reuters - Published





U.S. military commander says China pushing territorial claims under cover of coronavirus

China is using the coronavirus as a cover to push territorial claims in the South China Sea through a surge in naval activity meant to intimidate other countries that claim the waters, the commander of..




Reuters - Published





'Muscular' Chinese policy to have impact on its ties with India, other nations: US diplomat

The US is currently involved in a tense showdown with China on the issue of trade, the origins of the novel coronavirus pandemic, Beijing's new security crackdown in Hong Kong and the communist giant's..




IndiaTimes - Published





US slams China's 'disturbing behaviour' at India border

In a sharp criticism of China over border tensions with India, the US on Wednesday described Beijing's actions as "disturbing behaviour" and said the skirmishes were a reminder of the threat China..




IndiaTimes - Published





Chinese ship leaves Malaysian waters after month-long South China Sea standoff

A Chinese survey ship that had been involved in a month-long standoff with a Malaysian oil exploration vessel in the South China Sea has left Malaysia's exclusive economic zone (EEZ), shipping data..




Reuters - Published





Beijing's aggressive South China Sea push amid pandemic worries India, US

Under cover of the coronavirus pandemic, China has ramped up its aggressive expansionism both in the South China Sea as well as raising concern not only among its smaller neighbours but India and US as..




IndiaTimes - Published





Taiwan says Chinese carrier group has ended South China Sea mission

Taiwan's Defence Ministry said on Thursday that a Chinese aircraft carrier group which this month sailed down Taiwan's east coast had ended its mission in the South China Sea on Wednesday.




Reuters - Published





China says certain U.S. politicians trying to interfere in South China Sea issue

China's Foreign Ministry said on Thursday certain U.S. politicians are trying to interfere in the South China Sea issue and such attempts are doomed to fail.




Reuters - Published





Malaysia calls for peaceful end to months-long South China Sea standoff

Malaysia called on Thursday for disputes over the South China Sea to be resolved by peaceful means, amid a standoff between Chinese and Malaysian vessels that a U.S. think tank said had been going on..




Reuters - Published





Malaysia committed to safeguarding its interests in South China Sea: foreign minister

Malaysia remains committed to safeguarding its interests and rights in the South China Sea, Foreign Minister Hishammuddin Hussein said on Thursday, amid a standoff between Chinese and Malaysian vessels..




Reuters - Published





Australia joins U.S. ships in South China Sea amid rising tension

An Australian frigate has joined three U.S. warships in the South China Sea near an area where a Chinese vessel is suspected to be exploring for oil, near waters also claimed by Vietnam and Malaysia,..




Reuters - Published





Two U.S. warships in South China Sea amid China-Malaysia standoff

Two U.S. warships are operating in the South China Sea, the Navy said on Tuesday, with three regional security sources saying they were near an area of a standoff between China and Malaysia.




Reuters - Published





China rattles sabres as world battles coronavirus pandemic

China is becoming increasingly assertive in the region as the coronavirus crisis eases on the mainland while raging elsewhere in the world, with a crackdown in Hong Kong and sabre-rattling around..




Reuters - Published





Vietnam protests Beijing's expansion in disputed South China Sea

Vietnam protested on Sunday at China saying it had established two administrative units on islands in the South China Sea, in Beijing's latest move to demonstrate its assertiveness in the disputed..




Reuters - Published




U.S. says China should stop 'bullying behaviour' in South China Sea

The United States called on China on Saturday to stop "bullying behaviour" in the South China Sea and said it was concerned by reports of China's "provocative actions" aimed at offshore oil and gas..




Reuters - Published





Chinese and Malaysian ships in South China Sea standoff: sources

A Chinese government survey ship is tagging an exploration vessel operated by Malaysia's state oil company Petronas in disputed waters in the South China Sea, three regional security sources said on..




Reuters - Published





Chinese ship seen moving south near Malaysia amid rising South China Sea tensions

A Chinese government survey ship embroiled in a standoff with Vietnamese vessels moved south near Malaysia, shipping data showed Thursday, amid accusations that China is using the pandemic to assert..




Reuters - Published





Chinese ship back in waters off Vietnam amid coronavirus 'distraction'

A Chinese ship embroiled in a standoff with Vietnamese vessels last year has returned to waters near Vietnam as the United States accused China of pushing its presence in the South China Sea while..




Reuters - Published




Chinese survey ship returns to Vietnam's exclusive economic zone

A Chinese survey ship that was embroiled in a standoff with Vietnamese vessels last year in the disputed South China Sea has returned to waters within Vietnam's Exclusive Economic Zone (EEZ), ship..




Reuters - Published





Focusing on dynamic response that is below threshold of all-out war: Army chief

Speaking at a seminar on land warfare, the Army chief General M M Naravane said the airstrikes on Balakot demonstrated that if one is skilful, escalation does not always lead to war. The army chief..




IndiaTimes - Published





Trade deal no panacea for rocky U.S. relations with China

From Huawei to the South China Sea, deep political rifts between Beijing and Washington are set to persist, despite a trade relations breakthrough, as the United States pushes back against an..




Reuters - Published





Indonesia asks Japan to invest in islands near waters disputed with China

Indonesia's President Joko Widodo on Friday asked Japan to step up investment in fisheries and energy in some of its South China Sea islands following a stand-off with China in waters that China claims..




Reuters - Published





Indonesian military says Chinese vessels left disputed waters

Indonesia's military said on Thursday that Chinese coast guard vessels and fishing boats had left disputed waters in the western reaches of the South China Sea following a visit by President Joko..




Reuters - Published





Indonesia deploys fighter jets in stand-off with China

Indonesia's air force deployed four fighter jets to the South China Sea on Tuesday in a stand-off with Beijing after Jakarta protested over a Chinese violation of its exclusive economic zone.




Reuters - Published




Indonesia boosts patrols after Chinese boat 'trespasses' in its waters

Indonesia has increased patrols around islands near the disputed South China Sea after a Chinese coast guard vessel "trespassed" into Indonesia's exclusive economic zone, authorities said on Friday.




Reuters - Published





Indonesia rejects China's claims over South China Sea

Indonesia said on Wednesday it rejected China's claims over a disputed part of the South China Sea as "having no legal basis", after two days earlier protesting to Beijing over the presence of a..




Reuters - Published





Indonesia protests to China over border intrusion near South China Sea

Indonesia said on Monday it had protested to Beijing over the presence of a Chinese coastguard vessel in its territorial waters near the disputed South China Sea, saying it marked a "violation of..




Reuters - Published





Beijing censures Malaysia over fresh South China Sea claim

Beijing said on Tuesday it had protested against Kuala Lumpur filing a submission https://www.un.org/Depts/los/clcs_new/submissions_files/submission_mys_12_12_2019.html with the United Nations last..




Reuters - Published