Elizabeth Warren
United States Senator from Massachusetts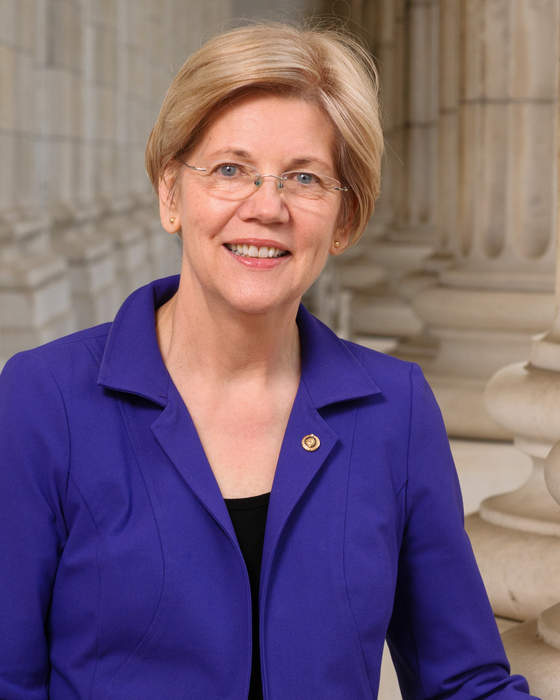 Elizabeth Ann Warren is an American politician and former law professor who is the senior United States senator from Massachusetts, serving since 2013. A member of the Democratic Party and regarded as a progressive, Warren has focused on consumer protection, economic opportunity, and the social safety net while in the Senate. Warren was a candidate in the 2020 Democratic Party presidential primaries, ultimately finishing third.


You Might Like
Sen. Elizabeth Warren Rips Jeff Bezos for Trip to Space
Sen. Elizabeth Warren is going scorched earth over Jeff Bezos leaving Earth -- she's pissed about his trip to space, and says everyone who pays their taxes should be too. We got the Senator Thursday at..
TMZ.com - Published
Massive Memorial for Ruth Bader Ginsberg As Elizabeth Warren says, 'I Will Fight'
The United States Supreme Court is temporarily the backdrop for a stunning memorial to the late Justice Ruth Bader Ginsburg. Flowers, American flags and messages of condolence filled the area around..
TMZ.com - Published
India-US partnership can only succeed if it is rooted in honest dialogue: Warren
The partnership between India and the US will "only succeed if it is rooted in honest dialogue and shared respect" for religious pluralism, democracy and human rights, top American Senator and..
IndiaTimes - Published
Warren and Warner call for end to blockage in Kashmir
Two prominent Democratic Senators and the House Foreign Relations Committee have expressed disquiet over the past 24 hours at the slow pace of normalization while implicitly accepting constitutional..
IndiaTimes - Published
Democrat Elizabeth Warren raises concerns over situation in Kashmir
Democratic presidential candidate Elizabeth Warren on Saturday voiced concerns over the restrictions and communication blockade in Kashmir, urging India to respect the rights of the people of Kashmir...
IndiaTimes - Published
On eve of debate, Senator Warren rips Trump on Iran
On the eve of the first Democratic presidential debate, U.S. Senator Elizabeth Warren, rising in public opinion polls, slammed President Donald's Trump's posture toward Iran at a raucous town hall..
Reuters - Published
Donald Trump's comment on accepting information from foreign countries on presidential opponents invites Joe Biden, Elizabeth Warren's criticism
President Trump said he would be willing to accept foreign information on presidential opponents on the same day his son, Donald Jr faced questioning for Russian contacts
Firstpost - Published
Warren criticizes Trump's 'dart throwing' Mexico tariff decision
Democratic presidential hopeful Elizabeth Warren on Wednesday criticized U.S. President Donald Trump's decision to impose tariffs on Mexico as "random dart throwing" that lacks a coherent strategy.
Reuters - Published
Beto O'Rourke Announces Presidential Bid - But What Does He Stand For?
by Adam Yardley - 2020 is inching ever closer, and this of course means that the field of potential Presidential candidates for the Democratic Party is starting to fill out. With strong names in..
One News Page Staff - Published