Sasaram
City in Bihar, India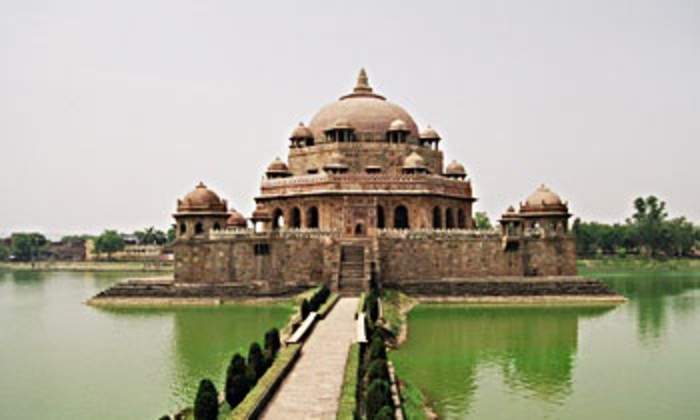 Sasaram sometimes also spelled as Sahasram, is an ancient historical city and a municipal corporation region in the Rohtas district of the Bihar state in eastern India, with a history that goes to thousands of years. During the prehistoric age, Buddha walked through this way and lived for some days and then travelled to Gaya to be enlightened with verity and wisdom under the Mahabodhi tree, the city is also known as gateway of "Vihar" to visit rest "Bihar" including Gaya, Rajgriha, and Nalanda.


You Might Like
Communal disturbances at Bihar Sharif, Sasaram were carefully orchestrated by some people: Bihar CM Nitish Kumar
IndiaTimes - Published
After Bihar, fresh Ram Navami violence erupts in West Bengal: What's happening in Sasaram, Hooghly
Fresh bouts of violence erupted in West Bengal's Hooghly as BJP became the target of clashes during the Ram Navami Shobha Yatra on late Sunday evening.
DNA - Published
Will hang rioters upside down if BJP returns in Bihar: Amit Shah
Rioters in Bihar will be "hung upside down" if BJP returns to office in the state in 2025, home minister Amit Shah said Sunday while slamming the Nitish Kumar-led government for allegedly failing to..
IndiaTimes - Published
Bihar violence: Hindus fleeing from homes due to fear of Muslims in Sasaram? Truth behind rumour
After violence erupted in several districts of Bihar, many reports suggested that Hindus are leaving their homes in Sasaram out of fear that the Muslim population will harm them.
DNA - Published
What is happening in Bihar? Ram Navami violence in Nalanda, Sasaram, Bihar Sharif leaves state upside down
The communal clashes in Bihar have left the state upside down, with the disturbance caused during Ram Navami celebrations spreading to Sasaram, Bihar Sharif, and Nalanda.
DNA - Published
Bihar communal violence: Bomb blast leaves 5 injured, bullets fired amid Ram Navami clashes
Communal clashes erupted in Bihar once again just a day after the festive season, with a bomb blast in the Sasaram area leaving five people injured.
DNA - Published
Amit Shah cancels rally as fresh violence hits Sasaram
IndiaTimes - Published
'Hooch' claims 5 lives in Bihar dists in 48 hours
The incident comes soon after 12 hooch deaths in Saran recently. According to police, four deaths were reported from ward number 6 and 13 of Kochas area in Sasaram on Sunday and Monday. Three of them..
IndiaTimes - Published
Stolen: A 500-tonne steel bridge in Bihar
The heist at Amiyawar village, about 40km from Sasaram, has become the talking point in the area. Like "kitchen cockroaches", thieves were chipping away at the 500-tonne steelwork ever since a..
IndiaTimes - Published